Dr. Sarah Israel, Veterinary Surgeon in San Antonio, TX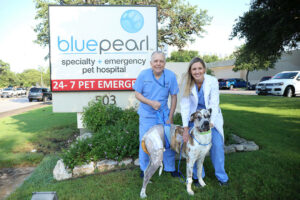 Dr. Sarah Israel is a board-certified veterinary surgeon at BluePearl pet hospital in Stone Oak, TX. She is passionate about offering surgical care for pets in a collaborative environment.
"I enjoy working in an animal hospital that is home to many specialists, in many areas of medicine. I can draw on the knowledge of other veterinary specialists to create comprehensive care plans for pets."

– Dr. Sarah Israel
Working in partnership with her colleagues and her patients' primary veterinarians, she performs surgeries on pets with the goal of maximizing quality of life and helping them get back to doing the things they love the most.
Dr. Israel performs a wide variety of veterinary surgeries to resolve illnesses and injuries in pets. She uses tools and techniques specifically designed to minimize post-surgical pain and recovery time.
First Consultation
While you can often find Dr. Sarah Israel performing life-changing surgeries in the advanced surgical suite, the process for providing exceptional surgical care often begins before pets reach the operating table. She meets most of her patients in detailed consultations to discuss the desired outcome of treatment.
"When I first meet a patient, I like to sit on the floor and get on their level. I ask the owner, 'What's your pet's favorite thing to do?' because my goal is to help that pet return to the activities they love with full function. A pet's quality of life with his or her family is my top priority."

– Dr. Sarah Israel
During this consultation, Dr. Israel will thoroughly discuss potential options for diagnosing and treating the condition that is impacting quality of life and overall health. She takes the time to answer any questions about what to expect during the process.
Diagnostic Imaging & Tests for Veterinary Surgery
To determine the best course of action, Dr. Israel performs advanced diagnostic tests with the resources available at BluePearl Pet Hospital in Stone Oak, including:
64 slice helical CT scanner – A computed tomography (CT) scan is performed to produce detailed, specific images of the bones, joints and tissues inside a pet's body. In some cases, these scans can be used to create three-dimensional models that can be used to practice a unique operation ahead of time.
MRI – Magnetic resonance imaging (MRI) machines capture clear, detailed images of the central nervous system, spinal cord, and intervertebral disks.
X-rays – X-rays produce pictures of the inside of a pet's body, with a specific focus on bones and joints. A special
X-ray technique called a "fluoroscopy" can be used in the operating rooms for real-time imaging during a procedure.
Lab work – An on-site laboratory allows for timely results that are often available in just a few hours. Lab work is often ordered before and after procedures for ongoing monitoring.
Veterinary Surgical Procedures Performed
As a board-certified veterinary surgeon, Dr. Israel performs many types of veterinary surgeries for patients in the greater San Antonio community and surrounding areas. She appreciates the diversity in the cases she treats, and her favorite operations are as follows:
Total Joint Replacement
Joint replacement surgeries, particularly of the hip joint, are performed to restore mobility and quality of life to pets who suffer from debilitating joint diseases such as hip dysplasia and hip osteoarthritis. This operation involves completely replacing the affected joint with a new joint that is designed to last a lifetime.
This is an advanced surgery that requires an extensive pre-surgical workup, which includes:
Specific X-rays for an intricate view of the affected joint
Precise measurements and sizing of implants
Thorough understanding of pet's medical history and daily activities
Detailed physical and consultation with patient and owner
Total hip replacement is considered a niche surgery because not many surgeons offer this procedure. Dr. Israel performs total joint replacements on pets who are referred to BluePearl Pet Hospital in Stone Oak from around the country.
Dr. Israel follows total joint replacement patients for life for continual assessment of quality of life and surgical outcome.
Arthroscopy
Arthroscopy refers to minimally invasive surgeries for conditions that affect the joint. This procedure is designed to minimize incision size, pain and healing time as much as possible – which are all top priorities in Dr. Israel's operating room.
Arthroscopy is an option for pets who are diagnosed with certain joint conditions, including:
Elbow dysplasia
Shoulder osteochondritis dissecans (OCD)
Torn cranial cruciate ligament
Meniscal injury
The special tools used to perform arthroscopy procedures produces high resolution photos of the affected joint, which Dr. Israel likes to provide to patients' owners as an educational resource.
Thoracotomy
Thoracotomy procedures involve the surgical exploration of the chest. There are many procedures that fall under this category, such as:
Lung lobectomy. This procedure is performed to remove tumors of the lungs, many of which are cancerous. Dr. Israel works closely with the oncology team before and after lung lobectomy surgeries.
PDA treatment. Patient ductus arteriosus, or "PDA," is a heart condition in puppies that dramatically decreases life expectancy. The surgery involves manually closing a vessel that should have closed naturally around the time of birth. Patients of this procedure often go on to have perfectly healthy lives with normal lifespans.
PRAA. Persistent right aortic arch, or "PRAA," is a vascular ring anomaly that prevents dogs from swallowing food by esophageal constriction. This issue is fixed instantaneously in surgery.
Dr. Israel finds these procedures particularly amazing because she can see her patients' breathing lungs and beating heart up close.
Other Operations Performed
Patients who need surgical care are often referred to Dr. Israel by primary veterinarians, emergency clinicians and other veterinary specialists. Dr. Israel is available to perform many common operations on pets, including:
TPLO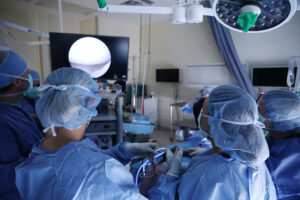 Tibial plateau leveling osteotomy, or "TPLO," is a surgery that restores limb function after cranial cruciate ligament rupture. This ligament connects the femur to the tibia, and injuries that affect it can drastically decrease mobility and quality of life. TPLO creates stability of the knee so patients can return to physical activity without pain.
Intervertebral Disk Disease Treatment
Intervertebral Disk Disease Treatment, or "IVDD," is a painful condition that affects the spine in dogs. It occurs when the disks in the spine rupture or bulge due to injury or a degenerative condition. Surgery to resolve this condition helps relieve pain and restore neurologic function and mobility.
Joint Surgeries in Puppies with elbow and hip dysplasia
In many cases, puppies (typically between nine and 12 months of age) can be perceived as "lazy" or preferring limited physical activity. After diagnostic testing, however, there is often an underlying issue of joint pain that is limiting their ability to – well, be puppies. When the joint pain is relieved surgically, these patients are often able to begin normal puppy antics and let their personalities shine.
Oncological Surgeries
Dr. Sarah Israel supports the active oncology department at BluePearl Pet Hospital in Stone Oak. Using advanced imaging modalities like CT, she collaborates with the oncology clinicians
to determine the margins for mass removal. She operates on pets with cancerous tumors with the goal of improving quality of life and preventing further spread of cancer.
Critical Care & Emergency Surgeries
The veterinary team at BluePearl Pet Hospital in Stone Oak, which is open 24/7, cares for pets that experience medical emergencies and critical illnesses. Some of these pets require surgical care for the following critical care and/or emergency situations:
Foreign body – when a pet eats something that cannot be digested
Septic abdomen – which occurs when stomach or small intestinal contents leak into the abdomen creating a life threatening problem.
Trauma – broken bones or critical injuries that are resolved surgically
Dr. Israel also plays a huge role in ensuring critical care and emergency surgery patients are stable before and after surgery.
Dr. Israel's Journey to Veterinary Surgery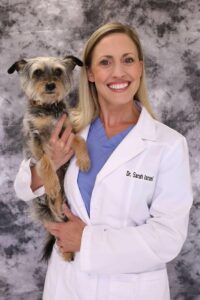 Dr. Israel knew she wanted to become a veterinarian at age five. Growing up in a rural area, she was always surrounded by nature and pets, which fueled her passion for animals. Her first dog Jody, an Irish wolfhound mix, was one of her favorite playmates as a child. Dr. Israel's childhood experiences helped deepen her value for the human-animal bond.
She went on to attend veterinary school at Texas A&M University. Dr. Israel fell in love with veterinary surgery during her fourth year rotation in veterinary school, when she experienced hands-on training with orthopedic surgery.
"I appreciate the instant gratification that comes with veterinary surgery. I'm a fixer – and I like putting the pieces back together. Oftentimes I can fix the problem immediately during surgery, and it's so rewarding to see the pet start to return a healthier, happier life as soon as they wake up."

– Dr. Sarah Israel
After veterinary school, she continued her training with a small animal medicine & surgery internship at The Ohio State University. She returned to Texas A&M for her small animal surgery residency. After joining the BluePearl team, she became board-certified in veterinary surgery – meaning she passed a series of rigorous exams and completed extensive training in her field.
Dr. Israel Off The Job
Dr. Israel is married to a primary veterinarian, and she is a mother of a 7-year-old daughter and 4-year old son. She and her family enjoy fishing, exploring at the ranch, and spending time in nature. She and her daughter love horseback riding, and they share a quarter horse named Pearl.