Affiliated Veterinary Specialists – Serving the Waterford Lakes area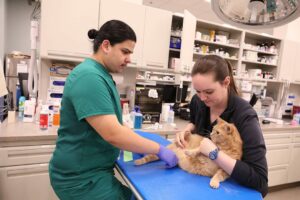 Affiliated Veterinary Specialists in Waterford Lakes is located east of Orlando right off 408. We serve the Waterford Lakes area with the highest quality specialty care available for pets. Think of our medical team as an extension of your family veterinarian. We'll be staying in contact throughout the process of diagnoses and treatment to ensure that your family vet, who knows your pet's medical history, is up-to-date with our treatment plan.
Emergency medicine in Waterford Lakes, FL
When you have a pet emergency, seconds count. We want you to know, we're ready. Our experienced team of veterinarians, vet technicians and support staff work closely together to provide the comprehensive, compassionate care your pet needs and deserves.  
Emergency: Call ahead to our veterinary hospital in Waterford Lakes, FL and let us know you're coming. No appointment is necessary for our emergency vet. Learn more about your emergency visit. 
Specialty Care: Our veterinary specialists work directly with your primary care vet to understand your pet's condition and develop the appropriate treatment plan. Visits to our specialists are usually by referral from your primary care vet and by appointment. Learn more about veterinary specialists.
About Affiliated Veterinary Specialists
Our team of board-certified specialists, veterinary technicians and assistants offer expertise in surgery, internal medicine, radiation and medical oncology, neurology, diagnostic imaging, dentistry, behavior and physical rehabilitation. If it's an emergency and your pet needs critical care, we're there for you. We're happy to work with your family veterinarian to ensure that your pet's unique needs are met. Treatment plans always consider your pet's medical history and are tailored to achieve the best possible outcome for your furry loved ones. 
To learn more about our pet hospital and specialties visit our website.