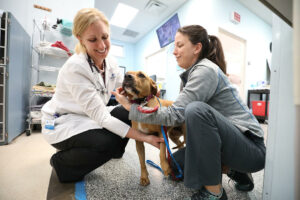 Specialties and Services at BluePearl Pet Hospital in Columbia, SC
When your pet needs referral-based specialty care, you can trust the expert specialty clinicians at BluePearl Pet Hospital. We focus on advanced veterinary care in the specialties of:
Acupuncture
Anesthesiology & Pain Management
Diagnostic Imaging
Neurology
Ophthalmology
Surgery
About Veterinary Neurology at BluePearl Pet Hospital Columbia, SC
Veterinary neurology is the branch of medicine that treats diseases of the nervous system: the brain, spinal cord, nerves, and muscles in pets. This encompasses such common problems as epilepsy, herniated disks, spinal and head injuries, meningitis, and cancers of the nervous system.
Our neurology services:
BAER (Brainstem Auditory Evoked Potential) Testing
Cerebrospinal Fluid Collection and Analysis
Craniotomy/Craniectomy-Diagnostic and Therapeutic
Dorsal Laminectomy (cervical and lumbosacral)
Electromyography (EMG)
Hemilaminectomy
Nerve Conduction Velocity (NCV)
Neuromuscular Disease Diagnosis and Management
Non-surgical Spinal Cord Disease Diagnosis and Management
Seizure Diagnosis and Management
Spinal Distraction and Stabilization
Neurosurgery
Ventral Slot Surgery
About Veterinary Ophthalmology at BluePearl Pet Hospital in Columbia, SC
Our veterinary ophthalmologists treat eye conditions in pets that affect their view of the world. We use special tools to examine your pet's eyes and diagnose any condition that may obstruct vision or cause pain. In collaboration with your pet's primary veterinarian, we discuss potential treatment options for your pet – with the goal of providing the best vision and quality of life possible.
We treat a wide range of conditions that affect the eye, including:
Corneal ulcers and injuries
Conjunctivitis and inflammation
Eyelid and eyelash injuries or abnormalities
Eyelid tumors
Retinal diseases, such as hypertensive retinopathy
Third eyelid prolapse, or "cherry eye"
About Veterinary Surgery at BluePearl Pet Hospital in Columbia, SC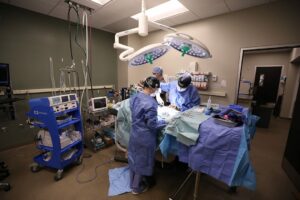 For various reasons, most pets face surgery at some point. It may be nothing more than neutering or spaying, or it could be a life-threatening situation. Regardless of the condition, our objective is simple but all-important: giving you and your pet more quality time together. That's where quality, comprehensive surgical services come in.
Our surgery services include:
Advanced Anesthetic Monitoring
Bone and Joint Surgery
Bone Biopsy
Brain and Spinal Surgery
Comprehensive Peri-Operative Monitoring
Emergency Surgery
Hip Dysplasia Diagnosis and Management
Minimally Invasive Surgery
Multimodal Analgesia
Reconstructive Surgery
Tissue Biopsies
Compassionate Treatment
Our team respects the close bond between pets and their owners and treats each with dignity, compassion and kindness.