Specialty vet services in Columbia, SC
When your pet needs referral-based specialty care, you can trust the expert specialty clinicians at BluePearl Pet Hospital.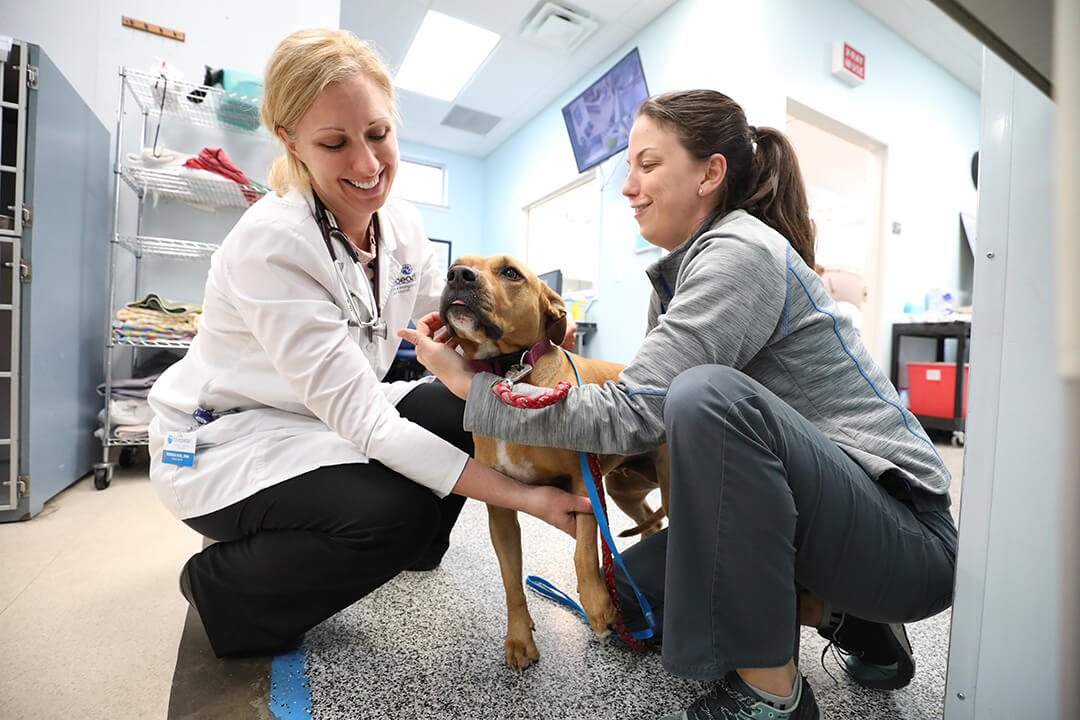 Acupuncture
We provide safe, comforting acupuncture treatments for patients with chronic pain as well as several other chronic conditions. Our acupuncturists will consult with your pet's primary care veterinarian for the best results and the fastest healing.
In general, acupuncture is most beneficial for functional problems such as those that involve paralysis, noninfectious inflammation and pain. Regular acupuncture treatments can restore mobility for older pets, improve minor injuries as they occur and be administered preventatively to keep muscles and tendons resistant to injury. The following are some of the conditions that can be improved through veterinary acupuncture:
The muscular and skeletal systems: back pain, muscle soreness, disc problems, arthritis and degenerative joint disease
Neurological disorders: chronic disc disease, radial nerve or facial paralysis and seizure
Gastrointestinal disorders: diarrhea, constipation, vomiting and poor appetite
Chemotherapy: nausea, vomiting, diarrhea, fatigue and inflammation
Skin conditions: inflammation and skin problems such as allergic dermatitis and lick granulomas
Other chronic conditions: asthma, geriatric weakness, immune system disorders and more

Anesthesiology & Pain Management
Our anesthesiology service works with other specialties in the hospital to provide safe and comfortable sedation and anesthesia for pets during diagnostic and surgical procedures. Using sophisticated tools to monitor your pet under anesthesia, our experts utilize advanced techniques to control pain.

Veterinary Neurology & Neurosurgery
Veterinary neurology is the branch of medicine that treats diseases of the nervous system: the brain, spinal cord, nerves, and muscles in pets. This encompasses such common problems as epilepsy, herniated disks, spinal and head injuries, meningitis and cancers of the nervous system.
Our neurology services:
BAER (Brainstem Auditory Evoked Potential) testing
Cerebrospinal fluid collection and analysis
Craniotomy/craniectomy – diagnostic and therapeutic
Dorsal laminectomy (cervical and lumbosacral)
Electromyography (EMG)
Hemilaminectomy
Nerve conduction velocity (NCV)
Neuromuscular disease diagnosis and management
Non-surgical spinal cord disease diagnosis and management
Seizure diagnosis and management
Spinal distraction and stabilization
Ventral slot surgery

Ophthalmology
Our veterinary ophthalmologists treat eye conditions in pets that affect their view of the world. We use special tools to examine your pet's eyes and diagnose any condition that may obstruct vision or cause pain. In collaboration with your pet's primary veterinarian, we discuss potential treatment options for your pet – with the goal of providing the best vision and quality of life possible.
We treat a wide range of conditions that affect the eye, including:
Corneal ulcers and injuries
Conjunctivitis and inflammation
Eyelid and eyelash injuries or abnormalities
Eyelid tumors
Retinal diseases, such as hypertensive retinopathy
Third eyelid prolapse, or "cherry eye"

Rehabilitation
Like humans, pain may interfere with your pet's day-to-day activity, causing them stress and negatively impacting their quality of life. But there are treatments that can help increase their comfort and reduce unwanted symptoms.
Our Columbia, SC pet hospital offers pain management services that deliver much-needed relief to pets facing acute and chronic pain. When it comes to managing your pet's pain, we provide safe, medically advanced care.
Our highly skilled and compassionate pain management team helps alleviate pain and restore physical comfort to pets through:
Animal chiropractic
Cold laser therapy
Constant rate infusions
Heated indoor training and exercise pool
Joint injections
Platelet-rich plasma
Steroid epidural
Therapeutic ultrasound
Tui-na massage
Shockwave therapy
Underwater treadmill
We work closely with you to understand your pet's health, including their medical history and any changes in behavior, which we use to devise a therapeutic plan. Every patient's therapeutic plan is tailored to their specific condition and needs and includes a combination of guided in-hospital therapy and at-home exercises.
Our pain management service is led by a board-certified specialist in veterinary anesthesia and pain management along with a team of experienced veterinarians, technicians and assistants who are passionate about helping pets live healthier, happier lives.

Veterinary Surgery
For various reasons, most pets face surgery at some point. It may be nothing more than neutering or spaying, or it could be a life-threatening situation. Regardless of the condition, our objective is simple but all-important: giving you and your pet more quality time together. That's where quality, comprehensive surgical services come in.
Our surgery services include:
Advanced anesthetic monitoring
Bone and joint surgery
Bone biopsy
Brain and spinal surgery
Comprehensive peri-operative monitoring
Emergency surgery
Hip dysplasia diagnosis and management
Minimally invasive surgery
Multimodal analgesia
Reconstructive surgery
Tissue biopsies

Compassionate Treatment
Our team respects the close bond between pets and their owners and treats each with dignity, compassion and kindness.