Veterinary neurology & neurosurgery services in Colorado.
Diagnosing and treating neurological disorders can be complex due to the various clinical signs and symptoms they can cause in your pet. Our team is highly trained and skilled in identifying clinical signs of neurological conditions, so if your pet is facing a neurologic diagnosis, we are here to provide advanced medical care with a healthy dose of compassion.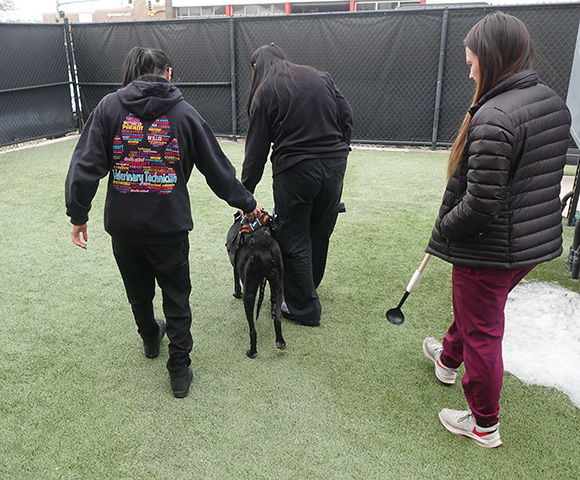 Neurological Conditions in Cats and Dogs
Neurological conditions can be debilitating for pets, impacting their quality of life and taking them away from their favorite activities. Fortunately, most of the common neurological conditions in pets are highly treatable with the help of a veterinary neurologist.
Your pet's primary care veterinarian may refer you to our neurology service if your pet has:
Epilepsy
Ruptured discs
Spinal or head injuries
Meningitis
Inflammatory brain or spinal cord disorders
Neuromuscular disorders
Cancer of the nervous system

Visiting a Neurologist for Pets: What to Expect
Before your pet can be diagnosed with a specific neurological disorder, we obtain their complete health history and perform a thorough physical and neurological examination. This allows us to create a comprehensive therapeutic plan, which may include diagnostic tests, medications, surgery or prescribed rest in some cases.
After the initial examination, the neurologist may recommend specific diagnostic tests to guide your pet's diagnosis and treatment plan. Most diagnostic tests can be performed right here at our hospital. If extended testing or procedures are needed, your pet may stay overnight or be scheduled to return on a future day. Our team will discuss any potential risks as well as cost estimates during your consultation and scheduling.

On-Site Veterinary Neurological Services
In order to provide the most comprehensive, convenient care for your pet, we offer the following neurological services on site:
Complete neurologic examinations
Seizure and neuromuscular disease assessment
Magnetic resonance imaging (MRI)
Radiographs
Cerebrospinal fluid centesis (CSF)
Electrodiagnostic testing, including electromyography (EMG), motor and sensory nerve studies, brainstem auditory evoked potentials (BAEPs)
Muscle and nerve biopsies

Neurosurgery for Pets
Our neurologist continues to be at the forefront in his field, with board-certified specialization in neurosurgery, part of the specialty of veterinary neurology. Dedicated to providing unmatched medical and neurosurgical care for companion animals in Colorado and the nation, our team provides both spinal and cranial neurosurgery for pets.
Types of spinal surgeries include:
Ventral slot
Cervical hemilaminectomy
Thoracic hemilaminectomy
Lumbar hemilaminectomy
Cervical dorsal laminectomy
Thoracic dorsal laminectomy lumbar/lumbosacral dorsal laminectomy
Spinal stabilization and fracture surgery
Spinal tumor surgery
Caudal cervical vertebral malformation/malarticulation (wobbler) surgery
Types of cranial surgeries include:
Tumor resection
Tumor removal/debulkement
Brain biopsy

Pet Wheelchairs
Wheelchairs and carts offer pets mobility, giving them a chance to perform more of their normal daily activities again. These aids can also help facilitate the recovery and rehabilitation process for pets recovering from spinal surgery, spinal cord injuries and neuromuscular disorders.
Pet wheelchair carts are custom-made, lightweight frames with wheels and body support materials. These carts are species-specific (dog, cat, rabbit, etc.) and custom-fitted to each pet. Carts are made to provide front, rear or quad support. Depending upon what kind of support your pet needs, the chairs are made to evenly distribute their weight and remove the effects of gravity, making ambulation possible.
Some of the most common reasons a pet may benefit from the use of a wheelchair cart include:
Spinal cord injury and resultant paresis or paralysis
Post-spinal fracture stabilization surgery
Post-spinal cord surgery
Degenerative spinal cord diseases
Neuromuscular disorders
Tumor resulting in non-use of a limb
Cerebellar/balance disorders
Our team can assist you in acquiring your pet's measurements, ordering the right cart for their needs and ensuring the wheelchair is fitted properly. For our recovering patients, we may be able to provide a temporary wheelchair for immediate mobility assistance for your pet, which can aid in their recovery and quality of life.