Our Services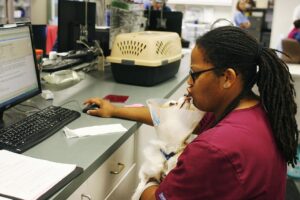 We focus exclusively on full service emergency treatment. What do we mean by full service? We will triage, diagnose and treat your pet using in-house diagnostics, such as X-ray, ultrasound, and laboratory tests. We'll also perform emergency surgery.
When your pet leaves our hospital, you'll have medications, specific at-home treatment protocols, follow-up recommendations with your primary care veterinarian, and any nutritional recommendations for your pet's condition.
We are open at nights and on weekends, when your primary care veterinarian may be closed.
Learn more about Emergency Medicine.
Compassionate Treatment
Our team respects the close bond between pet owners and their "fur babies" and treats each with dignity, compassion and kindness.