Specialty Vet Medicine in Langhorne, PA

The Center for Animal Referral and Emergency Services is a 24 hour pet hospital in Langhorne, providing top notch care for pets with urgent and special medical needs. When your pet requires specialty care, you can trust the CARES team to perform advanced diagnostic tests and determine the best course of action for your pet's specific condition.
Our specialty veterinary team members have the experience and expertise to diagnose and treat pets who suffer from challenging illnesses or serious injuries. In collaboration with your pet's primary veterinarian, we develop a custom treatment plan that for your pet's ongoing health and quality of life.
We proudly offer the following veterinary specialties at CARES in Langhorne:
Our Facility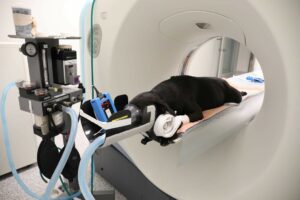 The CARES hospital is home to advanced technology specifically designed to diagnose, treat and provide comfort for ill or injured pets. Our state-of-the-art facility is equipped with all the tools necessary to provide urgent, comprehensive care, including:
Intensive care units (ICU) – with the highest level of monitoring and management
Diagnostic imaging – X-rays, CT scanner, MRI, ultrasound and more
In-house laboratory – for timely results and on-site analysis
Surgical suite – with a dedicate surgical team and advanced monitoring
Over 30,000 square feet – featuring exam rooms, surgical suites, radiology suites, a sunlit feline ward, anesthesia recovery space and more