Veterinary oncology in Langhorne, PA.
Receiving a cancer diagnosis for your pet can be frightening, but the veterinary oncology team at our hospital in Langhorne, PA has the experience and training to support you every step of the way. Now more than ever, there are a variety of treatment options for pets with cancer, and we are proud to offer cutting-edge procedures that reduce your pet's discomfort and increase your quality time together.
At BluePearl Pet Hospital in Langhorne, each patient receives a tailored treatment plan based on their diagnosis, all with the end goal of improving your pet's quality of life and minimizing any uncomfortable side effects.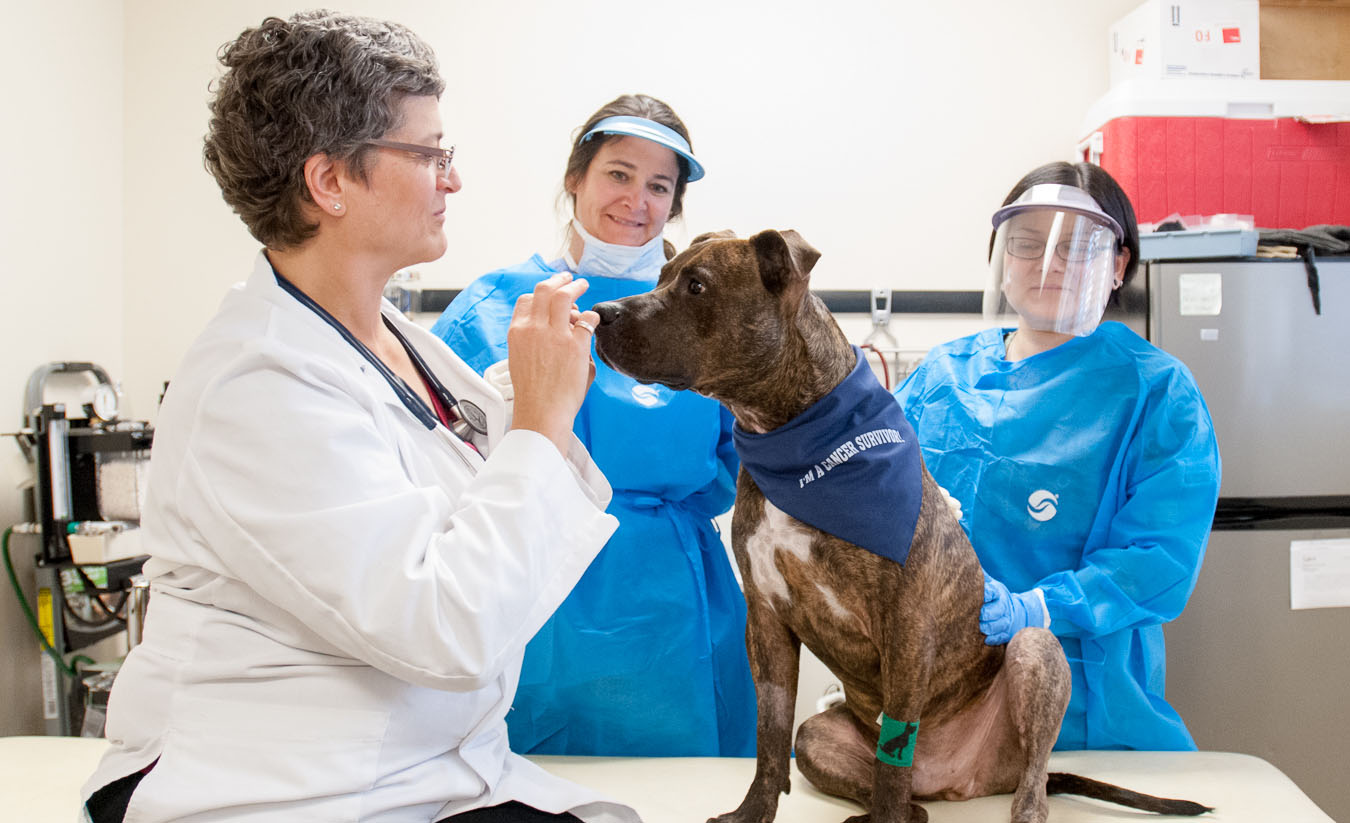 What conditions do pet cancer specialists treat?
Your primary veterinarian may refer you to a vet oncologist if your pet has:
Bone cancer
Liver/spleen cancer
Lymph system cancer
Mammary (breast) cancer
Skin cancer
Soft-tissue cancer
Thyroid cancer
Tumors
Urinary system cancer
How do oncology specialists treat pets with cancer?
Veterinary medicine has advanced along with human medicine, which means there are options when it comes to pets' cancer treatments. Every pet is unique, and therefore each treatment plan we build together will be, too.
Our oncology team works closely with your primary care veterinarian and other specialties at the hospital to give your pet the best possible care. We know a cancer diagnosis can bring a lot of feelings, and we're here to help you through the process to give your pet the best quality of life possible.
Surgery.
Most pet cancer treatment plans involve removing any tumors present to prevent the spreading of the disease. Surgically removing tumors is often the most effective option as long as the tumors are big enough and in a good spot to treat. Sometimes, the location or shape of a tumor may make it challenging to remove through surgery, or could cause greater risk to a pet's health, so other treatments like chemotherapy may be used instead of or in addition to surgery.
Every patient is different, and no one treatment plan works for every pet. This is why we work closely as an oncology team, collaborating and developing a course of action with the primary goal of treating your pet's condition and improving their quality of life.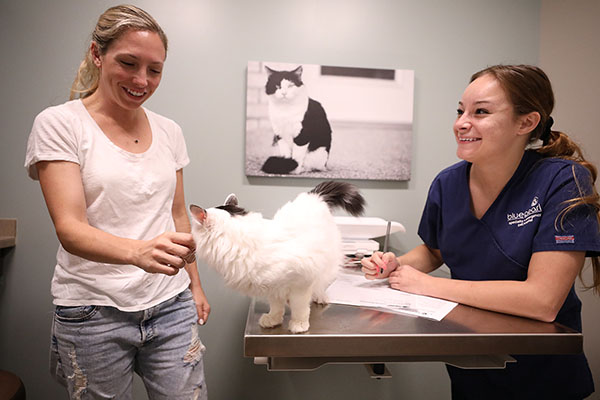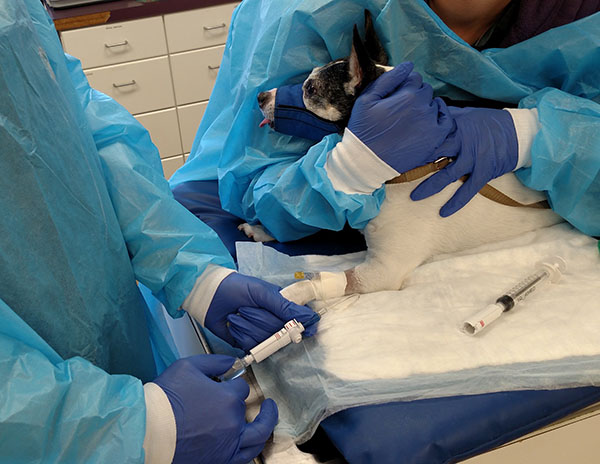 Chemotherapy.
Like humans, pets may undergo chemotherapy as part of their cancer treatment. Delivered via injection or pills, chemotherapy for pets targets fast-growing cells to eliminate cancer cells. How often and how long a patient will need to undergo chemotherapy is based on their physical condition, the type and severity of cancer they have and other factors like how well they tolerate the medication.
Unlike humans, most (80 to 90%) of cats and dogs receiving chemotherapy experience very minimal or no side effects. Some patients may have moderate to severe side effects, but it's not very common, and rarely are side effects life-threatening to your pet.
Most often, chemotherapy is an outpatient procedure, but occasionally we will need a pet to stay overnight to complete their treatment. Before any procedures or diagnostics take place, your oncology care team – including your pet's oncologist – will discuss treatments and your options, keeping you informed and involved in your pet's care from the start.
Cancer care for pets at BluePearl Pet Hospital.
Pet owners from all over the mid-Atlantic region come to us when their pet needs cancer care. Some of the most common cancers we treat include:
Lymphoma – cancer that starts in the lymphatic system
Osteosarcoma – cancer that begins in the bone
Hemangiosarcoma – cancer that starts in the cells lining blood vessels
Mast cell tumors – tumors made of mast cells (part of the immune system)
Our hospital meets the standards for safety established by USP <800> for safe handling of drugs, and we take additional precautions to ensure health and safety. We have a dedicated room for patients that is separated from the rest of the hospital to avoid potential hospital-associated infection concerns, and our nurses and assistants are fear-free trained so patients feel comfortable and are handled with dignity during their visits to our hospital.
Meet our veterinary oncology team.
Our Langhorne, PA-based pet cancer center is led by a highly trained oncology group that includes:
Board-certified oncology doctors
Board-certified oncology nurse
Experienced, certified technicians and veterinary nurses
Everyone on our team is passionate about providing our patients with the best medicine with a healthy dose of TLC and the latest medical advancements in oncology. To that end, we're always pursuing further education and training to advance our practice and continue discovering innovative ways to deliver technically advanced and compassionate care to pets.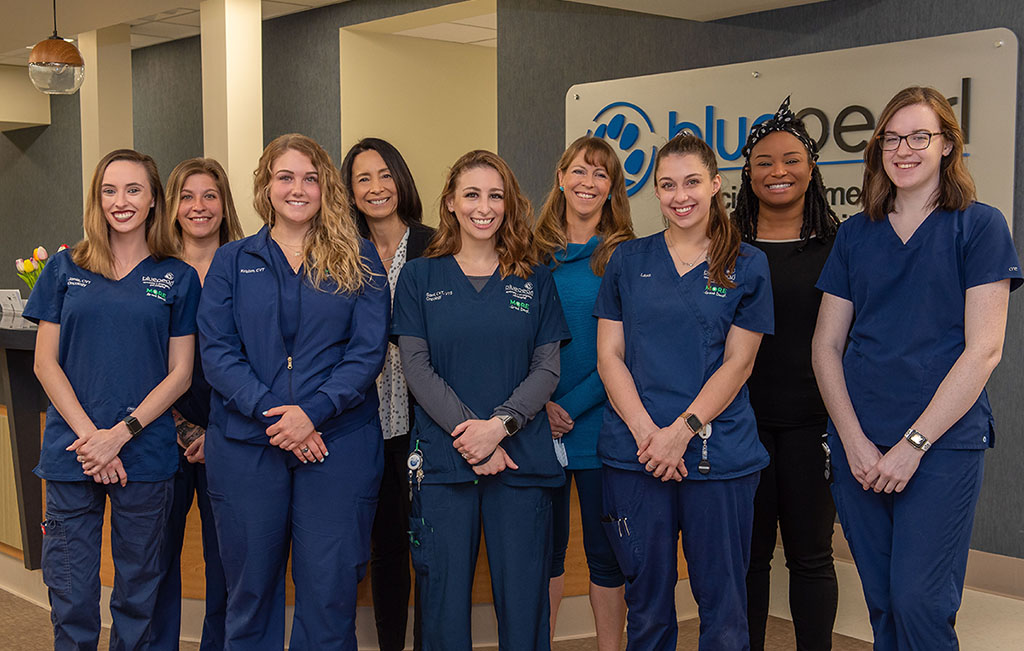 Our team appreciates the value that having so many brilliant minds in one space can offer to pets with complex medical needs. Therefore, we work closely with the other services in our hospital to devise the best care for our patients. This sense of teamwork is great for us, but even better for our patients – the pets we care for benefit from having a collaborative continuum of care from the first moment we meet.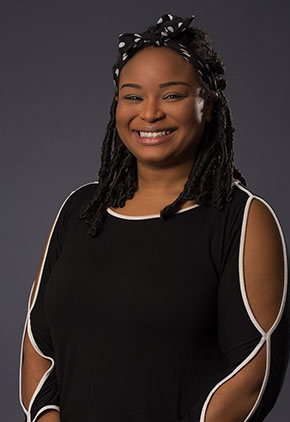 Lillie Davis, DVM, DACVIM (Oncology)
Dr. Lillie Davis is passionate about nurturing the human-animal bond. To that end, she always prioritizes her patients' quality of life no matter their diagnosis or treatment plan. She is particularly interested in lymphoma and leukemia cases.
After earning her Doctor of Veterinary Medicine from Cornell University, Dr. Davis completed a small animal medicine and surgery internship at Purdue University. After discovering her passion for oncology, she then returned to Cornell to complete a residency in medical oncology, followed by board certification with the American College of Veterinary Internal Medicine (Oncology). Throughout her career, Dr. Davis has published articles in medical journals and scientific research.
At home, Dr. Davis enjoys being around her pet cats: Jacket and Pants, and dog, Chalupa.