COVID-19 Protocols:
The hospital is currently following any local COVID-19 mandates. If you have questions, please feel free to give us a call.
---
After-Hours Vet Services in Lee's Summit, MO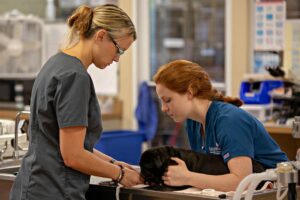 Serving the greater Kansas City community, BluePearl Pet Hospital in Lee's Summit provides after-hours care for pets with urgent medical needs. Available on weeknights, weekends and holidays, our highly trained emergency clinicians are here to deliver top-notch care when your pet's primary veterinarian's office is closed.
Emergency Pet Hospital in Lee's Summit, MO
Our trusted clinicians have extensive experience in diagnosing and treating emergency conditions in pets. From minor emergencies to life-saving trauma cases, we are experts in providing timely and compassionate care for pets. Common conditions we treat include:
Trauma, accidents and injury
Vomiting and diarrhea
Toxicities – accidental ingestion of poisonous substances
Seizures
Emergency complications relating to chronic disease 
Every member of our after-hours vet team is dedicated to delivering remarkable service and ensuring your visit is as smooth as possible. We take the time to discuss your pet's specific condition so we can develop a custom treatment plan, which includes follow-up recommendations after your visit.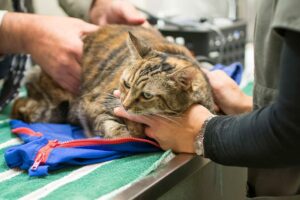 We're always prepared to serve pets in emergency situations. If you plan to bring your pet to our emergency pet hospital, please call ahead and let us know you're coming. There is no appointment necessary for our after-hours vet services.
Orthopedic Surgery Service in Lee's Summit, MO
Available by referral, our skilled orthopedic surgery team offers a dedicated TPLO (tibial plateau leveling osteotomy) service. TPLO is a common operation to treat ruptured or injured CCL (cranial cruciate ligament) in pets. The goal of the procedure is to restore your pet's mobility, minimize pain and enhance quality of life.
Our orthopedic surgery service performs arthroscope-assisted titanium TPLO procedures and other orthopedic surgeries for pets in the greater Kansas City area, including the Wichita, Overland Park, Springfield, Columbia, Topeka and Manhattan communities.
Our Lee's Summit orthopedic service is available Tuesdays and Thursdays for appointments, and Thursdays and Fridays for surgeries. Please contact our sister hospital in Overland Park for scheduling inquiries during business hours Monday through Friday.
About Our After-Hours Pet Hospital
Our 6,000-square-foot after-hours vet facility is equipped with advanced technology and tools to provide exceptional emergency care for pets, including:
Intensive care unit (ICU) – a dedicated suite for critically ill and injured pets that features sophisticated monitoring technology
Diagnostic capabilities – to help identify your pet's specific medical condition
Network with specialty facilities – working closely with our sister hospitals in Northland and Overland Park for pets with specialty care needs
Client Review
Dr. Ervin and the entire Lee's Summit BluePearl staff were extremely accommodating, professional, and empathetic towards my family during a difficult time.