Specialty Vet Services in Maitland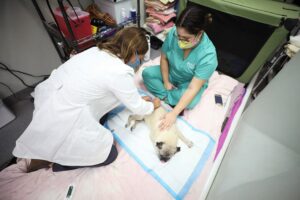 At Affiliated Veterinary Specialists, we take a collaborative approach to veterinary medicine. This means our specialty clinicians work with each other, as well as with your pet's primary veterinarian, to share knowledge and provide comprehensive care. We work together to promote your pet's quality of life and overall well-being. Learn more about our advanced specialty services:
Cardiology
Our cardiology team diagnoses and treats conditions of the heart and circulatory system.  While some cardiac conditions require hospitalization, most conditions can be managed on an outpatient basis by our cardiology team along with your primary care veterinarian.  Common conditions we diagnose and treat which include:
Congestive heart failure (CHF)
Heart muscle disease (Dilated cardiomyopathy or hypertrophic cardiomyopathy)
Age related changes to the valves of the heart (Degenerative mitral valve disease)
Coughing and other breathing problems
Congenital (present at birth) heart defects
Cardiac arrhythmias (problems with the rate and/or rhythm of your animal's heart)
Diseases of the pericardium (sac surrounding the heart)
Cardiac tumors
High blood pressure (hypertension)
Pulmonary hypertension (high blood pressure in the lungs)
Dentistry
Our dentistry service diagnoses and treats complications of the teeth and mouth, including broken teeth, stomatitis, oral cancer, TMJ disorder, fractured jaws, complicated extractions, malocclusions, cleft palate, gum disease and crowns.
Diagnostic Imaging
Our radiology service performs many non-invasive and minimally invasive diagnostic procedures such as radiography, ultrasound, MRI, CT scan and nuclear medicine. These services allow the specialty clinicians unique, non-invasive opportunities for evaluating various diseases.
Emergency Medicine
Our emergency team diagnoses and treats urgent injuries and illnesses in pets. We work in collaboration with our other specialty teams to provide compassionate care for pets with emergency conditions, such as:
Trauma, including those hit-by-car, bite, or burn injuries
Trouble breathing
Blood transfusion cases
Shock (signs of shock can include weakness, pale mucous membranes in their mouth, cold extremities, and an abnormal heart rate)
Difficulty urinating
Loss of appetite
Complications as a result of abnormal heart rhythm
Internal Medicine
Our internal medicine service includes the diagnosis and treatment of cardiac, respiratory, gastrointestinal, endocrine, urogenital and hematological illnesses. Some of the symptoms that your pet may be demonstrating include:
Inappetence
Fever
Coughing
Sneezing
Vomiting
Diarrhea
Complications of the urinary tract
We also perform a number of endoscopic procedures which include gastroduodenoscopy, colonoscopy, bronchoscopy, rhinoscopy, cystoscopy, and foreign body removal.
Medical and Radiation Oncology
Our oncology service offers the highest quality of care for veterinary cancer patients. We use advanced cancer diagnostics, including scintigraphy and cross-sectional imaging (such as MRI and CT scans). Our skilled team delivers compassionate, comprehensive care by using advanced combinations of surgical, medical (chemotherapy), immunological and radiation therapy to ensure the best possible outcomes for individual cancer patients.
Neurology
Our neurology service diagnoses and treats medical and surgical conditions related to the brain, spinal cord, nerves and muscles. Common symptoms that present to our neurologists are paralysis, loss of balance, seizures, deafness or exercise intolerance.
Rehabilitation
Physical rehabilitation speeds recovery and improves strength following surgery. Our rehabilitation service features an underwater treadmill. Whether walking or swimming, our patients benefit from the added buoyancy and resistance the warm water provides.
Surgery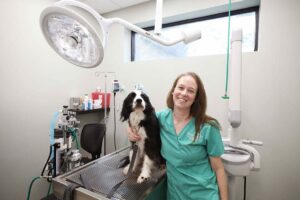 Our surgical team performs orthopedic and soft tissue surgeries. Some of the orthopedic procedures performed include total hip replacements, fracture repairs, and surgery for cruciate ligament injury. Soft tissue surgeries include a broad variety of thoracic and abdominal procedures as well as reconstructive surgery often performed in the treatment of cancer. AVS also performs minimally invasive procedures, including laparoscopy and arthroscopy.