GVR Services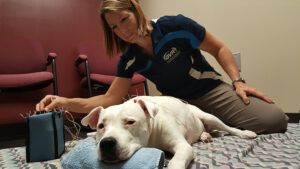 Our staff of veterinarians and veterinary therapists are exceptionally well trained in the best of Western and Eastern medical approaches. We treat "the whole animal." 
Our list of services includes: 
Acupuncture (including electro-acupuncture, B-12 aqua-puncture, and moxibustion)
Acupuncture is the insertion of very fine needles into specific points on your pet to treat a diagnosed condition. These specific points are called acupuncture points and are mapped and diagramed for each species. In veterinary practice, acupuncture may be used alone or in conjunction with other therapies.
Animal manipulation gently realigns the spine, corrects chiropractic subluxations, relaxes the surrounding muscles, and allows the gradual restoration of neurologic and biomechanical function.
Laser therapy is proven to relieve pain from muscle and joint soreness, relieve symptoms of arthritis, relax muscle spasms, increase blood flow to a treated area, and speed wound healing. The cells in the injured areas absorb the energy of the laser and then can facilitate local healing.
At GVR, we use ShockWave Therapy as a non invasive way to help improve the quality of life for your pet by reducing pain and inflammation. The treatment sessions allow your pet to relax comfortably while receiving the treatment. The dosage and frequency of application is determined by the overseeing veterinarian and applied by a veterinarian or therapist.
GVR's veterinarians are trained and experienced in Traditional Chinese Veterinary Medicine (TCVM), which includes use of herbals. Oftentimes Chinese herbs can be introduced into a treatment plan to help with a variety of conditions. Herbal treatments have supplemented, reduced or eliminated the need for some prescription medications. 
Weight bearing water resistance therapy (Underwater treadmill)
Weight bearing water resistance therapy in one of our two underwater treadmills uses the buoyancy of water to support your pet's weight while they walk (or jog) on a treadmill. The water provides greater resistance to limb movement than air for a therapeutic effect.
Swim Therapy (Indoor SwimEx resistance pool)
When dogs swim, they are not weight bearing and use their legs differently than when they walk, moving through a greater range of motion. A resistance therapy pool is an important tool that complements the weight bearing water resistance of the underwater treadmill.
Massage increases circulation to improve healing, decrease pain and reduce swelling. Massage can be used for acute or chronic problems; it increases blood flow, which improves oxygen delivery to tissues, and breaks down scar tissue. Massage also promotes mental and physical relaxation. 
Therapeutic exercise can be passive, where we move the animal's body to manipulate their joints, or active, where we guide the animal through specific movements with positive reinforcement techniques.
Assistive equipment (carts, orthotics and prosthetics)
Unfortunately some pets may not be able to return to full function due to nerve damage, spinal injury or some other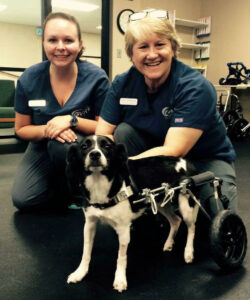 permanent condition. However, they may be able to live a healthy and happy life with the correct assistive equipment.
Orthotics (splints and braces) are used to support an injured limb while it heals, to correct a deformity or to encourage correct limb use.
Prosthetics replace a lost limb or one that was stunted as a birth defect.
Carts are fitted to patients that are paralyzed or unable to walk without support. Patients with hind leg immobility when fitted to the right cart can often return to a high level of freedom and mobility.
Some patients with advanced orthopedic or neurologic conditions, or those recovering from surgery, benefit most from multiple, short rehab sessions per day. For these patients, we offer the convenience of day or overnight boarding in our spacious, modern kennels.
---
Pet Stretching and Strengthening Videos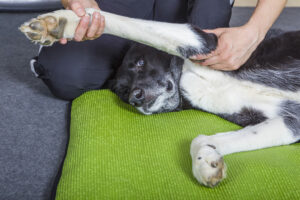 The purpose of our pet stretching and strengthening video channel, produced by Georgia Veterinary Rehabilitation, Fitness & Pain Management, is to complement the instructions we provide to our clients during their visit for performing at-home exercises with their pets. After viewing the videos, if you are unsure how to perform an exercise we have prescribed for your pet, please stop the exercise and contact us to receive proper instruction.
Frequently Asked Questions
Have more questions? Check out our list of frequently asked questions regarding rehabilitation, treatment, payment and more.