BluePearl Pet Hospital – Serving Midtown Manhattan 24/7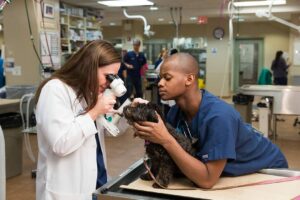 When you have a pet emergency, seconds count. We want you to know, we're ready. If your pet has a condition that requires a specialist's expertise, we're ready for that too. Our experienced team of veterinarians, vet technicians and support staff work closely together to provide the comprehensive, compassionate care your pet needs and deserves.
Our 24-hour pet hospital in Midtown serves Manhattan, including Hell's Kitchen, Midtown and Upper West Side, along with Union City, NJ, North Bergen, NJ, Long Island City, NY, Hoboken, NJ, and West New York, NJ.
Specialty and Emergency Medicine in Midtown Manhattan
Emergency Medicine: In an emergency, call ahead to your BluePearl vet and let us know you're coming. No appointment is necessary for our emergency vet. Learn more about your emergency visit.
Specialty Care: Our veterinary specialists work directly with your primary care vet to understand your pet's condition and develop the appropriate treatment plan. Visits to our specialists are usually by referral from your primary care vet and by appointment. Learn more about veterinary specialists.
About Our BluePearl Pet Hospital – Midtown, NY
BluePearl has New York City covered with four hospitals. We have 24-hour emergency animal hospitals in Queens, Brooklyn and two in Manhattan, and we are always on duty and ready to care for your pet.
If you need a board-certified expert for a chronic condition, we're also a specialty hospital. Accessible by public transportation, BluePearl Midtown on West 55th Street has a linear accelerator, which allows it to offer radiation therapy for cancer patients.
The 20,000-square-foot hospital, formerly known as NYC Veterinary Specialists, also offers radioiodine I-131 treatment for cats with hyperthyroidism.
It's New York and so our Midtown hospital occasionally
makes it into a movie or TV show. As you might guess, our veterinarians sometimes respond to the medical emergencies of TV and zoo animals, including a hypoglycemic porcupine, a flamingo with a fracture and a tiger with a bad knee, to name a few.
Meanwhile, we strive to treat your pets like the stars they most certainly are.
Client Testimonials
Thank you all for making my experience the best ever, from the bottom of my heart. Your kindness will never be forgotten. I even called Buttercup's primary vet and told her staff to thank her for sending me to Dr. Rocha!