Our Services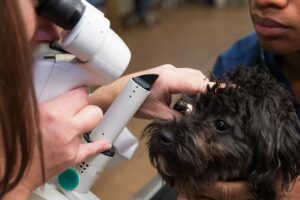 We focus exclusively on emergency treatment and advanced specialty veterinary care. (For annual vaccines and wellness care, please see your primary care veterinarian.)
Types of Specialties & Services
Each BluePearl pet hospital is unique. Our Midvale location offers these specialties and services provided by skilled, compassionate and dedicated professionals.
SPOTLIGHT ON ONCOLOGY
Oncology at BluePearl: Experts Working Together to Treat Cancer
At BluePearl in Midvale, UT, our board-certified oncologists and other specialists work together with you and your primary veterinarian to treat your pet's cancer. When you make an appointment with us, you'll meet with an oncologist and, if requested, a surgeon, all for one consultation fee. We'll also examine your pet and create a comprehensive treatment plan.
Our Oncology Services
Fast diagnostics including, in many cases, same-day cell-sampling results 

A state-of-the-art CT scanner 

Dedicated surgical suites

Collaborative treatment with oncologists, surgeons, an anesthesiologist and a dentist/oral surgeon
We know that helping your pet battle cancer is a stressful and scary time. Our team is here to listen to your wishes and to provide your pet with the most advanced available treatments for the best possible outcome. 
For an appointment, call 801.871.060. You can also ask to speak to an oncology nurse at any time.
Oncologists Chelsea Greenberg, DVM, DACVIM (Oncology) Katie Wright, DVM, DACVIM (Oncology)
Surgeon Christina Boekhout, DVM, DACVS-SA
Anesthesiologist Vicki Campbell, DVM, DACVAA, DACVECC
Oral Surgeon/Dentist Jennifer Alterman, DVM, DAVDC