Specialty and Emergency Pet Hospital in Monterey, CA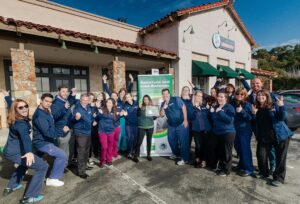 Pet Specialists of Monterey is a 24-hour emergency and specialty animal hospital located on the Monterey Peninsula. We serve patients, clients and primary veterinarians from San Luis Obispo to Santa Cruz to Monterey counties and beyond.
Emergency Services
The expert veterinarians and staff at Pet Specialists of Monterey are trained to handle emergencies 24 hours a day, 7 days a week, 365 days a year. Our emergency service provides care for patients that require immediate medical attention, intensive care and hospitalization and/or emergency surgical intervention. We're here to provide the top level of care for every pet that walks through our doors.
In an emergency, please call ahead and let us know you're coming. There is no appointment necessary for your emergency vet visit.
Specialty Services
Pet Specialists of Monterey offers advanced medical and surgical services for ill and injured pets. Our team of board-certified specialists and specialty clinicians are highly skilled and committed to providing your pet with the best medical care. We offer the following specialties and services at our pet hospital:
24/7 Emergency Medicine
Cardiology
Critical Care
Diagnostic Imaging
Internal Medicine
Surgery
Interventional Radiology
Through every step of your pet's specialty care process, we communicate closely with both you and your pet's primary veterinarian. Your pet's quality of life is our top priority.
About Pet Specialists of Monterey
Our 10,000 square-foot hospital uses the latest and most advanced equipment to provide top-notch care for your pet. Pet Specialists of Monterey is equipped with the following special features:
Diagnostic imaging technology – including CT, ultrasound, diagnostic procedures and in-house laboratory
Surgical suite – with advanced monitoring technology and surgical tools