Coronavirus Update:
Our hospital is
open
and we are taking extra precautions to continue providing remarkable care for your pets.
Please download and review this form
 to learn more about our new patient intake procedure
s
prior to your visit.
---
Veterinary Specialty Center of Delaware – serving New Castle 24/7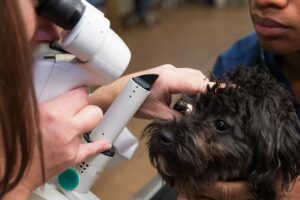 Our 24 hour pet hospital is located in New Castle, Delaware, and serves the entire Delmarva region, including Wilmington, Newport, Stanton and Newark. 
Specialty and emergency medicine in New Castle, Delaware
When you have a pet emergency, seconds count. We want you to know, we're ready. If your pet has a condition that requires a specialist's expertise, we're ready for that too. Our experienced team of veterinarians, vet technicians and support staff work closely together to provide the comprehensive, compassionate care your pet needs and deserves.  
About Our Veterinary Specialty Center of Delaware – New Castle
Our well-equipped New Castle hospital has an ICU, a CT scanner,  a designated cat ward, 10 exam rooms and three surgical suites. We are able to help our canine patients with hip dysplasia and other painful hip conditions by providing total hip replacement surgery. 
Our state-of-the-art rehabilitation center worked together with the University of Delaware to create a custom-made Enliten open area support system which allows our patients to do physical therapy without putting weight on their legs. 
We also have a Dimension One Jet Pool, like the ones you've seen advertised on tv for people, that serves as a physical therapy tool for patients to get exercise and blood flowing without harmful impact.