BluePearl Pet Hospital – 24/7 ER for pets in northeast Portland.
Our 24-hour emergency pet hospital is located in the Northeast quadrant of Portland, Oregon in the Hollywood District. We serve pets throughout the Portland area, including neighborhoods like Lloyd, Irvington, Alameda, Hollywood, Rose City Park, Kerns, Laurelhurst, Beaumont, Grant Park and North Mt. Tabor.
Pet owners can find our hospital just off Sandy Blvd. on the corner of Tillamook and 42nd. We're close to Wells Fargo, Whole Foods and just down the street from Laughing Planet.
Emergency veterinary medicine for pets in northeast Portland, OR.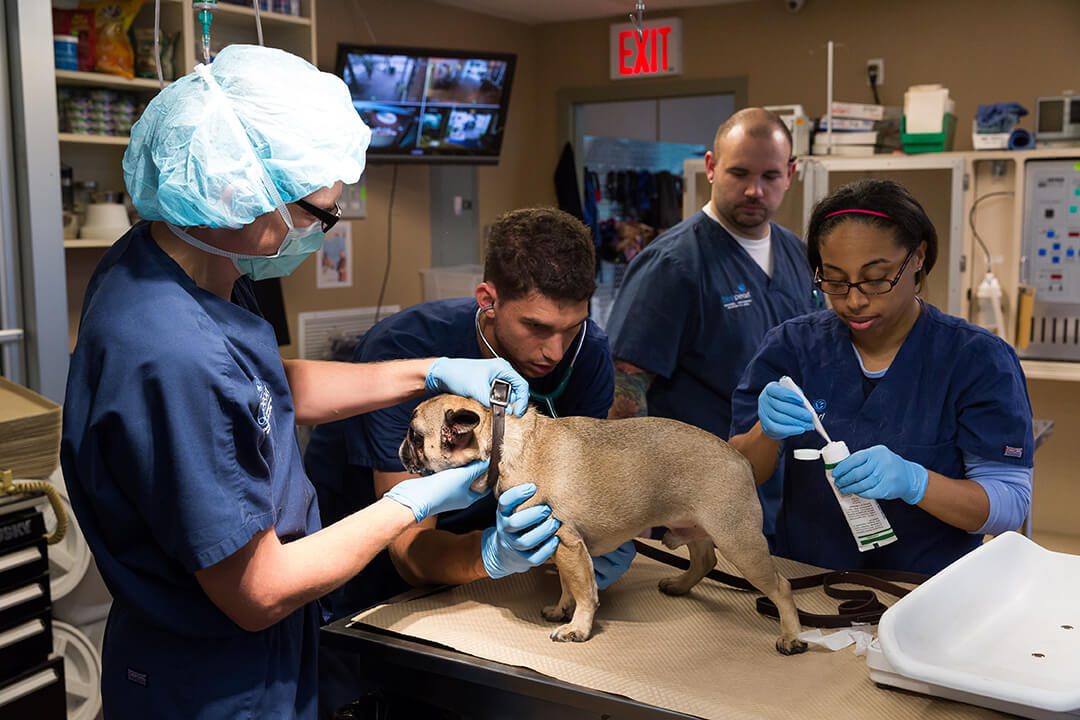 When your pet needs emergency care, seconds count. Our team is ready to provide expert care 24/7 in case of a pet emergency. If your pet requires a veterinary specialist, we are ready for that too. Our experienced team of veterinarians, vet technicians and support staff work closely together to provide the comprehensive, compassionate care your pet needs and deserves.
If you're facing a pet emergency, please call ahead and let us know you're coming. There is no appointment necessary for your ER visit.
When it comes to managing pet health crises, we work together as a capable and confident veterinary team, including across services in our hospital, to give them life-saving care. We work closely with you and your primary vet, keeping them updated on your pet's status and ensuring they have the best possible path to recovery.
Our
veterinarians.
Caring for your pets is our passion. Meet our team of veterinary specialists here to help you and your pet.
About our BluePearl Pet Hospital – northeast Portland.
At BluePearl, we believe pets come first. Your pet's comfort, quality of life and quick return to health are our top priorities – and we truly value the human-animal bond you share with your pet. You can look to the BluePearl veterinary team to provide compassionate care and treat your pets as if they are our own family pets. We understand the importance of open and thorough communication, and we keep you and your primary veterinarian informed through every step of your pet's care.
Our hospital has cutting-edge technology to support our commitment to the highest quality of medicine and care. Our advanced features include:
Diagnostic technology, including x-rays
CT scanner
Ultrasound technology
Intensive care unit (ICU)
Pet owners.
At BluePearl Pet Hospitals, providing our customers with remarkable service is a top priority. We're committed to making your veterinary visit as smooth as possible.
Have questions prior to your visit? We're happy to help. Contact our hospital team at 503.501.2375 or [email protected].
BluePearl in the community.
As proud Portlanders, we want to make a positive impact on the community. Our hospital, located in the Hollywood district, is 100% powered by renewable solar energy.
The Utrecht Mural on the side of our building was created in 2018 as part of a collaboration between the Dutch city of Utrecht and Portland. Created by Dutch designer Menno Anker, it symbolizes the Friendship City relationship between the two cities. In 2018, the nonprofit Portland Utrecht Network worked closely with artists from Utrecht to put on a series of cultural events comprising art and theatre. This beautiful mural was created in this context as a lasting tribute to the friendship between the two cities.