Specialty Vet Services in East Orlando
At Affiliated Veterinary Specialists in East Orlando, we offer specialty services with the goal of improving quality of life and overall well-being. Our specialty clinicians work with each other and your pet's primary veterinarian to share knowledge and provide comprehensive care for your pet's specific condition. Our specialty pet hospital is home to the following services:
Internal Medicine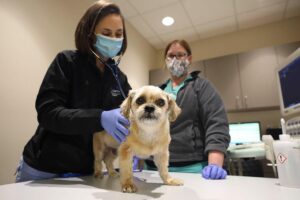 Our internal medicine team diagnoses and treats cardiac, respiratory, gastrointestinal, endocrine, urogenital and hematological illnesses in pets. Some of the symptoms that your pet may be demonstrating include fever, anemia, loss of appetite, couching, sneezing, diarrhea and complications o the urinary tract.
We also perform a number of endoscopic procedures which include gastroduodenoscopy, colonoscopy, bronchoscopy, cystoscopy, and foreign body removal.
Surgery
Our surgery team performs a variety of procedures in pets, including:
Orthopedic surgeries – such as such as total hip replacements, fracture repairs and surgery for cruciate ligament injury
Soft tissue surgeries – including thoracic, abdominal and reconstructive