Specialty Services at BluePearl Pet Hospital in Overland Park, KS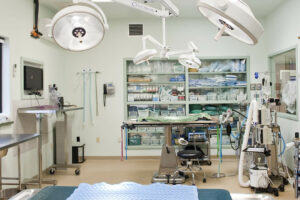 We offer specialty and emergency services for pets in Kansas City and the surrounding communities. Our expert clinicians are available when your pet's primary veterinarian's office is closed or if your pet needs specialty care.
Working collaboratively in an advanced pet hospital, our specialty clinicians are dedicated to delivering top-quality, compassionate care for your pet. We proudly offer the following specialty vet services:
24/7 Emergency Medicine
We are always available to provide remarkable care for pets with medical emergencies.
Cardiology
Our cardiology team diagnoses and treats conditions of the heart and circulatory system in pets.
Critical Care
Overseeing our hospital's ICU, our critical care team cares for the most critically ill and injured patients.
Internal Medicine
Our internal medicine team specializes in treating complex diseases and improving quality of life for pets affected by these conditions. 
Neurology
Our neurology team diagnoses and treats conditions that affect the brain and nervous system.
Oncology
Our oncology department develops custom treatment plans for pets affected by cancer with the goal of promoting overall wellbeing.
Radioiodine I-131
This special service is an innovative treatment used to cure hyperthyroidism in cats.
Rehabilitation
Our rehabilitation services are offered to help improve mobility, strengthen muscles and ease pain.
Surgery
Our surgery team is highly trained in performing a wide variety of procedures on pets in a monitored surgical suite.