Our Services
Berks Animal Emergency and Referral Center is designed to provide outstanding veterinary emergency care 24/7 and specialized diagnostic and treatment services on a referral basis. In the event your pet requires emergency veterinary services, our skilled veterinary team is ready to assist you. 
Types of Specialities and Services
Our hospital is equipped with an in-house laboratory, advanced diagnostics, pharmacy, and an ICU to care for your pet in the event of an emergency.
Behavioral Medicine
Our pet behavior consultations are performed by Jaqueline Wilhelmy, MS, VMD, DACVB, CCBC-KA. More information about Dr.Wilhelmy's practice can be found at delvalvetbehavior.com.
Animal behavior issues treated:
Aggression/biting
Separation anxiety
Reactive anxiety
House training
Spraying by cats
What to Expect at Your Pet's Behavioral Consult
Behavioral consultations typically require a 2-hour appointment, and can be conducted at our clinic. If possible, we encourage two family members to attend the behavior consult, as this allows us to gain the most insight into the cause of your pet's behavior.
Cardiology
Your pet's heart health is very important to us. Our referral cardiology service provides specialty diagnostic and treatment consultations for your dog or cat. We have the skills and expertise to diagnose, monitor, and treat many common heart conditions. In our efforts to provide the most effective treatments, we have the capability to perform a variety of tests including:
Pre-anesthesia heart health screening
Congenital cardiac disease
Heart murmurs
Heart arrhythmia
Congestive heart failure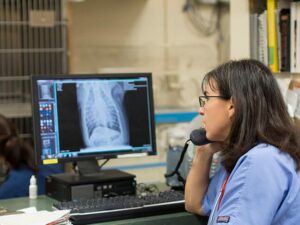 Diagnostic imaging is frequently used to provide our veterinarians with a view of the internal body systems and the skeleton. These digital images, once taken, are available immediately for viewing by our veterinary team and are easily transmitted your pet's family veterinarian. Digital radiographs are ideal for viewing:
Bladder and prostate
Bones and joints
Lungs and heart
Stomach, intestines, and colon
Digital radiology provides valuable diagnostic information when trying to identify diseases and other health problems in their early stages.