Tips to Protect Your Cat or Dog in Winter
An increasing number of states are passing laws which make it a crime to leave pets out in the cold, according to recent news reports.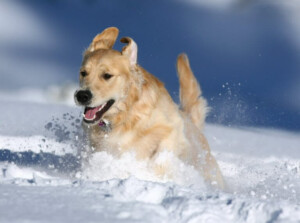 So what can responsible pet owners do to make sure they are keeping their pets safe from frostbite and other winter dangers?
They can read this tip sheet from experts at BluePearl, which is designed to help pet owners protect dogs and cats in winter.
The most important information for pet owners can be summed up in four words: Pets get cold too.
"Use your common sense – if it's negative-20 your pet doesn't want to be out there any more than you do," said Dr. Kimberly Helmbold, a BluePearl veterinarian who is board-certified in veterinary emergency and critical care.
"The biggest thing to realize is that our pets experience the same effects from the cold as we as humans do, Helmbold added. "So whatever you're going to do for yourself, do for your pet."
Here are some key tips:
Limit time outside for your dog or cat. A dog might spend all day in a doghouse on some spring or fall days, but definitely not in the freezing cold. "Animals can experience hypothermia," Helmbold said. They also can get frostbite.
It's obviously fine to let your dog outside to do his business, or to go on a walk, even in the snow. But don't make it an 8-hour hike, even if you're up for it yourself. Also, keep your pet on a leash during walks. And don't let a dog run off a hiking trail into the snow. "You never know how deep that snow is going to be," Helmbold said.
When pets are outside, make sure to give them plenty water. Staying well-hydrated is important to circulation and good circulation helps keep the body warm.
If a de-icer is used on your driveway or the sidewalk outside your apartment, make sure it is a pet-friendly variety. Many types are toxic to dogs, and they will lick the salt from between their toes after getting back inside. Talk to your landlord about this if necessary.
Surprisingly, winter also creates indoor hazards for pets. Cats love to find a warm auto engine to curl up in – but things go badly when you fire up the car in the morning. Antifreeze, which sometimes pools on the garage floor, seems tasty to pets but is downright deadly. If possible, don't leave pets unattended in the garage.
Now that you know how to keep your pets safe, don't forget to have some wintertime fun also. Here are some suggestions. As long as you take precautions, there's no reason you can't have fun with your pets even when the mercury drops.