Marcus Luttrell and injured pup share incredible stories of survival and gratitude.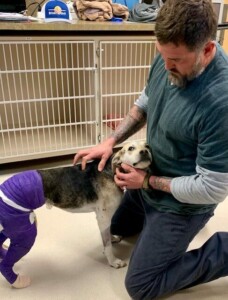 United States Navy SEALs are notorious for their quick, tactical interventions and are bound by a code of honor that embraces the practice of never leaving a man behind. These guiding principles hold particularly true for former special operations legend and real-life "Lone Survivor," Marcus Luttrell, who recently rescued an injured pup (Roy) from a roadside ditch in Texas.
One Lucky Dog
One morning while driving, Luttrell noticed two distraught women standing on the side of the road. Concerned, Luttrell pulled over and saw whom he assumed to be their dog, injured and covered in blood. As a recipient of both the Navy Cross (an award for valor in combat) and Purple Heart (awarded to those wounded or killed while serving), Luttrell knew he had to act quickly. 
Luttrell picked up the wounded pup and rushed him to the nearest veterinary clinic to be evaluated. However, after thorough examination, it was decided that Roy would need advanced wound care. Luttrell was then referred to Laura Hinton, DVM, DACVS, board certified in veterinary surgeon at BluePearl Specialty and Emergency Pet Hospital in Spring, TX, for surgical management of Roy's wounds. 
Dr. Hinton examined Roy and discovered several severe wounds that she says are suggestive of vehicular trauma. 
Roy's injuries tell us that he was likely hit by a car. Our team provided wound management, but he may still need plastic and orthopedic surgery on his left knee," explained Dr. Laura Hinton. "Mr. Luttrell remarkably found and committed to this dog without a prior relationship with him. The parallel between Roy's plight and the well-publicized ordeal that Mr. Luttrell survived while serving and protecting our country makes Roy's recovery even more meaningful to us at BluePearl."
Parallel Stories of Survival
In late June 2005, Luttrell and a team of elite SEALs landed in Afghanistan to capture or kill a Taliban militia leader. Luttrell and his team were met with gunfire, grenades, and mortars. Nineteen Americans died that day, however, Luttrell miraculously survived. Despite bullet wounds, a broken back, and rocks and shrapnel lodged in his legs, Luttrell crawled seven miles through the mountains and found refuge with a band of village men; one notably being Mohammad Gulab.
For several days, Gulab and other villagers protected Luttrell from the Taliban militia—even when faced with death threats. While guarding Luttrell, Gulab sent an emissary to the nearest U.S. base to ensure Luttrell's rescue. Soon after, the U.S. military ordered a large search-and-rescue operation with warplanes and ground forces that fought the Taliban combatants and brought Luttrell home.
Like Roy's story, Luttrell's past tells a tale of survival and gratitude for the help he received during wartime. 
Roy appeared to be near death when we found him in that roadside ditch. I, myself, almost died in a ditch, so felt a special responsibility to take care of him," remarked Luttrell, who was portrayed by Mark Wahlberg in the 2013 American biographical military action film "Lone Survivor." "I survived solely because of the help others gave me, and now Roy has survived because of the help others have given him. I am so thankful for the BluePearl team and the jaw dropping care we received. Their commitment to Roy's care and recovery was truly life changing."
Beginning a New Life
Despite Roy's injuries and plight, Dr. Hinton says he loves human interaction and has a tail wag for everyone he meets. 
Roy is the most lovable, resilient creature," said Dr. Hinton. "We are always thankful when owners or good Samaritans can go above and beyond to help us help pets. In Roy's case, he required substantial medical intervention and a commitment to the journey of healing and treatment. Luttrell incredibly provided Roy with both a path to recover and a path to a forever home."
Roy is available for adoption through Red Collar Rescue. There is a detailed adoption process, including an adoption application, reference checks, home visit, and adoption donation.  To be considered, submit your on-line adoption application now at www.redcollar.org