Our Mission: enriching lives through remarkable care for pets
BluePearl Veterinary Partners is a national network of specialty and emergency pet hospitals.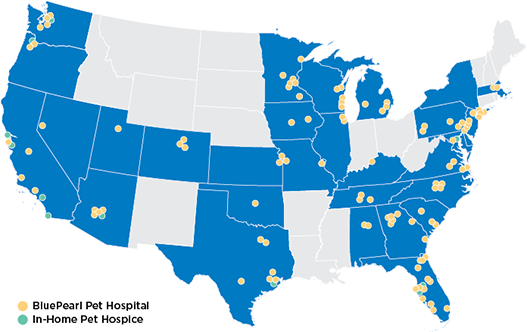 We have hospitals located throughout the country, most of which are open 24 hours a day, every day of the year. Our hospitals are staffed with specialists and experienced emergency veterinarians who use innovative techniques and advanced diagnostics to provide safe, compassionate, comprehensive treatment for pets. 
We combine this skill with a deep love for animals that's evident in the care we provide. Whether it's taking the time to comfort an anxious pet or the multiple phone calls we make to update worried pet owners, we know compassion is essential to what we do.
Why Choose BluePearl?
Expert veterinarians in every specialty. Many of our specialists are board-certified, which means they receive years of advanced training within their areas of expertise. 
A team-based approach. Our hospitals have a wide variety of experts under one roof, which provides opportunities for cooperation and leads to the most comprehensive care for your pet. 
Innovation and research. We pride ourselves on being on the forefront of veterinary medicine. We frequently participate in clinical trials because we're excited to be a part of the advancements being made in our industry.
A collaborative atmosphere. We are committed to working with you and your family veterinarian to deliver optimal care at every stage of your pet's life. 
Technology. We believe in investing in state-of-the-art technology. At many of our hospitals, you'll find CT scanners, MRIs and ultrasound machines – much like those used in human medicine.
Compassion. We know your pet is a member of your family. All of our caregivers are passionate about animals. It shows in the way we interact with your pet and our dedication to providing the best possible care.