Emergency and specialty vet services in Midvale, UT.
We focus exclusively on specialty and emergency medicine. Our compassionate clinicians are available when your pet's primary veterinarian's office is closed or if your pet needs specialized medical care.
We take a collaborative approach to veterinary medicine, meaning our specialty teams work together to develop comprehensive care plans and promote their patients' quality of life. Our 24-hour pet hospital is home to specialty clinicians in the following areas: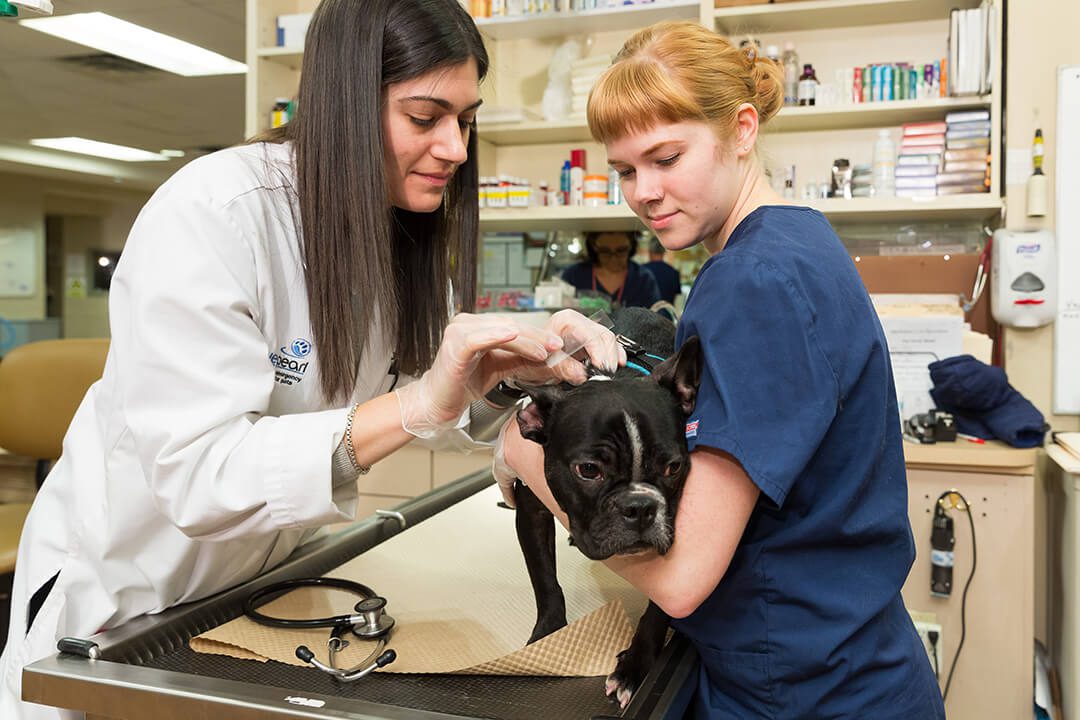 Dentistry & Oral Surgery
Our veterinary dentist diagnoses and treats complicated and painful conditions that affect the teeth, gums and mouth.

Dermatology
Our veterinary dermatology team provides compassionate care for pets with skin conditions, including allergies, ear infections, skin cancer and autoimmune and immune-mediated skin diseases.
Your pet may benefit from seeing a veterinary skin specialist if they're experiencing symptoms like:
Excessive scratching and itchiness
Recurrent & chronic skin infections
Frequent licking and chewing of the body
Hair loss/bald spots
Flaky, dry skin
How a veterinary dermatologist can help your pet.
Using sophisticated diagnostic tools and advanced treatment options, our veterinary dermatology team can help provide much-needed relief to pets in greater Salt Lake City.
Common treatments and procedures our pet dermatology service offers include:
Allergy and blood testing
Immunotherapy (allergy shots or drops)
Ear flushes for infections
Video otoscopy for ear infections
Skin biopsy, growth and polyp removal
Cryotherapy
Meet  Elizabeth Layne, DVM, DACVD®, veterinary dermatologist.
Dr. Elizabeth Layne is a board-certified veterinary dermatologist at our Midvale, UT pet hospital. Passionate about providing excellent care to her patients, Dr. Layne is particularly interested in helping pets with ear disease, autoimmune disease, and allergies find relief.
Dr. Layne attended veterinary school at Colorado State University. She then pursued her passion for helping pets in need by completing an internship and residency in veterinary dermatology and allergy at the University of Wisconsin. Now, Dr. Layne leads the dermatology service at BluePearl in Midvale and sees patients from all over the Salt Lake City area.