503B compounding and the future of veterinary medicine.
Pharmaceutical compounding is a valuable and often misunderstood practice, steeped in history and tradition. Modern compounding – often referred to as 503A – is a niche business, providing patient-specific formulations to satisfy individual needs.
Because commercially available drugs are marketed almost exclusively for humans, compounding has become an essential resource for veterinary medicine. Veterinarians often depend on 503A pharmacies to provide preparations at lower concentrations and in more palatable dosage forms to optimize treatment for their patients.
What is 503A compounding?
However, without proper management and regulations, 503A compounding can potentially be detrimental. Presently, 503A pharmacies are not required to adhere to Current Good Manufacturing Practice (cGMP), objectives put forth by the Food and Drug Administration (FDA) to ensure that pharmaceuticals achieve a specified standard of safety. The quality of products produced in a 503A facility depend on the pharmacy's voluntary conformance with cGMP, which can be substantially cost-prohibitive, requiring anywhere from $50,000 to $100,000+ of investment for a single formulation.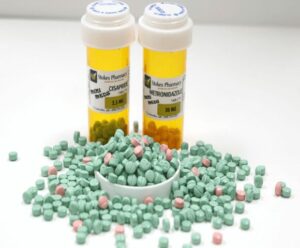 Testing on raw materials and finished products may be performed to an extent depending on the facility, but the data are often incomplete, testing only one or two factors while omitting others that would affect the overall quality of the product. The variability of cGMP compliance from pharmacy to pharmacy paves the way for glaring omissions in procedures that can lead to patient harm.
How 503B compounding is different.
From a clinician's perspective, these facts left many unanswered questions regarding the quality of medication they receive. In 2013 the Drug Quality and Security Act was signed establishing a new set of standards for compounding pharmacies, called 503B. While it is voluntary to register as a 503B facility, a facility with this designation is required to conform to cGMP standards.
Also, unlike 503A, 503B facilities can manufacture batches that can be sold without patient-specific prescriptions, known as "outsourcing." Instead, they can be sold to healthcare facilities, who can subsequently retain them for office use. This added distribution capability is permitted by the FDA due to rigorous testing and controls from the beginning to the end of production.
Good documentation practice (GDP).
One of the most essential foundations of cGMP is good documentation practice (GDP), which provides thorough traceability at every step of the compounding process. This robust traceability allows for transparency with the FDA and assures that the product received by the practice meets the pharmacy's label claims. If ordering from a 503A pharmacy, there is no guarantee that any of these practices are in place or that they are deployed correctly.
Traditional compounding pharmacies are required to operate under standards put forth by the United States Pharmacopoeia (USP), specifically USP Chapter <795> (non-sterile compounding) and USP Chapter <797> (sterile compounding), but there are many differences between USP and cGMP. The most fundamental disparity is the amount of testing required.
In a 503B facility, all batches must have potency testing performed to ensure that they meet label claims. If the product is purported to be sterile, sterility testing must be performed on every batch, in addition to endotoxin testing if the sterile product is an injection. What prescribers may not be aware of is that these tests are either not required or only conditionally required in a 503A pharmacy.
One real-life example.
Of course, traditional compounding pharmacies can certainly go above the minimum requirements for 503A processing, but the additional protocols performed are typically undefined for an outside prescriber, and they may not be consistent from preparation to preparation. A 503A pharmacy may advertise that potency testing is performed, for instance, but there is no guarantee that it was done for the specific batch given to a patient. As an example, a short while ago our staff was working with a veterinary ophthalmologist whose glaucoma medication was not achieving the desired effect on her patients.
Some units she used worked as expected and others did not. The medication was ordered from a large-volume traditional 503A compounding pharmacy. After some testing, it was determined that the variability was due to fluctuations in potency from lot to lot. When replaced with the same product from Stokes' 503B facility with potency testing supporting its effectiveness, the veterinarian had no further issues. That is ultimately the difference between traditional 503A compounding and 503B.
Conclusion.
Veterinarians must often find a balance when it comes to prescribing. Price and availability will always play major roles for their clients. Additionally, they may see the value in ordering a specifically formulated 3.125 mg capsule, despite a lack of potency testing, when only 3 mg and 4 mg tablets are available from a 503B facility.
These are concerns that can vary from clinician to clinician and from patient to patient. It is important that prescribers make informed judgments on the medication they receive to ensure the best possible patient outcomes. Veterinarians, more than ever before, can be assured that their order meets standards of safety and quality if they know what to look for in a compounding pharmacy.
© Stokes Healthcare, Inc.
Stokes Pharmacy is a BluePearl Partner in Education.
Read the latest medical articles published by BluePearl veterinarians.