The appointment highlights Dr. Millard's veterinary expertise!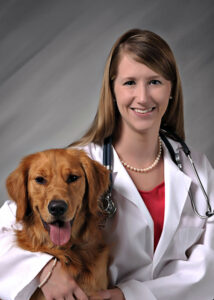 The American College of Veterinary Surgeons (ACVS) Board of Regents has appointed Heather Millard, DVM, MS, DACVS-SA, of BluePearl Specialty and Emergency Pet Hospital, to the Editorial Review Board for Veterinary Surgery—the official publication of the ACVS and European College of Veterinary Surgeons (ECVS). This distinguished appointment, which is for a three-year term, highlights Dr. Millard's veterinary expertise and dedication to advancing the body of knowledge in small animal general soft tissue surgery.
In this role, Dr. Millard will be responsible for reviewing six to eight manuscripts submitted to the journal each year, as well as any revisions made to the same manuscript. Veterinary Surgery submissions are original, peer-reviewed articles that cover developments in veterinary surgery, with articles focusing on novel surgical techniques, diagnostic aims, care of infections, and advances in knowledge of metabolism as it affects the surgical patient.
I'm honored to join this prestigious group of forward-thinking veterinary leaders," remarked Dr. Millard, ACVS Diplomate and board certified veterinarian specializing in small animal surgery at BluePearl in Overland Park, KS. "This appointment gives me the opportunity to extend my experience and knowledge to other veterinary professionals around the world by providing useful and constructive feedback to the manuscript authors."
Editorial Review Board members are recognized for their leadership and experience in publishing and/or reviewing manuscripts in topics related to veterinary surgery. These areas of expertise include: biomechanics, biostatistics/epidemiology, implant testing (sutures), large animal gastrointestinal surgery, regenerative medicine, small animal general soft tissue surgery, and surgical education.
Members are carefully selected by the Editor-in-Chief of the journal, Dominique J. Griffon, DMV, MS, PhD, DECVS, DACVS, with consultation from the journal's Associate Editors. The Editorial Review Board is comprised primarily of ACVS and ECVS Diplomates, along with DVMs, PhDs, or MDs.
Heather was an intern that I had the pleasure of mentoring during my tenure at the University of Illinois. I remember her as an incredibly energetic individual with outstanding organizational skills and a strong desire to have a positive impact on the field," said Dr. Griffon. "I am thrilled that she will be joining our Editorial Board and look forward to working with her."
For more details about the Veterinary Surgery journal, please visit the Wiley website.
About BluePearl Specialty and Emergency Pet Hospital
Founded in 1996, BluePearl is one of the largest specialty and emergency practices in the U.S. today. BluePearl has more than 80 hospitals in 25 states that together employ 5,300+ Associates, including 1,100+ veterinarians, 2,850+ veterinary technicians, and 1,350+ other professionals.
Each year, our compassionate teams provide high-quality care for 860,000+ pets and their families. BluePearl clinicians also participate in clinical studies to discover new treatments and procedures that improve pet health. As part of the Mars, Inc. family of brands, BluePearl is committed to its purpose — A Better World For Pets® — because pets make a better world for us. Learn more at https://bluepearlvet.com/
About the American College of Veterinary Surgeons
The American College of Veterinary Surgeons is the AVMA-recognized veterinary specialty organization™ for certification of veterinarians in large animal surgery and small animal surgery. Established in 1965, the mission of the American College of Veterinary Surgeons is to advance the art and science of surgery and promote excellence in animal health care through research, education, and service to the public.