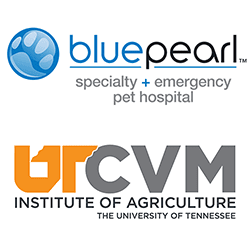 Tampa, Fla.—BluePearl has partnered with the University of Tennessee (UT) College of Veterinary Medicine to train social workers for careers in specialty and emergency veterinary medicine. Through this novel partnership, students enrolled in UT's Postgraduate Veterinary Social Work Certificate Program (VSWCP) will gain valuable, hands-on experience in veterinary hospitals across the U.S.
Individuals studying veterinary social work focus on four key areas: the link between human and animal violence, animal related grief and bereavement, animal assisted interactions, and compassion fatigue and conflict management.
Each VSWCP participant must complete a keystone project that requires at least 250 hours of field learning. BluePearl will be the first private practice to help facilitate nationwide field placements for students enrolled in UT's Postgraduate Veterinary Social Work Certificate Program.
"This exciting collaboration serves two functions," explained Lori C. Harbert, LCSW Program Manager, Veterinary Social Work at BluePearl. "Students will benefit from having access to advanced training, working closely with veterinarians and clients in a large, 24/7 specialty and emergency pet hospital, and BluePearl Associates will benefit by having some level of in-house support and wellness training," Harbert noted.
Harbert went on to say, "Bringing in these students doesn't solve all of the industry's problems, but it certainly says to BluePearl staff that we care about you, and says to the veterinary social work community that you matter, that you have a place, and that you can come here and we'll help be a part of your training."
With male and female veterinarians committing suicide between two to three and a half times more often than the national average, respectively, access to social work services is critical. Field learning encourages the postgraduate students to turn their knowledge into action through building relationships and delivering evidence based trainings on issues such as coping with euthanasia and grief and loss.
"Every day, veterinarians and technicians endure a tremendous amount of stress and face ethical dilemmas sourcing from managing adverse events, interacting with clients, working in teams, and work-life balance," said Dr. Elizabeth Strand, founding Director of Veterinary Social Work at the UT College of Veterinary Medicine.
Strand went on to say that, "Students in the program undergo an unparalleled level of training, and are able to support both pet owners and veterinarians in a clinical setting," Dr. Strand noted. "We are proud to partner with BluePearl, who now plays a key role in allowing their hospitals to be a training ground for our students."
Learn more about the role of social work in veterinary medicine. Learn more about veterinary social work at UT's College of Veterinary Medicine.
About UT College of Veterinary Medicine
One of 30 veterinary colleges in the United States, the UT College of Veterinary Medicine educates students in the art and science of veterinary medicine and related biomedical sciences, promotes scientific research and enhances human and animal well-being.
About BluePearl
BluePearl is a national provider of emergency and specialty veterinary services such as cardiology, neurology and oncology. BluePearl has 76 hospitals in 24 states across the country that combine advanced veterinary medicine with compassion and respect for patients and their families. BluePearl's clinicians use innovative procedures, high-tech equipment and the latest treatment methods to provide remarkable care for pets. Learn more at https://bluepearlvet.com/.