BluePearl Portal Mobile App:
Patient information anytime, anywhere!
In the age of convenience, with information at our fingertips at all times, no one should to be tied to a desk, computer, or in our case, a clinic or hospital. But as veterinarians, we all feel that familiar tug of a patient we need to check up on. That's why BluePearl offers an app version of our Portal that you can download from the Apple Store or Google Play.
We want you to have convenient access to your patients' records and status even when you're at a ball game or out to dinner with family. Set up your app preferences, and we'll send you notifications of the information you're looking for. Don't need to know when your patient arrives? No problem, we won't send you that notification. Want to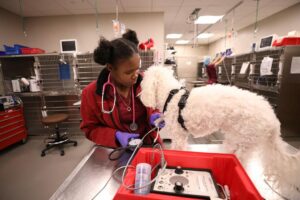 know your patients' lab results or see their imaging results? They're on the way. 
A Phone Call Away
Nothing replaces the quality of one-on-one interactions between you, our referring veterinarians, and our BluePearl team. Know that even with our mobile app and automated notifications, we'll still contact you directly when the need arises. And we're here for you whenever you want to check in.
Annual DVM Survey
Thanks for your survey responses. Every year we ask our referring veterinary practices to complete an annual survey to help us better serve the needs of your team, your clients, and their pets. We recently completed this year's survey, and I wanted to personally thank all of you who took the time to complete it. We look forward to reviewing your candid feedback, which we consider a vital part of our relationship with you, and we truly appreciate your part in our mission of Enriching lives through remarkable care for pets.
Questions?
Have a question about the BluePearl Portal? Or did you miss our survey? No problem. Our hospital leadership and veterinary relations representatives are always there to answer your questions and take your feedback. We're all ears.