Various programs and resources offered by BluePearl's Health and Well-Being Team are helping to create a culture of wellness within hospital practices.
Our emotional, psychological, and social well-being are the main facets that make up each of our mental health. Our mental health not only affects how we think and feel, but also how we act. More specifically, our mental health impacts how we react to stressors, relate to others, and make daily choices – both good and bad. From birth to adulthood, mental health is critical at every stage of life.  
It is common to see poor mental health and mental illness used interchangeably, however, these two terms are not the same. In fact, a person can have poor mental health without having mental illness and a person diagnosed with mental illness can have bouts of good well-being (social, mental, and physical). Whether someone has been diagnosed with a mental illness or is struggling with their mental health, the important thing to remember is that you are not alone and there is support. Over the past five years, BluePearl's Health and Well-Being Team has worked to make this message clear to its nearly 8,000 Associates, launching various initiatives aimed at improving Associate well-being – both inside and out of the hospital.  
Our team is very proud of the initiatives we have launched over the years. Through them, we say to our Associates 'we see you,' 'you are not alone,' and that there are resources available to help," remarked Lori Harbert, Director of Health and Well-Being at BluePearl. "Our main goal in launching these initiatives was to begin to build wellness into our practice cultures, and I think we are beginning to see progress. For example, our Wellness Ambassadors serve as the 'activators,' helping to educate other Associates and get initiatives in motion within their hospitals. Our Mental Health First Aid Training offering allows Associates the opportunity to become educated on mental health and the signs of mental illness. And our recent wellness key chains serve as emblems of hope and safe spaces both in and outside of our practices. All of these initiatives carry the notion that in this practice, you are supported and safe, and your well-being is a priority."
Amid National Mental Health Awareness Month (May), BluePearl is highlighting the many notable Associate-focused initiatives its Health and Well-Being Team has launched over the years.  
Here's a closer look at a few wellness initiatives.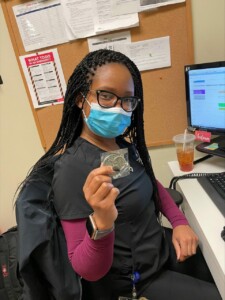 Key Chain Initiative: Under the Key Chain Initiative, each BluePearl Associate receives a keychain that contains a QR code that leads to a list of domestic violence, self-harm crisis resources, and suicide prevention lifelines. New keychains will be sent to hospitals yearly, so no Associate is left behind. BluePearl hospital leadership and Wellness Ambassadors facilitate Associate education on the new initiative. Wellness Ambassadors are volunteer Associates who serve as liaisons between BluePearl hospitals and the organization's veterinary social work and leadership teams. 
What we've heard from Associates about the Key Chain Initiative:
Wow this is so awesome!"

"This is really convenient and neat"

"This is pretty cool that we have this, thank you"
Clinicians in Training: The Clinicians in Training (CIT) program offers interns, residents, and ER clinicians enrolled in BluePearl's House Officer and emERgeTM programs trainings with a veterinary social worker or wellness educator and access to mental health and wellness resources. The program is done over four quarters, and all trainings are geared toward improving mental well-being by addressing issues with boundaries, moral exhaustion, compassion satisfaction, conflict management. All training sessions are led by BluePearl's Team of regional social workers. The first group of trainees will be completing the program this May/June.  
Wellness Ambassadors: Wellness Ambassadors are Associate volunteers that have partnered with the Health and Well-Being Team to help communicate and drive well-being support in their respective hospitals. BluePearl's Health and Well-Being Team created the Wellness Ambassador Program based on feedback from Associates who sought help with integrating BluePearl's social work program within their hospitals. Many of the Wellness Ambassadors are also trained in Mental Health First Aid, which is offered for free to any Associate interested at BluePearl. Today, BluePearl currently has 125 Wellness Ambassadors operating in its hospitals, covering three regions. 
Mental Health First Aid Training: Mental Health First Aid is a public education program that teaches individuals how to identify, understand, and respond to signs of mental illnesses and substance use disorders. The training offers skills on providing timely intervention and appropriately supporting someone who may be experiencing a mental health or substance use problem or crisis. BluePearl currently has 300 Associates trained in Mental Health First Aid. 
Training for Tomorrow: BluePearl's Health and Well-Being Team partnered with the University of Tennessee (UT) to train social workers for careers in specialty and emergency veterinary medicine. Through this partnership, students enrolled in UT's graduate Veterinary Social Work Program can gain valuable, hands-on experience in BluePearl veterinary hospitals across the U.S. So far, four students have completed their 250-hour internship at BluePearl, and three more are currently in the process of being enrolled at a BluePearl hospital. Of the four interns who trained at BluePearl, two have been hired full-time. These students are also given a stipend for their 250 hours of interning. BluePearl also has Master of Social Work intern programs being set up in various hospitals, with students currently fully operational in Milwaukee and New York. The team is working to set up additional intern programs in Seattle, Michigan, and Pittsburgh, which will kick off in the fall. 
Lyra Health Benefit: BluePearl provides Associates and eligible family members with access to 12 mental health or coaching sessions per year through Lyra Health, all at no cost to them. Through Lyra Health, Associates can confidentially seek evidence-based mental health treatment for stress, anxiety, depression, ADD/ ADHD, relationship issues, sleep disorders, and other behavioral needs. Appointments with a therapist or coach can be booked on the spot with options to meet at the provider's office or via live video. Associates may also access self-guided online programs recommended by Lyra Health based on their specific needs. 
BluePearl's health and well-being program was also recently selected as a finalist and named an Honorable Mention in Ragan's 2021 Workplace Wellness Awards: Outstanding Wellness Programs. Judges selected category winners and Honorable Mentions from a competitive pool of finalists, and announced the list of winners and Honorable Mentions on March 23.  Winners and honorable mentions on this list prioritize their employees' mental, physical, social and professional well-being, and represent the most effective corporate well-being programs worldwide.
---
Caring for Associates is at the center of everything BluePearl does. Through these programs and initiatives, BluePearl hopes to make mental health resources more accessible to its Associates, and cultivate a culture of openness, support, and hope in all its 100+ practices across the U.S.  
Mental health is vital part of our humanity, and an integral part of practicing veterinary medicine," remarked Lori Harbert. "With each program and initiative our team is setting new industry standards. We hope these make a meaningful difference in our Associates' lives, enabling them to be their best selves at work and beyond."