Veterinary Receptionists, Client Care Associates, and all the other veterinary practice front desk staff play a critical role in the overall pet care experience. They are a pet owners' first and last point of contact, serving as liaisons between clients and veterinarians as well as between technical staff, offering essential information about a pet's preferred treatment plan. Through their compassionate and detailed care, each of these veterinary professionals makes a difference in the lives of both people and pets each and every day. 
In honor of the invaluable services these professionals provide, BluePearl Specialty and Emergency Pet Hospital is highlighting various hospital teams as they celebrate Veterinary Receptionist Week (April 24-30, 2022). 
---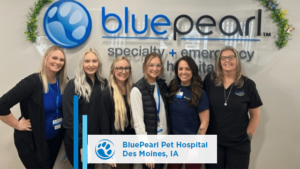 Shannon Hager, Practice Manager, BluePearl Des Moines, IA 
Our Client Service Team strives to make each client experience one that is tailored specifically to them. The first impression they create is that they care, from the minute a client comes in they are acknowledged and treated with respect. They make them feel validated with their concerns and reassure them that they are in the right place. They call clients and patients by name and attentively listen when they speak. The Client Service Team is not only the first impression but also the final impression of the complete client experience. This year we are planning a Jungle Themed Week full of food, sweet treats, and activities. Our CSR team goes above in beyond and we intend to do the same for them.  
---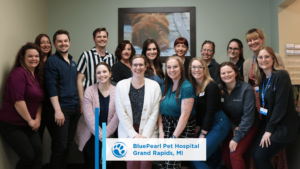 Skyler Hudson, Administrative Assistant, BluePearl Grand Rapids, MI 
Our team works hard to greet every client and patient that comes through our doors. We are constantly adapting our policies and practices to make things work better for clients and their experiences. Our Client Service Team is required to know details about each department and their individual policies. They are the first face you see when you walk in and the voice you hear when the phone is answered. I think people do not realize how much client services cover- they schedule appointments, create accounts, share records, request records, scan paperwork, organize paperwork, follow up on payment, maintain and direct an email inbox that receives thousands of emails each day while also answering phone calls, checking in and out clients, and providing support and care for clients who come in for end-of-life services. They are the front lines, yet least remembered as they are not the ones who are hands on or doing lifesaving care, but without them the hospital stops running. 
This year, we are using the theme 'Your Best Friend, Becomes Our Best Friend.' We are celebrating the week by giving our CS teams a gift of a custom mug, and a BFF heart keychain with matching charm for their pet's collar. We are also ordering coffee, having a full team lunch where awards will be given, and giving each CS team member a custom thank you card signed by Associates. 
Britt Wilson, Assistant Practice Manager (she/her), BluePearl Grand Rapids, MI 
Our team is phenomenal at recognizing pets and their owners as they are walking in the door.  Typically, we start all our conversations with, "This must be Fluffy to see Dr. Kim today!" or "Welcome back, Fluffy," which helps build good rapport with our clients.  Our team can execute the "service" portion of Client Service through check-in, 
check-out, managing phones, and scheduling efficiently, no matter what the pace of the day. What I think sets them apart is their ability to go above in beyond when providing the "support" portion of Client Service in all their interactions with our clients. As our CSS so aptly put it, our team is not only the first impression of the hospital, but they ensure we provide a positive impression.  
Grand Rapids celebrates our Client Service team annually – but we often include them in our Admin Week celebrations due to the overall support they also provide to our hospital. We typically host a luncheon for the team, provide a small gift for each team member, and find a way to create a "Thank You" board/poster for the hospital to sign. 
---
Katherine Dobbs, CVT, CVPM, Client Service Manager – Milwaukee Market 
The client care position is one that requires many different hats to be worn. We comfort nervous owners visiting the ER, we have knowledge of many different specialties and their scheduling needs, we walk clients through their precious last earthly moments with their pets and help them choose their aftercare wishes, we are the listening ear for those whose concerns need to be heard, and we are the first face you will see when entering the hospital, no matter the reason for your visit. 
In the past, we have always celebrated the week by having one major/significant gift, then several additional days of food offering. For the most recent celebration, we presented gifts of a blanket and scarf (the scarf had the BluePearl logo added).  We then had one day where we presented breakfast from Panera and another day of lunch through Qdoba. I also hand-wrote thank you notes to each Associate.  
---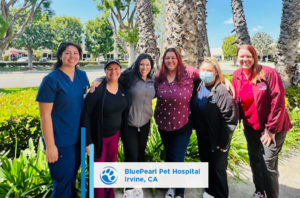 Sean Gastelum, Senior Practice Manager, BluePearl Irvine, CA 
When an owner or guest enters our lobby, they are quickly greeted by a personable and attentive client care Associate that stands up and takes appropriate action to better understand how they can support their visit. The Client Care and Administrative Teams at Irvine demonstrate a seasoned approach that adds value to the client experience, and it is through their delivery that what is otherwise not a tangible product materializes into something genuine and profound. This goes home with the client, is shared amongst family and friends, and most importantly, is a means in which they may find comfort and peace. Our Client Care Team is the first and the last- the stakes are high. 
This year we are excited to surprise our Client Care Associates with two sessions of professional chair-massage work in the office. This will be followed up by lunches hosted by locally owned establishments that help to bond our practice to the community. We will sprinkle in some kudos on our client-facing message board so that clients and other Associates may leave messages of gratitude. To tie it all together, each Client Care and Administrative Associate will receive a "survival" package of all the tasty fixings to get them through a tough day. This will be followed up by handwritten letters from several clinicians and local leadership to add a flavor of individualized recognition and create a personal touch. Down the middle, we will bring the team together for a cozy movie night in our new annex office so that Client Care Associates and their families may enjoy a bit of time together outside the busy day-to-day. 
---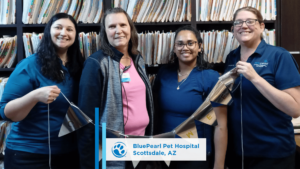 Nicole Wood, Client Service Supervisor, BluePearl Scottsdale, AZ 
The CSC team at BluePearl Scottsdale greets every client with a smile and a warm hello. When clients come for our emergency or internal medicine services, the CSC team truly listens to their pets presenting concern and shows compassion and understanding. Some CSCs will go out to the lobby and give the pet some scratches and ask how they have been doing since their last visit. Many of our internal medicine clients have gotten to know the Scottsdale CSC team and will talk and catch up while they are waiting for the doctor. The Scottsdale CSC team leads with their hearts and compassion in everything they do, and clients appreciate that. 
Last year we decorated our conference room and reception area with balloons, streamers, and banners. Each day, one CSC was named the Queen of the Day and got to wear a crown and a sash. The Queens of the Day also got to pick lunch and dinner for the hospital. We made a fun booklet with reception themed word searches, crosswords, and Get to Know You Bingo. Each day we had different games or activities set for everyone to enjoy. In the conference room we had mailboxes for each CSC so others to put notes of appreciation in. We also had raffle tickets hidden around the hospital for everyone to find. At the end of the week, we had a raffle and gave each CSC and gift basket. We take this week to really highlight our reception team and show them the appreciation they deserve.  
---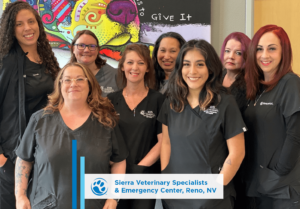 Stephanie Ehlen, Practice Manager, Sierra Veterinary Specialists & Emergency Center, Reno, NV 
We meet every client/patient by standing to greet them as they enter our hospital. We have a small window to start building a trusting relationship with owners when they arrive at our hospital. We strive to create an atmosphere where clients and patients find themselves welcomed, safe, heard, included, comfortable, informed, supported, and educated. 
It is hard to come up with just one stand-out story where a client or an Associate was wowed by the service provided. We have sat with children while their parents are making scary decisions, we have celebrated birthdays with patients that have reached milestone ages due to the medical care we have provided, we receive pictures enclosed in thank you cards journaling their pets' lives weekly or thanking us for the euthanasia experience their families had while saying goodbye to their pets. Our team volunteered their own time to help the church across the street from the hospital landscape and build a playground for the underprivileged kids in our neighborhood. No matter the story or situation, our goal is to wow each client experience that is specific to their story.   
In the past, we have given flowers, creative self-care bags, treated them to lunch, and had other services cover phones or front desk duties so that they could enjoy lunch together as a team. This year, we have asked our team how they would like to be celebrated, by offering three choices of activities to not only have a day of fun but bring them together for team building. Their choices included escape rooms, paint and wine, or a smash room. 
---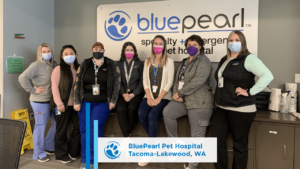 Tara Parker, Senior Practice Manager, BluePearl Tacoma – Lakewood, WA 
Client Care is like the concierge to the veterinary hospital. They are the face of the hospital and the first team that is there to help our clients, pets, and community. Every day is different with so many opportunities to help, the stories are endless. Client Care takes on challenging conversations as many visits are emotional and stressful and clients are not always prepared for what they are going to hear. They handle these conversations with compassion and in a calm, effective manner to help our clients. This helps with the flow of communication from the front of the house to the back of the hospital and the overall client visit and in caring for the pets. Some days are hard as we do see tough, oftentimes sad cases but with a focus of helping our clients, each other, and team; Client Care is rewarding and more than just veterinary reception work…it is a career. 
In the past, we have had Staff Appreciation Week which includes Client Care. This year, we are celebrating Veterinary Reception Week with activities like posters in the lobby about client care/celebrating them, personalized t-shirts & gift bags, and team food favorites. 
---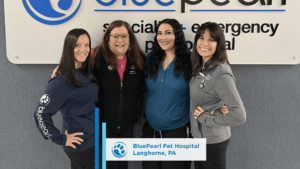 Kara Jackson, Client Service Manager, BluePearl Langhorne, PA 
Our Langhorne Client Service team is personable, attentive, and compassionate to both clients and their pets. Attention to personal detail and providing a friendly welcoming atmosphere for both people and pets is what we strive to provide! We often receive compliments about our Client Service team being especially kind and compassionate during difficult and emotional situations for pet owners.  
2021 was the first year we celebrated Veterinary Receptionist Week! We are so excited to be able to celebrate again this year with our team. Last year there were lots of delicious treats and some fun gifts from the leadership team! This year we are going to have several sponsored team meals throughout the week (graciously donated by Hamilton Pet Meadow, Hill's, Royal Canin, CareCredit, IDEXX and Radiometer).
There will also be a prize wheel, trail mix station, raffle baskets, personalized gifts from team leaders, team t-shirts and more! We are excited to be able to celebrate our Client Service team with Veterinary Receptionist week as their job is hard and emotionally draining. We enjoy providing any little bit of joy we can by letting them know how much they mean to the hospital and Veterinary Receptionists' week is the perfect opportunity to shower them with lots of goodies! 
---
Allyson "Ally" Hoyer, Hospital Administrator, BluePearl Jacksonville, FL 
As the first line in the hospital, our CSC team is trained to handle an endless possibility of scenarios.  The team is often the first interaction any clients and patients have and the last as they leave the hospital. The CSC team embodies so many different facets and describing what they do is so much more than getting patients and clients checked in and checked out.  In between those two bookends, they are responsible for the kindness, empathy, and understanding ways in which they handle our clients, Associates, and patients.  The CSC team is the first and last impression a client has of our services and the care they show determines so much of the client experience.  The CSC team is the glue that keeps the hospital running; responsible for the scheduling and always aware of what is going on in the hospital. They act quickly and have huge impacts on clients, Associates, and overall operations.   
---
BluePearl believes it is important to set time aside to recognize each part of the veterinary support staff, including Client Service Coordinators and the like. Over the next week, as hospitals and practices across the nation bring this celebratory week to life, be sure to join in the cheers by sharing your gratitude. Even a brief "Happy Veterinary Receptionist Week" will show these vital team members how much they are appreciated!