A Long-Awaited Reunion
A dog that went missing in early 2020 was reunited with his owner just after the start of the new year.
Socks, a six-year-old chihuahua, went missing from his home in Oklahoma City in June 2020. Devastated by his disappearance, Socks' owner, Trish Becker, spent months looking for him. It was not until eight months later—mid-January 2021—that a good Samaritan found Socks on the side of the road.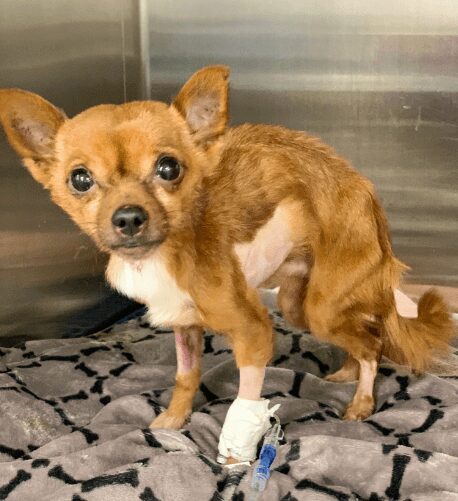 Minimally responsive and emaciated, Socks was immediately rushed to BluePearl Specialty and Emergency Pet Hospital in Oklahoma City. Upon arrival, the expert team took Socks' vitals and performed lab work. Robert Martinez DVM, CertAqV, Emergency Medicine, first clinician assigned to the case, noted that Socks' temperature was too low to read and had several blood work abnormalities. Allison A. Biddick, DVM, MS, DACVECC, board certified emergency and critical care veterinarian took over the case the following morning. Socks stayed on Critical Care for several days.
"Socks was near death on arrival. He was non-responsive, severely hypothermic, and his blood sugar was low," said Dr. Biddick.

"He was in an emaciated body condition and had no fat and minimal muscle to protect him from the elements outside. Luckily, we did not find any evidence of trauma or wounds. After providing heat support, IV fluid therapy, and dextrose supplement, Socks was on the mend."
After 24 hours of intensive veterinary care, Socks was stabilized; however, he had a long road ahead. It would take several days to slowly re-introduce food, deworm, and rehydrate him. Fortunately, Socks was also equipped with a microchip, which allowed him to (finally) be reintroduced to his owner, Trish.
Losing Socks was especially devastating as he went missing only a month after my husband had passed away. I couldn't give up hope that he would come home someday," said Becker.

"The woman and her daughter who found him and brought him to BluePearl will forever be heroes in my book. I can't say enough great things about BluePearl. The shape he was in the first night was astonishing. I can't believe they nursed him back…it was just amazing.  The lengths they went to keep me informed around the clock and to care for him just blew my mind."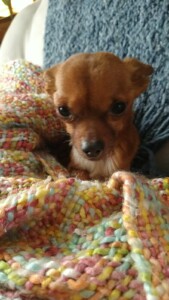 Although Socks initially struggled to maintain normal blood sugar, after a few more days of care, he was able to return to home to recover. Thanks to the incredible, life-saving work of the BluePearl Oklahoma City team, a good Samaritan, and a microchip, Socks and Trish were reunited and are looking forward to spending many more years together.
Socks is an amazing little guy. At top form he only weighed 5lbs but he didn't weigh 2lbs when he was brought in to BluePearl. He has shown remarkable improvement every single day," explained Trish.

"He has put on weight and loves playing with his two sisters. I'm so grateful for everyone who had a hand in his recovery and I cannot stress enough the importance of chipping your pets. Having Socks home is simply a miracle that would not have happened without that chip. Bringing Socks home was one of the happiest days of my life."