A Big Day at the Big Game
EOD K-9s remained healthy at Super Bowl LIII thanks to Drs. Kevin Winkler and Jennifer Pittman.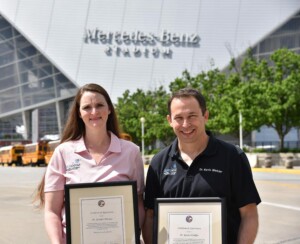 Atlanta, Ga.–BluePearl veterinarians, Drs. Kevin Winkler and Jennifer Pittman, have been recognized for important services they provided to Explosive Ordnance Detection (EOD) K-9s during Super Bowl LIII. EOD K-9s were part of the bomb teams that ensured public safety during the 2018 Super Bowl game held in Atlanta, Ga. The awards were presented on May 6 by the Georgia Emergency Management and Homeland Security Agency (GEMA/HS). 
Drs. Winkler and Pittman, who volunteered their time, were on-call 24/7 during the 10-day operational period of Super Bowl LIII. Dr. Winkler is a veterinary surgeon, specializing in soft tissue and orthopedic surgery, and Dr. Pittman is a board certified emergency and critical care veterinarian. Both doctors work at BluePearl Specialty and Emergency Pet Hospital, Sandy Springs, Ga.
Helping EOD K-9s Return to Action
Luckily, the doctors only had to provide minor services to the dogs as there were no major emergencies or injuries. "Even in the minor cases, easy access to knowledgeable medical care to get the teams back into the field was of extreme importance, and one of our primary goals," said Dr. Pittman. "The officers could immediately reach out to us so they could get the K-9s back into action. This way, it didn't compromise any of the work they had to do," Dr. Pittman noted.
Dr. Winkler has worked with GEMA/HS for several years, volunteering his expertise and teaching K-9 medic/SWAT medic classes to law enforcement agencies around the state. This connection is what lead Dr. Winkler to volunteer at the 2018 Super Bowl.
Planning and Execution
More than one million people visited Atlanta for Super Bowl LIII, which required extensive planning and coordination among state, local, and federal agencies. The 190 EOD K-9 teams worked in rotating 24-hour shifts, conducting more than 300 searches in 19 venues.
"The EOD K9 teams worked, and they worked constantly," remarked Dr. Winkler. "To pull one dog out of a spot, meant it had to be filled by somebody else. The faster we got the team back together, the more efficiently they could do their jobs."
With the aid of Drs. Winkler and Pittman, Georgia's EOD K-9 teams performed with confidence and kept a watchful eye over Super Bowl crowds knowing that expert veterinary care was on stand-by in case of an emergency.