Specialty vet services in Summerville, SC.
BluePearl is a specialty and emergency pet hospital with a mission to provide expert, collaborative, compassionate care to sick and injured pets. We work in partnership with primary care veterinarians who refer pets who need specialized diagnostics, treatments or procedures much as a doctor would refer you or a family member to a specialist to receive treatment for a specific illness or injury.
Our goal is to provide the highest quality veterinary care possible by acting as an extension of your primary veterinarian. Our emergency, internal medicine, surgery and dentistry doctors communicate with you and your veterinarian every step of the way from diagnosis to treatment to aftercare.
Specialties and services offered at our pet hospital include: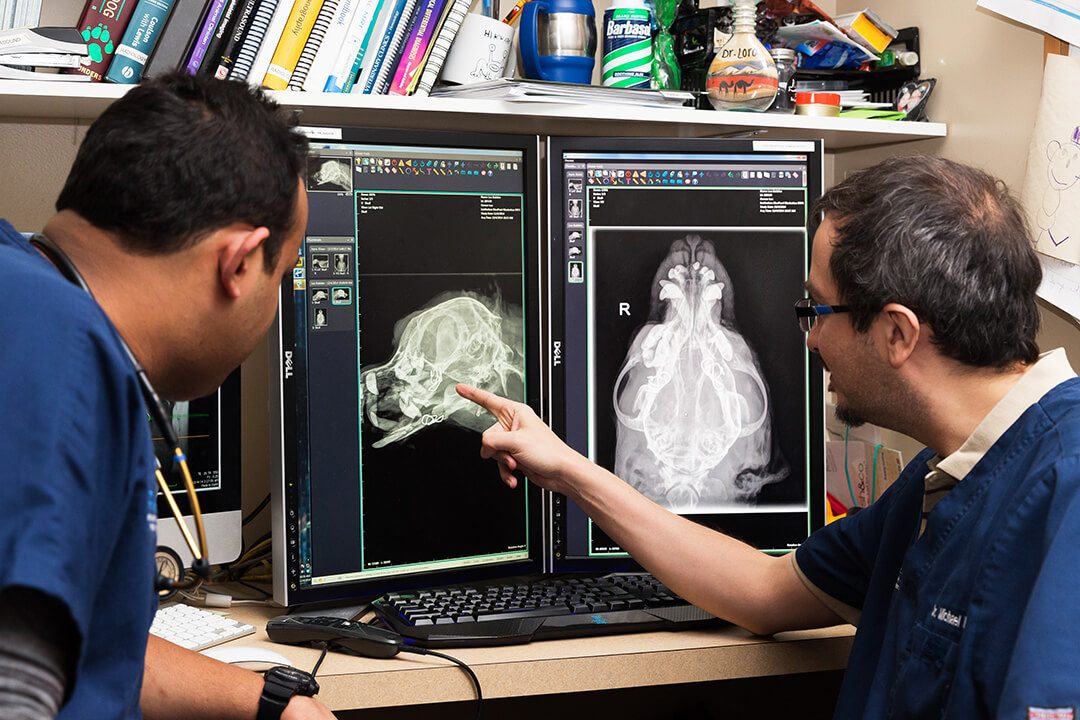 24/7 Emergency Medicine
We understand that emergencies don't always happen during "normal business hours," which is why our emergency hours are 24/7. Your pet will receive attentive care at the hands of our highly skilled clinicians, who utilize state-of-the-art tools to deliver better outcomes.
Our team operates the same way as any hospital: our goal is to assess, stabilize, diagnose and treat our patients. We understand how emotional emergency situations can be and take great care in working quickly and compassionately to treat emergency cases with the highest standards of patient care and client satisfaction.
We are prepared to deliver life-saving care if your pet is experiencing an emergency such as:
Difficulty breathing or urinating
Severe wounds or bleeding
Animal bites
Consuming a foreign object or toxic substance
Seizures
Severe diarrhea or vomiting
Unresponsiveness or collapse
Through every step of your pet's emergency care experience, we keep you and your pet's primary veterinarian informed and involved.

Dentistry & Oral Surgery
Dentistry and oral surgery can help your pet live a healthier life. Our veterinary dental services are provided by Animal Dental Services – please call 865.686.6678 for scheduling.

Diagnostic Imaging
Our radiology service performs many non-invasive and minimally invasive diagnostic procedures. These services allow the specialty clinicians unique, non-invasive opportunities for evaluating various diseases.

Internal Medicine
Our team handles complex medical cases involving the endocrine, gastrointestinal, urinary and hematologic systems using cutting-edge diagnostic technology to evaluate and treat your pet. Typically, pets are referred to our internal medicine services with problems that are hard to define and involve multiple body systems.
We help pets in the following areas of internal medicine:
Gastroenterology: the study of the mouth, esophagus, stomach, intestines, liver, gallbladder and pancreas. Typical conditions include inflammatory bowel disease (IBD), food allergies, hiatal hernias, polyps, foreign bodies, gastroesophageal reflux disease (GERD) or cancer.
Respiratory medicine: the study of the upper and lower respiratory tracts. Diseases include nasopharyngeal polyps and cancers, chronic rhinitis, nasopharyngeal stenosis, laryngeal paralysis, collapsing trachea, tracheal hypoplasia, fungal infections of the nasal passages and lungs, feline asthma, chronic bronchitis and infectious pneumonia.
Endocrinology: the study of multiple glands of the body such as the parathyroid, thyroid, adrenal, pancreas, pituitary and hypothalamus glands. Common endocrine diseases include diabetes mellitus, diabetes insipidus, adrenal tumors, hyper and hypoparathyroidism, hyper and hypothyroidism, Cushing's disease and Addison's disease as well as excessive drinking and urinating.
Nephrology/urology: the study of the kidneys, ureters, bladder, prostate and urethra. Conditions that are diagnosed and treated include acute and chronic kidney failure, kidney and bladder stones, prostatitis and prostate cysts, bladder polyps, kidney infections, congenital kidney diseases, urinary incontinence and urethral/bladder/prostate cancer.
Hematology: diagnosis and treatment of diseases of the blood. Diseases can include hemophilia and congenital/hereditary diseases, bleeding disorders, hemolytic anemias, infectious and destructive platelet disorders and bone marrow disorders.
Infectious diseases: treatment of infectious agents. Infectious diseases can include leptospirosis, influenza, herpes, Lyme, babesiosis, Rocky Mountain Spotted Fever, anaplasmosis, ehrlichiosis and rickettsial agents, among others.

Neurology & Neurosurgery
Our neurology team uses advanced imaging technologies, cutting-edge medical therapies and surgical procedures to diagnose and treat patients with neurological disorders that affect the brain, spinal cord and nerves.
Some of the most common neurological disorders we see include:
Epilepsy and other seizure disorders
Brain and spinal cord trauma
Disc herniation and other lumbosacral disorders
Brain tumors
Neuromuscular disease
Encephalitis

Oncology
No matter what type of cancer your pet has, and no matter what treatment plan we adopt, our goal is always the same: to treat the patient and give them the best possible quality of life.
Our team approach provides advanced, integrated medicine, expert advice, compassionate care and unparalleled support throughout the entire process. We use state-of-the-art medicines and therapies to ensure the best possible results and give you more time with your companion.
All oncology patients we see are in the care of experts who are trained in radiology, chemotherapy, immunotherapy, integrative assessment, surgical oncology and palliative care.
Treatment methods we use include:
Chemotherapy
Cryotherapy
Immunotherapy
Surgery
All of these methods may be used in isolation or in conjunction with each other, allowing us to create a specialized treatment plan that has the most hope of success.

Surgery
Our veterinary surgeons are skilled in all aspects of surgery, including minimally invasive surgery (laparoscopy, thoracoscopy and arthroscopy), orthopedic surgery, oncologic and neurologic surgery.
General surgery: In addition to our specialty surgeries, our team also performs general surgeries for wound repair, foreign body removal, gastropexy, emergency c-sections or abdominal exploratory surgeries.
Minimally invasive surgery: In some surgical cases, treatment can be provided without invasive surgery. Arthroscopy, laparoscopy and thoracoscopy are all surgical techniques that use cameras inserted through small incisions to visualize and correct problems. Minimally invasive surgery has been shown to decrease pain, recovery time and healing while limiting tissue trauma.
Orthopedic surgery: Orthopedic medicine is related to the musculoskeletal system, which is made up of an animal's bones, joints, muscles, tendons and ligaments. Diagnostic tests such as radiographs, CT scans and MRI imaging help veterinarians visualize the injury so an effective treatment plan can be established. Treatment options for musculoskeletal injuries include surgery, outpatient procedures and minimally invasive arthroscopy.
Neurosurgery: After evaluation and diagnostic procedures, neurosurgery is sometimes offered as a method of treatment. Our doctors perform a variety of neurosurgeries including spinal stabilizations, muscle and nerve biopsies, and shunt placements.
Surgical oncology: Surgery may be recommended as part of your pet's oncology treatment plan and used on its own or as part of a comprehensive plan that includes chemotherapy and radiation to control or minimize the tumor after surgery.