BluePearl Pet Hospital – Serving Waltham 24/7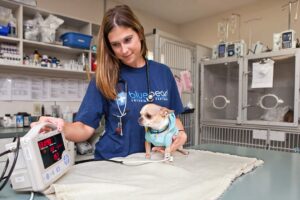 Our 24-hour pet hospital is in Waltham, 30 minutes west of Boston, and serves the greater Boston region, including Woburn, Burlington, Lexington, Bedford, Lincoln, Weston, Watertown, Auburndale and Newton.
Specialty and Emergency Medicine in Waltham, MA
When you have a pet emergency, seconds count. We want you to know, we're ready. If your pet has a condition that requires a specialist's expertise, we're ready for that too. Our experienced veterinarians, vet technicians and support staff work closely together to provide the comprehensive, compassionate care your pet needs and deserves.
Emergency: In an emergency, call ahead to your BluePearl vet and let us know you're coming. No appointment is necessary for our emergency vet. Learn more about your emergency visit.
Specialty Care: Our veterinary specialists work directly with your primary care vet to understand your pet's condition and develop the appropriate treatment plan. Visits to our specialists are usually by referral from your primary care vet and by appointment. Learn more about veterinary specialists. 
About Our BluePearl Pet Hospital – Waltham
Our modern BluePearl pet hospital in Waltham was founded in 2001 and is open 24 hours, seven days a week
and 365 days a year. Turn to us for compassionate, multi-disciplinary care.
If a pet emergency brings you to our 16,000-square-foot clinic, we stand ready with fully-equipped central emergency stations, a blood bank, three surgical suites and four glass-enclosed intensive care units. One is especially for cats.
There's also an isolation ward. And, for special situations, there's an enriched oxygen cage called a Snyder intensive care unit.
Diagnostic capabilities include a CT scanner, laparoscopy, thoracoscopy, arthroscopy and ophthalmic ultrasound, among others.
Our pet hospital in Waltham also has a Puritan Bennett 840 ventilator that manages and is responsive to all patients' breathing from neonatal to adulthood.
Client Testimonials
Dr. Williams was the best! She made me so comfortable throughout the whole process. We can't thank Blue Pearl enough for helping our baby!
I don't know what I would do without their expertise, and I cannot recommend them enough to everyone I know with pets!