Coronavirus Update:
Our hospital is open and we are taking extra precautions to continue providing remarkable care for your pets. 
Please download and review this form to learn more about our new patient intake procedures prior to your visit. 
---
BluePearl Pet Hospital
–
serving Paramus and northern New Jersey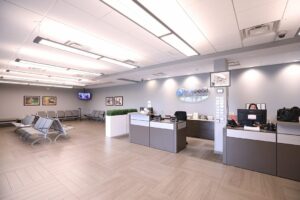 Our 24-hour pet hospital is located in Paramus and also serves Emerson, Fair Lawn, Glen Rock, Ho Ho Kus, Hudson, Oradell, Ridgewood, River Edge and Maywood, along with the counties of Bergen, Hudson and Essex.
Specialty and emergency medicine in Paramus, NJ
When you have a pet emergency, seconds count. We want you to know, we're ready. If your pet has a condition that requires a specialist's expertise, we're ready for that too. Our experienced team of veterinarians, vet technicians and support staff work closely together to provide the comprehensive, compassionate care your pet needs and deserves.
Specialty Care: Specialists at BluePearl veterinary hospitals work directly with your primary care vet to understand your pet's condition and develop the appropriate treatment plan. Visits to our specialists are usually by referral from your primary care vet and by appointment. Learn more about veterinary specialists. 
About our BluePearl Pet Hospital – Paramus
Did your pet swallow something toxic? Our BluePearl animal hospital in Paramus has 24-hour emergency vets to assess the danger with dialysis equipment that could be part of the solution. Paramus is among a small number of private treatment centers around the country offering hemodialysis for animals.
Our 19,000 square-foot hospital opened in 2016 with diagnostic equipment that includes a CT scanner, ultrasound and fluoroscopy. We also have a blood bank on site.
Not all pets need so much technology. Our knowledgeable team will keep you informed, so that you are part of the decision. But when your pet needs a higher level of care, we are ready to provide it.
Pet Owners
At BluePearl pet hospitals, providing our customers, like you, with remarkable service is a top priority. We're committed to making your visit to our hospital as smooth as possible. Here, you can download patient forms and find other helpful resources.
The Blood Bank at Paramus
Help save another pet's life by donating your pet's blood. Learn about the benefits and eligibility requirements below.
Blood donor benefits:
Exam by one of our clinicians
Complete blood work
Heartworm test
Thyroid test
Infectious disease testing
Blood typing
Plenty of hugs and kisses
Monetary credit added to the pet owner's account with every donation to use for future veterinary visits
After six successful donations, your donor pet or another pet in your household can receive one free blood product.
Eligibility requirements for blood donors:
1-7 years of age
Dog must weigh over 50 pounds
Cats must weigh over 9 pounds
Spayed or neutered
Females cannot have previously had a litter
Up-to-date on vaccines
On flea/tick preventative
Dogs must be on heartworm preventative
In general good health upon examination
Cannot have received a blood transfusion (including red blood cells and plasma)
Please contact our Paramus hospital at 201.527.6699 or email us with questions.