Most pets will need to receive oral medication at some point in their lives, whether antibiotics for an infection, pain relief after surgery, or another medication. Your pet's primary care providers may give your cat or dog their initial dose of medicine during your appointment, demonstrating how to make sure the liquid is dosed and delivered properly.
But once you're home, it may not go as smoothly. All it takes is a little practice, patience, and perseverance, and this guide to administering liquid medication to your cat or dog will help you get them the right dose by yourself at home or with the help of another person. Watch our video on how to give liquid medication to a pet below.
Video Transcription
Hello, my name's Rebecca. I'm a certified veterinary technician for BluePearl Pet Hospital. Today, we're going to be talking about how to give liquid medications to a dog and a cat.
Medication Storage & Prep
Make sure that the medication is stored in the way that your veterinarian has instructed you to store it, as well as you're giving it the way that your veterinarian has told you to give it. That sometimes includes giving it while wearing gloves.
Getting Ready
Before you're ready to give your pet their liquid medication, make sure that you have everything you need, be it its favorite toy, a blanket or a soft towel for it to sit on, the medication itself, and a couple of different syringe options.
Preparing the Syringe
If your liquid medication doesn't come in a prefilled syringe, this is the easiest way to obtain the medication.
Take your selected syringe size and the liquid bottle of medication (oftentimes, they come with a stopper)
Place the syringe into the stopper
Flip the bottle upside down and pull up the medication you need
Now you're ready to give
Using Food
If the medication isn't bitter, a really good way to hide it is actually in wet food. So for this instance, you can just simply take the medication, place it into the food and do a bit of a swirl around, and it's ready to go.
To make sure that your pet got all of its liquid medications, some things to keep in mind when mixing it with food is to lessen the amount of food that you're giving.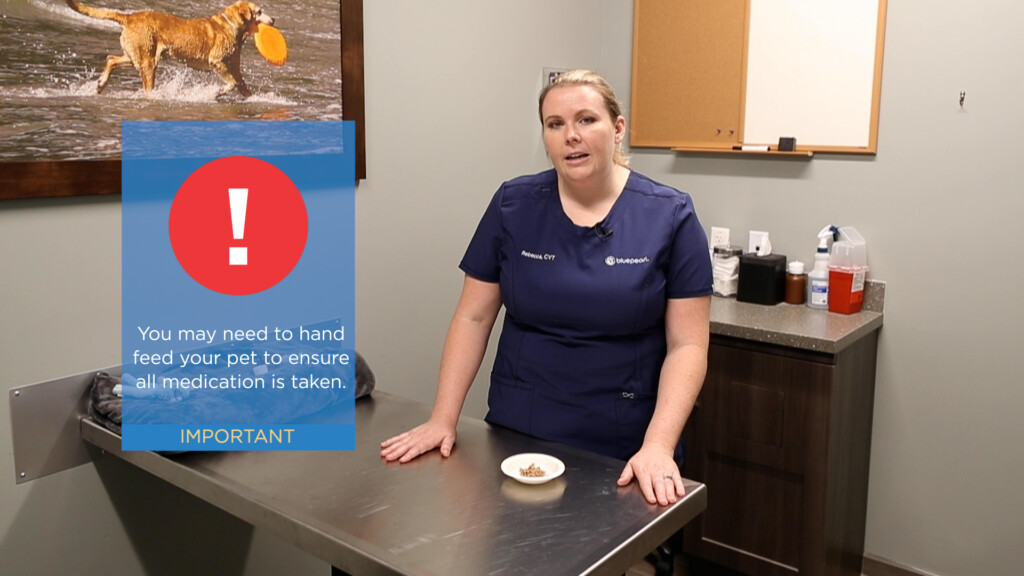 Maybe stay with them to make sure that they eat it, even hand feeding it if you have to.
Giving Liquid Medication to Your Dog
If you can't hide your pet's medications in wet food, another option is just giving it to them by mouth. Jessica, who is a fellow Certified Veterinary Technician here at BluePearl Pet Hospital, is going to help me medicate Zoe here.
As far as hand placement goes, you oftentimes just want to put your hand directly over their nose and completely closing their mouth like this.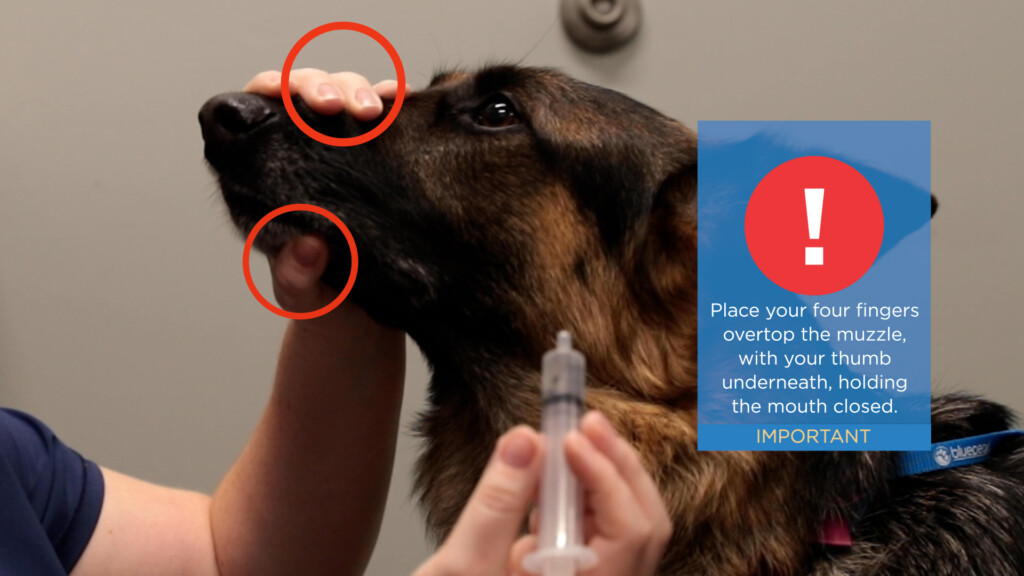 Once you have your medication in your syringe, you're just going to go into the corner of their mouth and give it to them slowly. And make sure that they lick their lips after.
Once you've given their pet their medication, just make sure to give them lots of positive reinforcement so this makes it a good experience for them.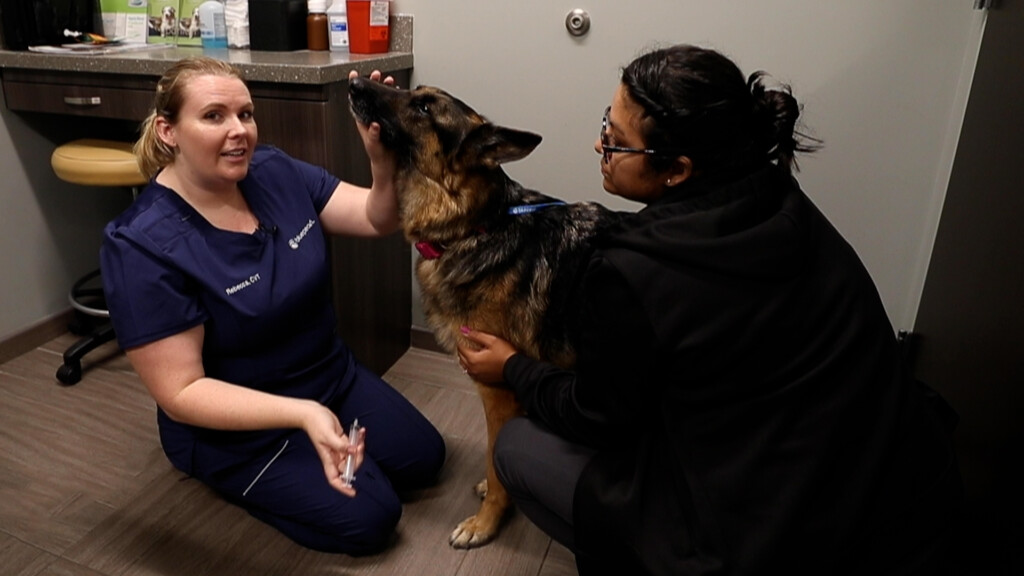 Giving Liquid Medication to Your Cat
This is Oswald. He's now going to show us how to give a cat liquid medications.
Liquid medications can sometimes be bitter, so you have a couple of different options on how to give them. You can always take them by the lips, place your fingers on the gums and near the canines.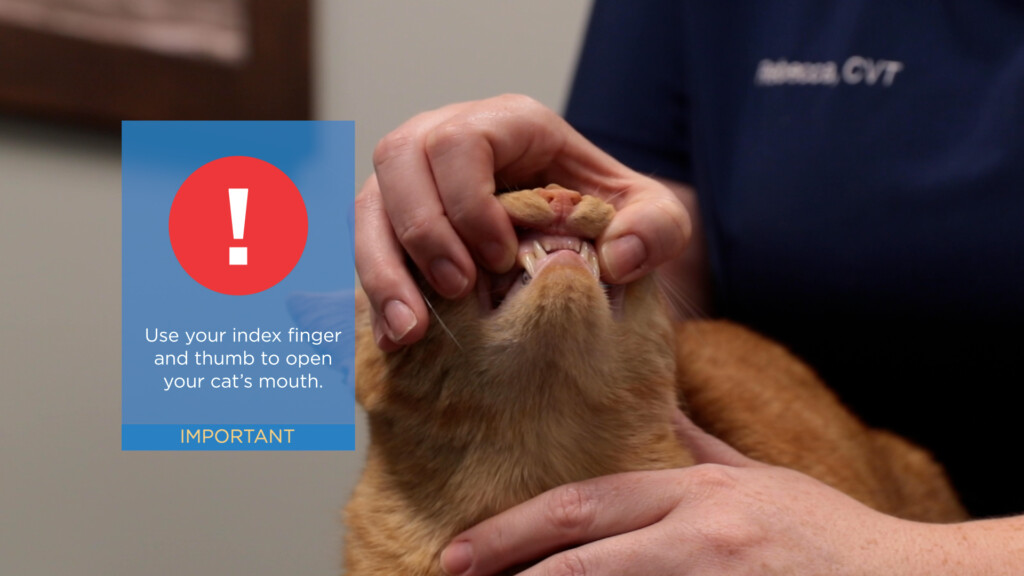 You can either give it directly in the front or you can give it on the sides. My personal preference is to take them by the head, go by the commissure of the lips, and just give it like that.
Do make sure that your cat receives all of the medication. You sometimes will see them licking their lips, licking their mouth. They can have some drooling or foaming, especially if the medication is bitter.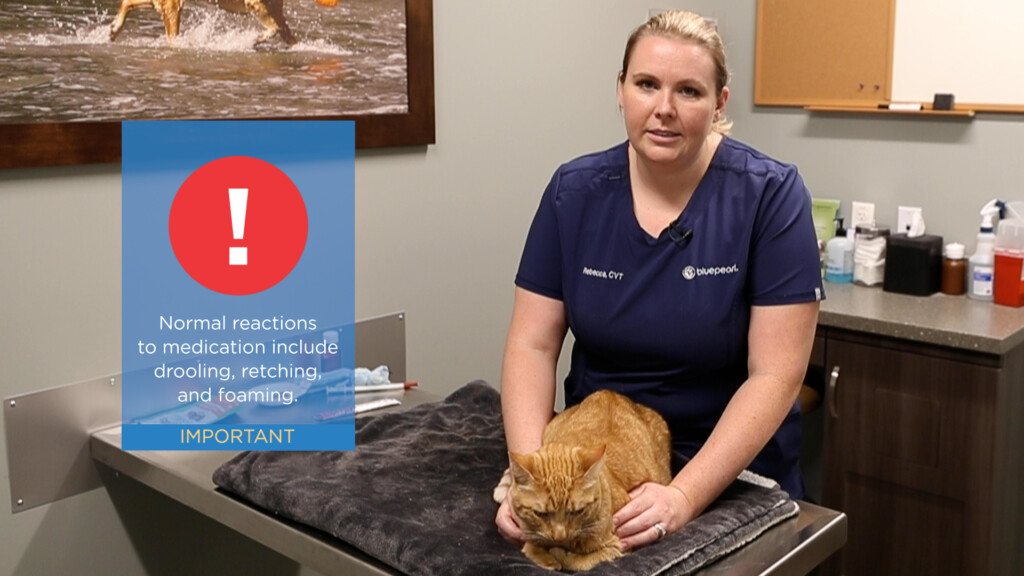 If you're worried if they got the proper dose, don't hesitate to contact your veterinarian.
Rewarding Your Pet
And when the whole ordeal is done, don't forget to give them some love. Remember, one of the most important things is to stay calm when you're giving liquid medications to your pet. They pick up a lot on your energy. So as long as you're calm, they'll be calm.
Remember This When Administering Liquid Medications to Your Pet