Diabetic Cataracts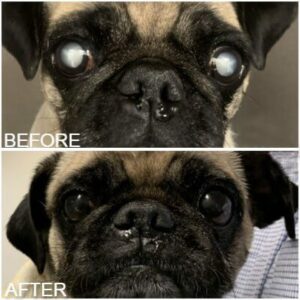 We would like you to meet sweet Stella, a cute pug that was recently diagnosed with diabetes. Diabetes is a manageable condition that affects many dogs, with the vast majority of patients responding well to regular insulin injections, just like people. Unfortunately, dogs with diabetes are predisposed to developing cataracts, with approximately 80% of diabetics losing vision within 1 year of the diagnosis. Diabetic cataracts form rapidly, and if left untreated, they can be devastating for the eye. As a cataract forms, the body can start to react to the changes in the lens, and a sort of auto-immune condition can develop causing severe inflammation inside the eye.
Diabetes is only one possible cause for cataract development, and any patient with cataracts is at risk for this type of inflammation. This is why BluePearl ophthalmologists recommend that any patient with cataracts be evaluated by your family veterinarian, or a veterinary ophthalmologist in order to start medications, which can significantly reduce the risk of painful ocular conditions like glaucoma developing. For some patients, our goals are to prevent future problems, and medications are all that is required, while for others, our goals are restoring vision with cataract surgery. 
Restoring Vision with a High Success Rate
In Stella's case, we were able to start treatment early and Stella became a good candidate for cataract surgery. This is a specialized procedure performed by Dr. Trevor Arnold, the ophthalmologist at BluePearl Pet Hospital in Boulder. This delicate procedure involves the same equipment used on humans to remove the cataracts in order to restore vision and has a very high success rate.
Being a perfectionist, Dr. Arnold even uses some instruments that many MD ophthalmologists don't have access to, like a diamond keratome used to make the corneal incision. This kind of attention to detail might seem minor, but it is things like this that help improve healing and surgical outcomes and puts Dr. Arnold a cut above the rest. 
What to Expect After Surgery
Immediately after the procedure, patients like Stella are typically visual and comfortable, as you can see in the video. These cataracts will not return, and Stella will maintain her vision from here on out. We are so proud to be able to offer such a great improvement in Stella's quality of life, and we welcome the opportunity to provide the same level of service and dedication to your loved one.
If you would like to consult with the ophthalmology service or if you have questions about whether your pet may benefit from cataract surgery, please call 720.699.7766 to schedule an appointment.