A small amount of cannabis is all it takes to cause toxicity in cats and dogs.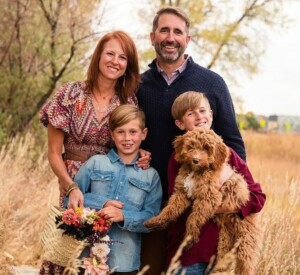 In March 2022, Rosie, a cheerful 10-month-old Australian Labradoodle, and her owners (the Amrich's) traveled up to the Front Range, Colorado. Although the Amrich's were visiting for a not-so-fun, human medical procedure, Rosie took full advantage of the trip, running, playing, and even making a dog-friend through the fence in the backyard of their rental home. This fun quickly turned to dread, however, when Rosie suddenly began to vomit. Attributing it to the extensive playing, her owner, Andrea, did not think anything of it and continued to feed her as usual.
We played from about 2:30-4:30pm and then went inside. I then went to the grocery store to pick up dinner," explained Andrea. "When I got back, Rosie was lying down, but that is normal, so I did not think anything of it. After we ate, I fed Rosie; I put the food in her bowl, but she did not move. This was very unusual. I sat down next to her and that is when I really noticed something was amiss."
Andrea noticed Rosie's eyes were red and her nose was dry. When Andrea tried picking her up, Rosie laid limp. When she tried to stand Rosie on all fours, she staggered. This was when Andrea began to panic and called a local primary veterinarian for guidance. Since it was after normal clinic hours, the voicemail referred Andrea to BluePearl Specialty and Emergency Pet Hospital in Lafayette, CO.
Considering Rosie's normal playful and energetic demeanor, I was extremely worried about her health with the way she was presenting," said Andrea. "When I called BluePearl, they inquired about her symptoms. They asked if, in addition to the symptoms I mentioned, Rosie's head was bobbing, she was dribbling urine, and if she was easily startled…yes, yes, and yes. The woman on the other end let me know it likely was marijuana toxicity. Immediately, I thought 'no way.'  We do not have any marijuana or marijuana products. I honestly thought Rosie was going to die." 
After the call, Andrea put Rosie in the car and took her to BluePearl. Once they arrived, Andrea met with members of the team who assured her that the hospital sees cases of marijuana toxicity daily and this was surely the culprit behind Rosie's symptoms. After examination, the team confirmed it was in fact marijuana toxicity. Luckily, Rosie's prognosis was good; she was given a round of anti-nausea medication and sent home to rest.
We went home, and Rosie was vastly improved the next day. Today, Rosie is fully recovered and back to her normal self with no long-term symptoms," said Andrea. "Marijuana toxicity in dogs is something I had never heard of before.  However, considering the widespread use of marijuana, it is something that, I believe, every pet owner should be aware of." 
About Marijuana Toxicity
Marijuana (or cannabis) toxicity is rarely fatal. In fact, until the development of medical-grade marijuana products, such as foods containing highly concentrated cannabis, fatalities were exceedingly infrequent. Marijuana contains more than 100 different chemicals called cannabinoids, which include tetrahydrocannabinol (THC) – the cannabinoid that has the most psychoactive effects.
Pets can become intoxicated or experience marijuana toxicity by inhaling second-hand smoke, eating edibles, or directly ingesting cannabis. Since dogs have more cannabinoid receptors in their brains, the effects of marijuana are more intense than when consumed or inhaled by humans. Even a small amount of marijuana is all it takes to cause toxicity in cats and dogs.
Signs of Marijuana Toxicity
While side effects of marijuana toxicity are usually short-lived, they can still be dangerous.
Signs of marijuana toxicity in pets include:
Hyperactivity
Elevated heart rate and blood pressure
Slow breathing
Lethargy
Increases or decreases in body temperature
Disorientation
Howling or other vocalizations
Pupil dilation
Excessive drooling
Vomiting
Urinary incontinence (i.e., urine leakage)
Tremors or seizure (coma can result)
To keep other pets safe from marijuana toxicity, Andrea and BluePearl veterinarians offer these tips:
Inquire about marijuana usage before letting your pet play at someone else's house.
Store marijuana products safely in closed cabinets and containers.
If traveling, make certain it is absolutely a smoke free/marijuana free environment.
Being aware of the symptoms can help ease your mind a bit if your dog does encounter this situation, so make sure you know the signs," said Andrea. "We are so thankful for BluePearl, and everyone that helped us during this scary time in Rosie's life! We love her so much and are so grateful for the wonderful care."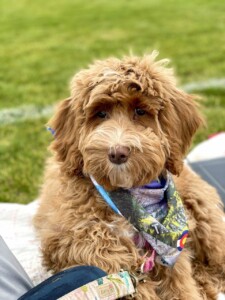 Rosie can be found on Instagram @rosiethefluffmuffin