More Than a Fracture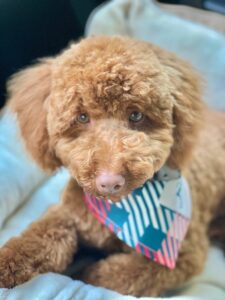 I brought my 7-month-old miniature poodle, Rudy in on the morning of 5/16/2020 after he was showing signs of lethargy, refusing to eat and drink, and constantly licking his left paw. Rudy had previously been diagnosed with a fracture of the left radial/ulna, but I noticed he wasn't himself this day. I brought him in to BluePearl Pet Hospital in New Braunfels early morning, and he was taken in right away.
A Hospital Team From Heaven
The staff there was truly amazing and heaven-sent! I would like to recognize Dr. Perez, Dr. Lim, SaKira, Shelby, Mandy, and Kendra. Rudy was diagnosed with mild ischemic injury of the left forelimb. I had to bring Rudy in three different times for bandage changes and each time he was taken back right away and attended to with care. They loved on him like he was their own. I can't tell you how much this warmed my heart, with my anxiety at an all-time high; not being able to be with him due to COVID-19 precautions.
Thank You For The Comfort, Care and Love
I appreciate the hard work and attention to detail this staff showed my puppy. He is my absolute world! They kept me included and well-informed every step of the day. I appreciate everything that the staff did for Rudy and me. The comfort, care, and love they showed mean so much and I wanted to take the time out to recognize them. Once again, thank you for all that you do!