We Knew Something Was Wrong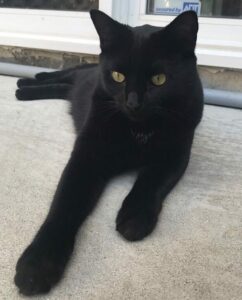 My husband woke up to get ready for work and noticed Vudoo (at the time our 2-year-old male cat) laying on the floor crying out in pain. He couldn't walk or even get up. I rushed him to BluePearl since our family vet wasn't open yet. Vudoo was diagnosed with a bladder infection. Since it wasn't urgent, they recommended that we take him to our normal vet when they opened in an hour. 
From Bad to Worse
Our regular vet treated him and recommended keeping him over night to keep an eye on things. The next day the vet called and said Vudoo was not acting himself. It just got worse from there. His lungs filled with fluid, he could barely walk, wasn't interested in food and didn't even care to use the litter box. Our vet told us he was starting to lay on his back which he said was a sign of Vudoo dying.
Vudoo started losing body heat, he was dehydrated and not breathing well. This went on for 4 days as our vet tried to treat him, but he was getting worse and worse. Our vet told us it was time to put him down.
It Wasn't Time to Say Goodbye
We were not ready for that. Vudoo has always been a fighter so we took him back to BluePearl in Grand Rapids for a second opinion. As soon as we stepped in, they rushed him to the back and put him in an incubator. Vudoo perked up a little more and stood on his own. My husband and I couldn't believe it. He stayed at BluePearl for two days on and off the oxygen but was still not able to control his body heat.
I am so thankful for BluePearl. Even though I called one or two times a night to check up on our baby, they never made me feel bad for checking up either over the phone or in person. We decided after two days that it was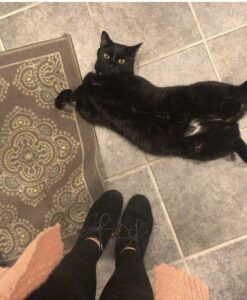 time to take him home as there were not many other treatments that could be done. He wasn't getting any worse, but breathing on his own was still difficult. We wanted to let him pass away in the comfort of his favorite corner of the house if that's what was going to happen.
As soon as we got home he seemed more
comfortable and knew where he was after being gone for seven days. He relaxed, still very weak, and needed to be force fed. Vudoo was on a few meds that BluePearl sent us home with and after one week, he was getting back to his old self.
We are forever thankful for BluePearl and all the vets and techs that took such good care of Vudoo and did not give up on him. He is happy, healthy, and still comfortably laying on his back most the time! Thank you so much BluePearl!