The Accident
In the summer of 2021, my dog Cooper had a very intermittent limp. By December, it had grown worse and more consistent. I brought him to see his regular veterinarian, and when they did an orthopedic workup, they found arthritis in his right knee. He was okay and managed with pain medication and his exercise was cut down a bit, but he would still favor his left leg and limp on his right occasionally.
In June of 2022, I had Cooper and my other dog, Winnie, out and threw a ball to Winnie, which Cooper chased after. After a few strides, he stopped, turned, looked at me, and popped up his left leg. I immediately knew he tore something. We went back home and I kept a close eye on him for a day or two, but he wasn't getting better.
I brought him back to his primary vet and they were fairly certain he tore his left ACL and referred us to a specialist right away. I've heard a lot of good things about BluePearl, and the Conshohocken hospital was able to get him in for an exam and possibly surgery within about a week.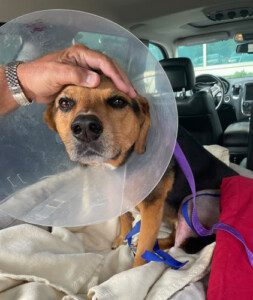 Finding the Best Option for Cooper
At BluePearl Pet Hospital in Conshohocken, Dr. Salas performed a physical exam and confirmed his left ACL was torn. We couldn't confirm the right due to his arthritis but she explained it was likely torn or partially torn since arthritis typically develops to cover up an underlying condition. We talked about our options and agreed that double TPLO surgery was the best option for him. He was admitted for surgery that day.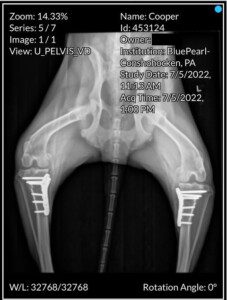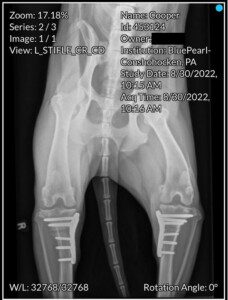 Undergoing Double TPLO Surgery
When Dr. Salas called back a few hours later, she said the surgery went great and confirmed that both ACLs were fully torn. I felt horrible! It's amazing how stoic dogs can be considering he would barely limp here and there until he tore his second one, yet he was still voluntarily going up and down the stairs!
Dr. Salas was great as well as the whole team. I was extremely upset and emotional during the entire first visit, but they encourage you to call for updates as often as you'd like after the surgery before you bring your pet home. Everyone at the office was so genuinely nice, patient, and understanding of everything. I absolutely recommend them to everyone and (while I hope I don't have to!) will be back if necessary.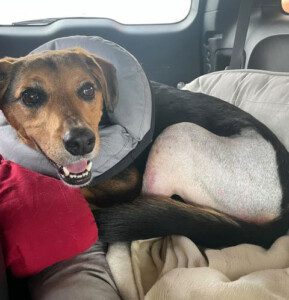 Following Up with Cooper's Progress
Eight weeks later and he got the all-clear from the surgeon to resume normal activity over the next two weeks! It's been a long (and emotional) road, but I'm so happy my guy will live many more years free of pain! He's got bionic legs now. BluePearl is the best of the best. I highly recommend Dr. Salas and their entire team to everyone.