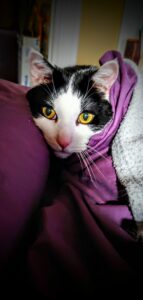 My cat Navarre was very sick and I had no clue about what was wrong. After a trip to his vet for a urinary tract infection, they said he needs to see a specialized vet because he has a growth on his stomach. Thank goodness they recommended BluePearl Pet Hospital.
The day I took him in, I thought he was going to die before we could get there and the news I heard after a quick exam confirmed my fears. Dr. Maxworthy at BluePearl Southfield put him in the kitty ICU. When I went for a visit the next day, he was already feeling better.
After a couple of days in ICU and lots of love from the staff, Navarre had surgery to remove the tumor and repair the affected area. He came home feeling good and has a new lease on life. That tumor turned out to be skin cancer. After a consult and exam, I decided not to do chemotherapy and I'm happy to say his first check-up was cancer-free. One down, three to go.
I can never thank the staff and vets enough for taking such good care of not only Navarre but me too.