Pioneering ER Program Tailored to Veterinarians
BluePearl offers an immersion-style training program for doctors interested in becoming emergency clinicians.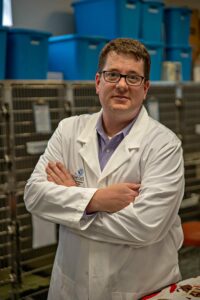 It's no surprise to anyone in the veterinary industry that many emergency practices are struggling to find and hire experienced emergency veterinarians. As a national provider of specialty and emergency medicine, BluePearl is no stranger to that struggle. So, we decided to take action.
The BluePearl emERge™ Program offers veterinarians the training they need to become successful emergency clinicians. We offer a full-time job at one of our 100+ BluePearl hospitals throughout the country, with a salary from day one that increases through the program. The first year is divided into three segments:
16 weeks of initial training/bootcamp, with the first four weeks in Tampa
16 weeks of immersive training guided by an experienced clinician
20 weeks of experiential training
The total commitment to the BluePearl family is three years. [Update: Starting in 2023, this commitment is now two years; one year of training and one year at the participants' home hospitals.]
We offer two classes a year, with start dates in mid-summer and January. During these classes, emERge™ clinicians experience a fast-moving and satisfying environment, with the opportunity to see interesting cases and perform complex procedures. Most of our emergency services work side by side with veterinary specialists in hospitals that combine innovative procedures and the latest treatment methods with high-tech equipment to solve life-threatening and diagnostically challenging medical problems.
Meet the team.
Launched in 2018, the emERge™ program has up to 30 clinicians in various phases and under the leadership of Lenore Bacek, MS, DACVECC. Dr. Bacek spent eight years on the faculty at Auburn University, with six of those as the head of the Emergency and Critical Care Service. Highly regarded by her peers, she has been invited to speak at local, national and international conferences and has published multiple manuscripts and book chapters. She has taught more than 1,000 students and trained more than 100 house officers collaboratively with other specialists.
[Update: As of 2023, the emERge™ program is now under the experienced leadership of Adam Lancaster, DVM, DACVECC, and Lisa Powell, DVM, DACVECC.]
Dr. Adam Lancaster completed veterinary school at Iowa State University, followed by a rotating internship at BluePearl Pet Hospital in Tampa and an emergency & critical care residency at Angell Animal Medical Center in Boston before becoming board certified. He especially enjoys providing quality, compassionate care to critically ill animals and has a special interest in transfusion medicine and traumatic brain injury.
Dr. Lisa Powell attended veterinary school at Texas A&M University, followed by a rotating internship at the Animal Medical Center in New York and an emergency & critical care residency at Tufts University before becoming board certified. A consummate educator and prolific writer, she has held editorial positions with the Journal of Veterinary Emergency and Critical Care and Clinician's Brief. Dr. Powell's clinical interests include treatment of septic, critically ill patients and respiratory disease, especially conditions requiring mechanical ventilation. Some of her favorite cases to treat are trauma and toxicities because of the number of successful outcomes.
Get information.
We are excited about our emERge™ program and the opportunity to help aspiring veterinarians meet their goals, while also helping to fill an industry need. If you're a veterinarian looking for a career change, or a new vet school graduate, the emERge™ program is an option for you.
For the most up-to-date information, view our emERge™ page or contact [email protected].