Dr. Eisele and CROW help river otter make a recovery.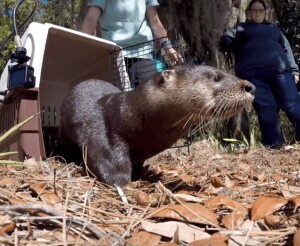 TAMPA, Fla. – The North American river otter is the most abundant otter species, but little is known about its life in the wild. What we do know, though, is that otters are playful creatures, frequently seen sliding down riverbanks or burrowing through snow.
The active nature of otters makes them particularly difficult to treat and rehabilitate after injury. Specialty veterinarians at BluePearl Veterinary Hospital, Fort Myers, Fla., and at Clinic for the Rehabilitation of Wildlife (CROW), experienced this first-hand while caring for an otter who was brought in after being struck by a vehicle on February 7.
A passing motorist in Port Charlotte, Fla. rescued the otter and took it to the Peace River Wildlife Center, who then transferred it to CROW. The otter arrived in a comatose state after sustaining acute head trauma, a fractured femur, and heat exhaustion (hyperthermia).
"When the otter arrived, the hyperthermia was the main concern as this was the most life threatening abnormality on presentation," said Dr. Kyle Abbott, CROW veterinary intern.
Teams Work Together to Restore Otter to Good Health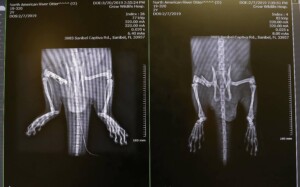 The team of veterinarians at CROW treated the otter overnight, monitoring his blood pressure, body temperature, and neurological condition. Once stabilized, the otter was taken to BluePearl Pet Hospital in Fort Myers. There, Dr. Jason Eisele, board certified veterinary surgeon, placed a steel bone plate and six screws to support the fractured femur bone. A second surgery was performed a few weeks later after the otter re-injured his leg.
"Otters are naturally active, which increases the probability of re-injury after surgery," remarked Dr. Jason Eisele. "The implant failure was most likely due to excessive movement and stress on the otter's leg. Restricting the activity levels of wildlife after surgery can be difficult, but it's a vital part of the immediate and long-term outcomes for the animal."
The otter's collaborative treatment plan was achieved by veterinarians with advanced training in emergency, critical care, radiology, and internal medicine.
"The surgery was performed by a boarded veterinary surgeon who performs orthopedic repairs on mammals, cats and dogs, more regularly. We ultimately perform surgeries on all of our other patients, but this required a different kind of specialized surgical care to give this otter the best chance at recovery," said Dr. Abbott.
The surgeries were ultimately successful and after a four month recovery, the otter was released to a remote location near Punta Gorda, Florida. 
Watch a short video on the river otter's surgery and release here.