Our Services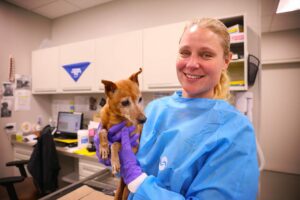 We focus exclusively on advanced specialty veterinary care. If you're experiencing a pet emergency, please visit BluePearl in Midtown Manhattan. For annual vaccines and wellness care, please see your primary care veterinarian.)
Types of Specialties & Services
Each BluePearl pet hospital is unique. Our Downtown Manhattan hospital offers these specialties and services provided by skilled, compassionate and dedicated professionals.
Anesthesiology & Pain Management
Our anesthesiology and pain management service works with other specialties in the hospital to provide safe and comfortable sedation and anesthesia for pets during diagnostic and surgical procedures. Using sophisticated tools to monitor your pet under anesthesia, our experts utilize advanced techniques to control pain.
Cardiology 
Our veterinary cardiology team diagnoses and treats diseases of the heart and lungs. We use advanced imaging tools and techniques to identify your pet's specific condition and develop a treatment plan. Cardiology patients have a variety of treatment options, including minimally invasive procedures. 
Your pet's primary veterinarian may refer you to our cardiology service for: 
Newly diagnosed heart murmur or recent increase in murmur grade (1-6) 
Episodes of collapse or fainting 
Irregular breathing or respiratory distress 
Chronic coughing 
High or low blood pressure 
Diagnosed heart failure or heart disease 
Irregular heart rhythm 
Dermatology
If your pet is suffering from a skin condition or experiencing allergy symptoms, our dermatology team is here to help. Our pet dermatologists have the training to diagnose, manage and treat common and complex skin conditions in pets. We work closely with your pet's primary veterinarian to create comprehensive care plans for the long-term management of skin complications.
Common conditions we diagnose and treat include:
Allergies (both environmental and food-related)
Acute and chronic disease of the skin and ears
Autoimmune diseases
Parasitic skin diseases (like mange)
Fungal infections (like ringworm)
Diagnostic Imaging
Our radiology service performs many non-invasive and minimally invasive diagnostic procedures. These services allow the specialty clinicians unique, non-invasive opportunities for evaluating various diseases.
Internal Medicine
Veterinary internists are trained to take care of patients who can't tell them what's wrong. By using the pet's history, clinical signs, lab results, imaging studies and other testing, our internal medicine specialists can diagnose severe, chronic illnesses or symptoms that appear suddenly.
Compassionate Treatment
Our team respects the close bond between pets and their owners and treats each with dignity, compassion and kindness.