Veterinary neurology & neurosurgery for pets in Colorado.
BluePearl Pet Hospital is a specialty veterinarian and animal hospital located in Englewood, CO, that delivers advanced medical care for pets with neurological conditions.
Our team of experts provides compassionate care for pets with neurological complications who need to see a veterinary neurologist for evaluation, diagnosis and treatment. Most patients are referred to our hospital by their primary care veterinarian.
Specialty veterinary medicine in Colorado.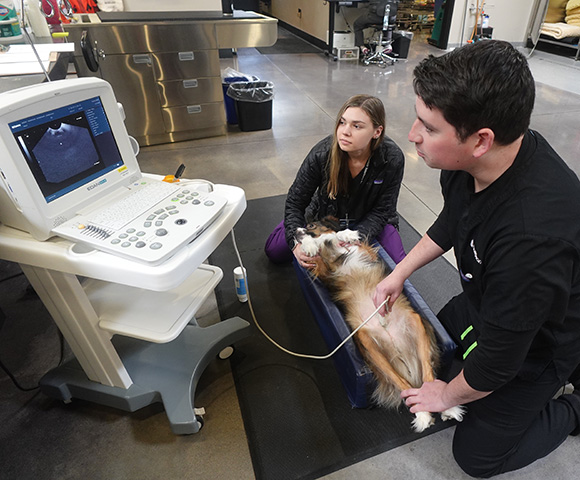 If your pet requires a veterinary neurology specialist, we are ready to help. Our experienced team of veterinarians, vet technicians and support staff work closely together to provide the comprehensive, compassionate care your pet needs and deserves.
Our neurology services are available by referral for pets in Colorado and neighboring states like Wyoming, Nebraska and Kansas.
Learn more about the neurology services we offer at our specialty pet hospital in the Denver area.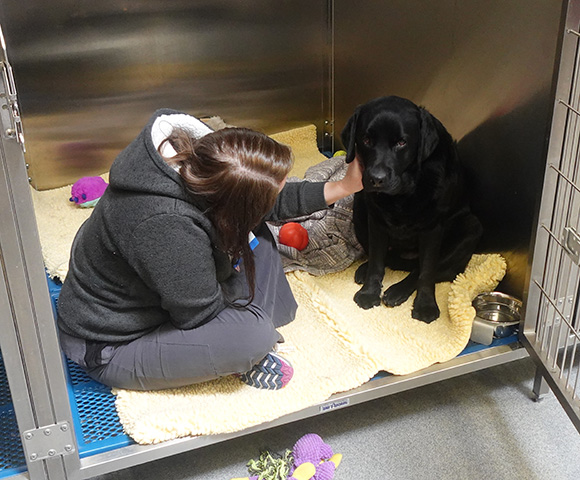 Our
veterinarians.
Caring for your pets is our passion. Meet our team of veterinary specialists here to help you and your pet.
About our specialty pet hospital.
Our specialty hospital focuses on delivering medically advanced neurology care for pets. From consultations and assessments to diagnostics, procedures and disease management, we are here to help you and your pet throughout their journey of care.
By practicing Fear Free exams, we aim to decrease stress on patients and make their experience at our hospital as comfortable as possible.
If your pet is very fearful, we can make special arrangements to accommodate them, such as an early arrival time to relax in the exam room for a few minutes and decompress from the car ride. Please let us know when scheduling your appointment if your pet is an anxious patient – we're happy to provide accommodations.
If your pet requires an overnight stay for testing or a procedure, they will be given 24/7 personalized care by our team of dedicated doctors and neurology technicians. Our overnight team has been trained in all specialties of neurologic care, and our neurologist performs a physical and neurological examination on your pet daily, along with daily assessments, allowing for unsurpassed patient care.
Our hospital was formerly known as Rocky Mountain Veterinary Neurology.
Pet owners.
At BluePearl in Englewood, providing our customers with remarkable service is a top priority.
We strive for financial transparency every step of the way and encourage clients to conduct pricing comparisons across multiple providers.
If you'd like a cost estimation for anticipated procedures for your pet, please contact our hospital team at 303.874.2081 or [email protected].
Testimonials.
"Dr. Maguire and the team were the best!!! Dr. Maguire's years of expertise and the team's professional, loving care provided five-star quality care for my cherished 13-year-old dog's delicate cervical spine surgery. We traveled from Salt Lake City for this expert care and I couldn't be happier with the outcome! Thank you from the bottom of my heart." — Stephanie M.
"We just wanted you to know how very grateful we are for our Hannah, and the life you've given back to her and us. I have no doubt that you have heard this before. Your dedication to animals is a gift to all who are lucky enough to see you. You did her surgery, fitting her into your already tight schedule. She was a spaz to say the least, but you patiently took care with her, and me. She is now doing so well, I see some of her puppy attitude emerging.
It is a given that your pet is a member of your family. You could see Dr. Maguire had her best interest at heart. I bless him for this every day." — Laura K.
"I wanted to take this opportunity to thank you again for everything you did on behalf of my beloved, Chootchie. He's apparently totally recovered from his injury and from the surgery. As best I can tell, he doesn't think or worry about any of this for a moment. He's simply back enjoying his life – chasing squirrels, playing tug of war, burrowing under the blankets, sitting on peoples' laps, and most importantly, refusing to do anything you want unless you give him a treat. It's wonderful having him back and it's wonderful he's been able to return to fully enjoying his life again.
In addition to your skill as a surgeon, I also wanted to thank you for all the other things you did: your obvious love and concern for Chootchie; your enormous sensitivity to my worries; your willingness to make yourself available to me, by phone, whenever I might need this; your patience in answering all my questions – even when I was asking them for the second or third time." — Richard B.