Specialty Vet Services in Lafayette, CO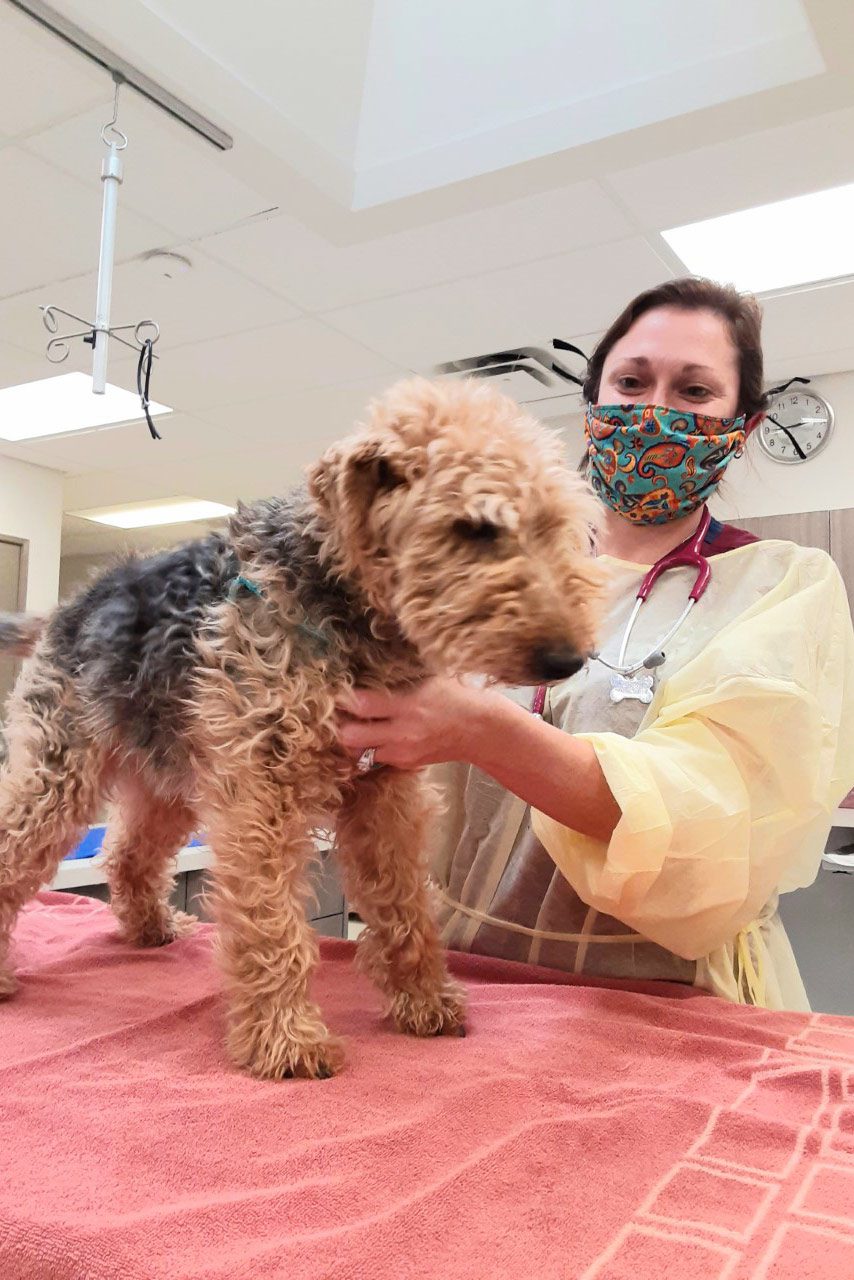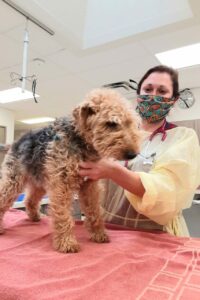 BluePearl Pet Hospital is here when your pet needs specialty or emergency care. Our compassionate clinicians are highly trained in their specific fields. We work closely with you and your pet's primary veterinarian to create a comprehensive care plan that's tailored to your pet's unique condition and quality of life. Specialties and services offered at our pet hospital include:
Emergency Medicine
Our emergency service is dedicated to maintaining the highest standards of patient care and client satisfaction. When your pet comes in for an emergency, our hospital is equipped to perform the following diagnostic tests:
Full in-house blood work: to assess infection, inflammation, anemia and clotting,
Radiograph (x-rays): to  assess for internal abnormalities such as bone trauma/fracture, GI obstruction, bloat (GDV), heart failure, pneumonia and cancer
Triage ultrasound: to assess for internal bleeding, fluid buildup, ruptured urinary bladder and infection
Specialty ultrasound of chest or abdomen: a  thorough assessment for organ disease/abnormalities, GI obstruction, infection and cancer.
MRI: to  assess for spinal fracture, head trauma/skull fractures, slipped disc in the back, stroke, brain tumor and meningitis
Acupuncture for Pets
At BluePearl Pet Hospital, our certified veterinary acupuncturist provides safe, comforting acupuncture treatments for patients with chronic pain and many other health conditions.
Acupuncture is a nonpharmacological treatment option for numerous conditions. It has potential anti-inflammatory effects, the ability to activate immune mechanisms and alleviates pain by releasing endorphins and serotonin. Common pathologies in which acupuncture may be beneficial include:
Myelopathies (e.g., paraparesis, DM, FCE)
Chronic pain conditions
Osteoarthritis
Neuropathic pain (e.g., LS disease, disc disease, nerve root signature)
Post-surgical pain
If you believe your pet could benefit from a pain management treatment like acupuncture, consult your primary veterinarian for a referral or call us to schedule an appointment.
Critical Care
Critical care patients come to our hospital due to trauma, the development of an acute life-threatening illness or immediately following major surgery. Our critical care service carefully evaluates each patient and creates a custom monitoring plan by measuring variables such as pulse, heart rate, blood pressure and more.
We are prepared to treat many different types of trauma, including:
Sepsis
Respiratory distress
Blood transfusions
Ophthalmology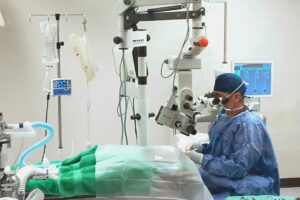 Our veterinary ophthalmology team has advanced training, equipment and expertise to aid in the diagnosis and treatment of all ocular conditions or concerns. We are dedicated to providing the highest quality of care for all animals.
Our goal is to enhance your pet's quality of life by improving vision, managing chronic ocular disease and relieving discomfort from painful eye disorders.
The more common ophthalmology services that we provide are: 
Diabetic and non-diabetic cataract surgery with artificial lens implants
Structural corrections such as entropion, distichia and cherry eye surgeries
Medical and surgical management of corneal injury/non-healing ulcers
Minimally invasive eyelid tumor removal/therapy
Glaucoma management
Retinal/vision diagnostics
Dry eye therapy (KCS)
Advanced microscope-assisted surgical procedures
OFA CAER exams (For inherited eye disease screening)
Read about Stella, who developed cataracts from diabetes. Stella was a good candidate for cataract surgery and her post-operative results proved that surgery was the right option for this little pug.
Sports Medicine and Rehabilitation
The sports medicine and rehabilitation specialty focuses on non-surgical orthopedic medicine with a comprehensive, therapeutic approach to dogs and cats of all ages and activity levels suffering from mobility issues. From high-performance sporting and working dogs to senior dogs and cats, sports medicine and rehabilitation can be beneficial for dogs and cats of all ages and any activity level.
Our sports medicine and rehabilitation team frequently helps patients with:
Arthritic diseases such as osteoarthritis, septic arthritis, immune-mediated polyarthritis
Developmental diseases like hip and elbow dysplasia
Cranial cruciate ligament disease
Tendon pathologies (bicipital tenosynovitis, supraspinatus tendinopathy, medial shoulder injury, Achilles tendinopathy)
Joint injury or instability (carpal/tarsal collateral ligament injuries)
Degenerative lumbosacral stenosis
Exercise and sports-related soft tissue injuries of the muscles, tendons and ligaments
Recovery after orthopedic or neurologic surgery
Non-surgical pathologies
By utilizing advanced imaging like CT, MRI and musculoskeletal ultrasound as well as diagnostic techniques like joint taps, we strive for a precise diagnosis followed by the best appropriate treatment options.
Treatments may include:
Joint injections
Orthobiologics (e.g., PRP)
Multi-modal pain control
Electrohydraulic shockwave therapy
Acupuncture
Electrical stimulation
Custom orthoses and prostheses
Laser therapy
Underwater and land treadmills
Our goal is to help pets with chronic or acute lameness restore mobility and improve quality of life.
Surgery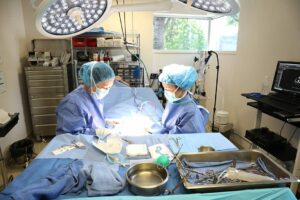 The veterinary surgeons at BluePearl Pet Hospital are trained in all forms of surgery including orthopedic, soft tissue, oncologic (cancer) and minimally invasive procedures. If your pet needs surgery, be assured that they are in the best hands. All surgery patients recover in our ICU with 24-hour care from an ICU technician.
We are equipped to perform many different types of surgery including:
Orthopedic Surgery: fracture repairs, ligament/tendon stabilization (such as TPLO for cranial cruciate tears) and congenital corrections for bone and joint abnormalities.
Soft Tissue Surgery: thoracic or abdominal surgery, these surgeries can be performed as a routine procedure or as an emergency.
Oncologic Surgery: removal of any cancerous growth helps to minimize or avoid cancer spread. These growths or tumors can be externally visible on the skin, or internal and growing within a bone, or an organ in the chest or abdominal cavity.
Non-Surgical Chronic Orthopedic Case Management
If your pet has an orthopedic disease that cannot be fixed with surgery, or if surgery is not an option for your family, we can provide you with other possible options. Veterinary surgeons are trained in diagnosing and managing chronic orthopedic diseases such as osteoarthritis, hip dysplasia and congenital malformations.
Consulting with the surgeon to discuss the management of these diseases can be very helpful in mitigating progression, managing pain and helping improve your pet's quality of life.
Compassionate Treatment
Our team respects the close bond between pets and their owners. We treat each patient with dignity, compassion and kindness.