Specialty vet services in Lafayette, CO.
BluePearl Pet Hospital is here when your pet needs specialty or emergency care. Our compassionate clinicians are highly trained in their specific fields.
We take a collaborative approach, working closely with you and your pet's primary veterinarian to create a comprehensive care plan that's tailored to your pet's unique condition and quality of life. Specialties and services offered at our pet hospital include: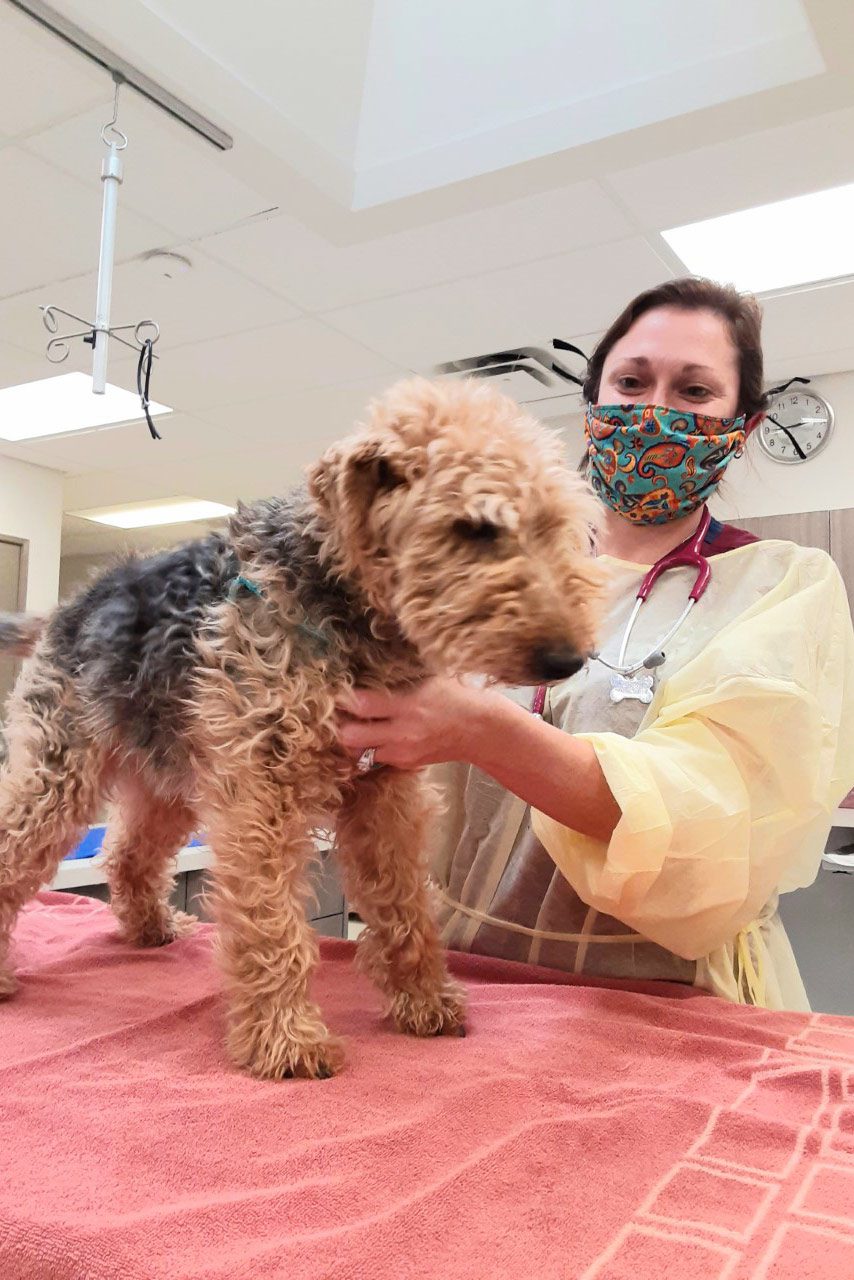 Emergency Medicine
Our emergency service is dedicated to maintaining the highest standards of patient care and client satisfaction.
When your pet comes in for an emergency, our hospital is equipped to perform the following diagnostic tests:
Full in-house blood work to assess infection, inflammation, anemia and clotting
Radiograph (x-rays) to  assess for internal abnormalities such as bone trauma/fracture, GI obstruction, bloat (GDV), heart failure, pneumonia and cancer
Triage ultrasound to assess for internal bleeding, fluid buildup, ruptured urinary bladder and infection
Specialty ultrasound of chest or abdomen to assess for organ disease/abnormalities, GI obstruction, infection and cancer
MRI to  assess for spinal fracture, head trauma/skull fracture, slipped disc in the back, stroke, brain tumor and meningitis
CT to assess for both soft tissue and bony abnormalities in the case of trauma or for routine surgical planning

Critical Care
Veterinary criticalists have advanced training in the diagnosis and care of a multitude of severe illnesses. Critical care patients come to our hospital due to trauma, the development of an acute life-threatening illness or immediately following major surgery.
Our critical care service carefully evaluates each patient and creates a custom monitoring plan. Once hospitalized, a team of specially trained healthcare providers monitors your pet closely, tailoring their treatment plan.
Additional diagnostics can be performed as needed, including:
Endoscopy for gastric or esophageal foreign material
Abdominal ultrasounds
Bone marrow aspirates
We are prepared to treat many different types of cases, including:
Sepsis
Respiratory distress
Blood and plasma transfusions
Serious injuries
Organ failure
Post-operative care
Gastrointestinal issues
Infectious diseases

Oncology
We are dedicated to the pursuit of life, hope and healing. We understand that facing cancer can be emotional and challenging, which is why we offer a comprehensive range of oncology services designed to empower you on your pet's journey.
Medical oncology: Our highly skilled oncology team is at the forefront of cancer treatment, offering the latest advancements in medical oncology. We design treatment plans tailored to your pet's specific cancer type and individual needs. We offer a variety of treatment modalities and combinations to meet your goals for your pet's health and maximize treatment effectiveness.
Electrochemotherapy: With electrochemotherapy techniques, we can deliver treatment directly to affected areas, minimizing side effects and maximizing therapeutic impact on your pet.
Quality of life: We understand that your pet's well-being extends beyond treatment. Our compassionate care team is dedicated to improving their quality of life and supporting you throughout the journey, providing resources for emotional support and guidance.
CT and MRI staging: Accurate diagnosis and staging are critical for effective treatment. We employ state-of-the-art CT and MRI staging to precisely assess your pet's condition, enabling us to create the most suitable treatment plan.
At BluePearl Lafayette, we don't just treat cancer; we care for the whole patient and their family. Our commitment to compassionate, patient-centered care ensures that your pet receives the best medical treatment.
Your pet's well-being is our top priority. Join us as we work together to fight cancer, improve quality of life and pave the way to a healthier, brighter future.

Ophthalmology
Our veterinary ophthalmology team has advanced training, equipment and expertise to aid in the diagnosis and treatment of all ocular conditions or concerns. We are dedicated to providing the highest quality of care for all animals.
Our goal is to enhance your pet's quality of life by improving vision, managing chronic ocular disease and relieving discomfort from painful eye disorders.
The more common ophthalmology services that we provide are:
Diabetic and non-diabetic cataract surgery with artificial lens implants
Structural corrections such as entropion, distichia and cherry eye surgeries
Medical and surgical management of corneal injury/non-healing ulcers
Minimally invasive eyelid tumor removal/therapy
Glaucoma management
Retinal/vision diagnostics
Dry eye therapy (KCS)
Advanced microscope-assisted surgical procedures
OFA CAER exams (For inherited eye disease screening)
Read about Stella, who developed cataracts from diabetes. Stella was a good candidate for cataract surgery and her post-operative results proved that surgery was the right option for this little pug.

Surgery
The veterinary surgeons at BluePearl Pet Hospital are expertly trained in all forms of surgery, including minimally invasive, soft tissue, orthopedic, oncologic and emergency procedures. If your pet needs surgery, rest assured that they are in the best hands. All surgery patients recover in our ICU with 24-hour care from our dedicated ICU nursing team.
We are equipped to perform many types of surgery, including:
Minimally invasive surgery (MIS).
When applicable, we always strive to perform the least invasive surgery on pets. Our surgery team offers the following minimally invasive surgeries:
Laparoscopic spay
Cryptorchid castration
Gastropexy
Adrenalectomy
Cholecystectomy
Hernia repair
Liver biopsy
Splenectomy
Abdominal exploration
For thoracic procedures, we offer:
Thoracoscopic pericardectomy
Mass removal
Lung lobectomy
Congenital ring and vascular anomaly correction
Thoracic exploration with biopsy
Orthopedic surgery.
The orthopedic procedures we offer include:
Fracture repair
Tendon or ligament repair
Cruciate disease stabilization (also known as tibial plateau leveling osteotomy, or TPLO)
Advanced procedures such as the correction of angular limb deformities
We also perform minimally invasive arthroscopic exploration of the elbow, shoulder and stifle.
Soft tissue surgery.
Our soft tissue procedures include thoracic or abdominal surgery, both of which can be performed as a routine procedure or in emergency situations.
Oncologic surgery.
For pets with cancer, our experienced surgical team uses surgery to remove cancerous growths from anywhere in the body.

Compassionate Treatment
Our team respects the close bond between pets and their owners. We treat each patient with dignity, compassion and kindness.