Specialty Vet Services in Lafayette, CO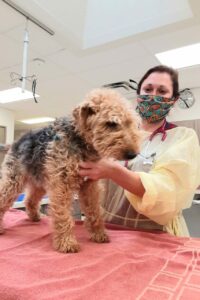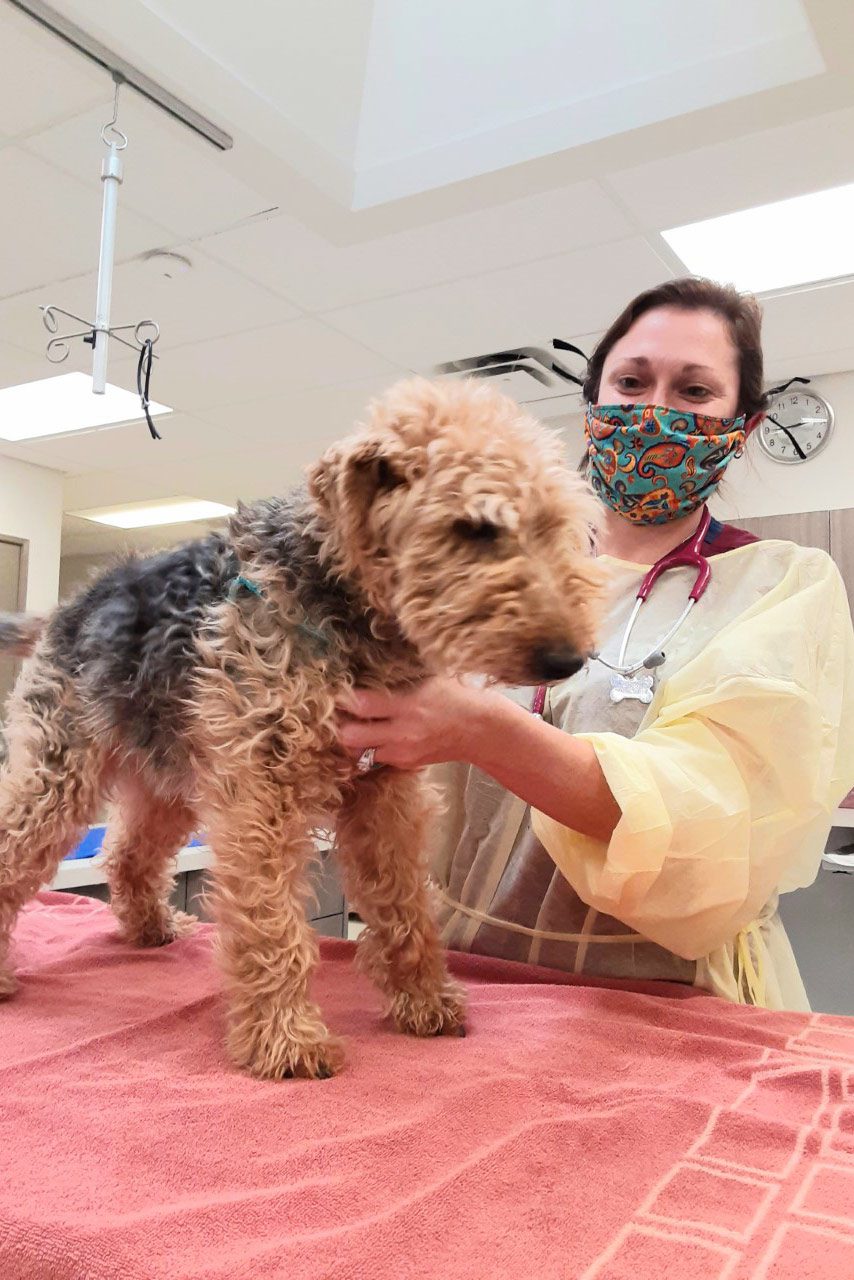 Boulder Road Veterinary Specialists (BRVS) is here when your pet needs specialty or 24-hour emergency care. Our compassionate clinicians are highly trained in their specific fields. We work closely with you and your pet's primary veterinarian to create a comprehensive care plan that's tailored to your pet's unique condition and quality of life. Specialties and services offered at our pet hospital include:
24/7 Emergency Medicine
Our emergency service is dedicated to maintaining the highest standards of patient care and client satisfaction. When your pet comes in for an emergency, our hospital is equipped to perform the following diagnostic tests:
Full in-house blood work: to assess infection, inflammation, anemia and clotting,
Radiograph (x-rays): to  assess for internal abnormalities such as bone trauma/fracture, GI obstruction, bloat (GDV), heart failure, pneumonia and cancer
Triage ultrasound: to assess for internal bleeding, fluid buildup, ruptured urinary bladder and infection
Specialty ultrasound of chest or abdomen: a  thorough assessment for organ disease/abnormalities, GI obstruction, infection and cancer.
MRI: to  assess for spinal fracture, head trauma/skull fractures, slipped disc in the back, stroke, brain tumor and meningitis
Behavioral Medicine
Veterinary behavioral medicine focuses on the physical and emotional health of pets to help determine the root cause of behavioral problems. Behavioral medicine can help with conditions like:
Aggression
Basic manners
Cognitive disfunction
Compulsive behaviors
Fear and anxiety
Socialization
Urine marking/inappropriate elimination
Our behavioral medicine service is provided by The Veterinary Behavior Center – please call 303.536.1802 for scheduling.
Cardiology
Our veterinary cardiology service diagnoses and treats diseases of the heart and lungs. Cardiology patients have a variety of treatment options, including minimally invasive procedures. Your pet's primary veterinarian may refer you to our cardiology service for:
Newly diagnosed heart murmur or recent increase in murmur grade (1-6)
Episodes of collapse or fainting
Irregular breathing or respiratory distress
Chronic coughing
High or low blood pressure
Diagnosed heart failure or heart disease
Irregular heart rhythm
Our cardiology service is provided by PetCardia – please call 720.724.8012 for scheduling.
Internal Medicine
Veterinary internists are trained to take care of patients who can't tell them what's wrong. By using the pet's history, clinical signs, lab results, imaging studies and other studies, our internal medicine team can diagnose illnesses of pets' internal systems and organs, including the liver, kidneys, gastrointestinal tract, lungs, gallbladder and more.
Does My Pet Need to See an Internal Medicine Specialist?
Your primary care veterinarian may refer you to a veterinary internist if your pet needs treatment for:
Blood disorders such as leukemia or anemia
Diabetes and other kidney diseases
Endocrine diseases like Cushing's or Addison's disease
Gastrointestinal conditions like pancreatitis or inflammatory bowel disease
Infections such as parvo or canine influenza
Respiratory conditions including asthma or pneumonia
Urinary conditions like bladder stones
Our internal medicine service uses a variety of procedures to pinpoint diagnoses and treatment plans best suited for pets' needs, including:
Joint fluid sampling
Bone marrow sampling
Gastric foreign body removal
Diagnostic endoscopy: gastrointestinal endoscopy, rhinoscopy and bronchoscopy
Neurology
Our veterinary neurology team diagnoses and treats conditions of the brain and nervous system. If your family veterinarian refers your pet to our team, we start with a neurologic exam, which helps  localize where the neurologic system is  affected (brain, spinal cord, peripheral nerves/muscles). This allows for precise diagnostics and treatment options.
MRI
MRI is the best imaging modality to evaluate/view the brain, spinal cord, nerve roots and other major nerves. While MRI is non-invasive, anesthesia is still required.
Neurosurgery
We offer all veterinary neurosurgical procedures, including decompressive surgery for disc herniation, spinal cord and brain tumor removals, AA luxation, Foramen Magnum decompression, VP shunt placement for hydrocephalus, and spinal fracture stabilization.
Seizure Management
There are many seizure control medications available, and choosing a medication varies by patient. We offer consultations to fully understand your pet's condition and best help maximize control, improving your pet's quality of life.
Muscle/Nerve Biopsies
Muscle and nerve biopsies are diagnostic tests that allow for the identification of more rare diseases affecting the peripheral nerves, the nerve-muscle junction and muscles.
Oncology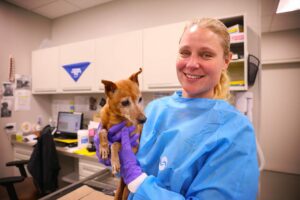 Your first veterinary oncology visit will include a nose-to-tail physical examination of your pet. We review all prior diagnostics performed by your family veterinarian and present you with a detailed treatment plan for your pet's unique needs. We're in this together and work with you to find the best solution for the well-being of your pet.
Chemotherapy
Our goal with chemotherapy is to improve and extend each patient's survival time while maintaining an excellent quality of life. Chemotherapy can be used in conjunction with surgery, but it can also be the sole form of treatment.
Ophthalmology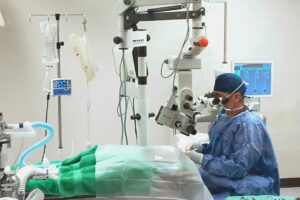 Our veterinary ophthalmology team has advanced training, equipment and expertise to aid in the diagnosis and treatment of all ocular conditions or concerns. We are dedicated to providing the highest quality of care for all animals. Our goal is to enhance your pet's quality of life by improving vision, managing chronic ocular disease and relieving discomfort from painful eye disorders.
The more common ophthalmology services that we provide are: 
Diabetic and non-diabetic cataract surgery with artificial lens implants
Structural corrections such as entropion, distichia and cherry eye surgeries
Medical and surgical management of corneal injury/non-healing ulcers
Minimally invasive eyelid tumor removal/therapy
Glaucoma management
Retinal/vision diagnostics
Dry eye therapy (KCS)
Advanced microscope-assisted surgical procedures
OFA CAER exams (For inherited eye disease screening)
Read about Stella, who developed cataracts from diabetes. Stella was a good candidate for cataract surgery and her post-operative results proved that surgery was the right option for this little pug.
Sports Medicine and Rehabilitation
The sports medicine and rehabilitation specialty focuses on a non-surgical comprehensive therapeutic approach to dogs and cats of all ages and activity levels suffering from mobility issues. From high-performance sporting and working dogs to senior dogs and cats, from recovery after orthopedic or neurologic surgery, arthritis, cranial cruciate ligament disease (similar to ACL in humans), muscle, tendon or joint injury – we treat them all.
By implementing an accurate diagnosis and utilizing various therapeutic modalities we can help pets with chronic or acute lameness restore mobility, and improve quality of life. Modalities we commonly use include multi-modal pain control, orthobiologics (e.g., PRP), joint injections, custom-made orthoses, therapeutic exercises including home exercises, as well as various physical rehabilitation modalities such as cold laser therapy, electrical stimulation, acupuncture, underwater and land treadmills.
Surgery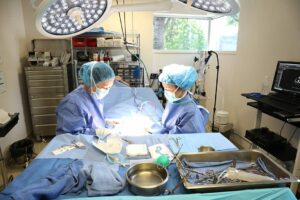 The veterinary surgeons at BRVS are trained in all forms of surgery including orthopedic, soft tissue, oncologic (cancer) and minimally invasive procedures. If your pet needs surgery, be assured that they are in the best hands. All surgery patients recover in our ICU with 24-hour care from an ICU technician.
We are equipped to perform many different types of surgery including:
Orthopedic Surgery: fracture repairs, ligament/tendon stabilization (such as TPLO for cranial cruciate tears) and congenital corrections for bone and joint abnormalities.
Soft Tissue Surgery: thoracic or abdominal surgery, these surgeries can be performed as a routine procedure or as an emergency.
Oncologic Surgery: removal of any cancerous growth helps to minimize or avoid cancer spread. These growths or tumors can be externally visible on the skin, or internal and growing within a bone, or an organ in the chest or abdominal cavity.
Non-Surgical Chronic Orthopedic Case Management
If your pet has an orthopedic disease that cannot be fixed with surgery, or if surgery is not an option for your family, we can provide you with other possible options. Veterinary surgeons are trained in diagnosing and managing chronic orthopedic diseases such as osteoarthritis, hip dysplasia and congenital malformations. Consulting with the surgeon to discuss the management of these diseases can be very helpful in mitigating progression, managing pain and helping improve your pet's quality of life.
Compassionate Treatment
Our team respects the close bond between pets and their owners. We treat each patient with dignity, compassion and kindness.