Emergency and specialty medicine in Fox Valley, WI.
Our vet hospital in Fox Valley, Appleton, WI offers 24-hour emergency services, as well as specialty appointments available by referral. We're available for your pet when your primary veterinarian's office is closed, or if your pet needs the medical attention of a specialty clinician. The following services are available at our hospital: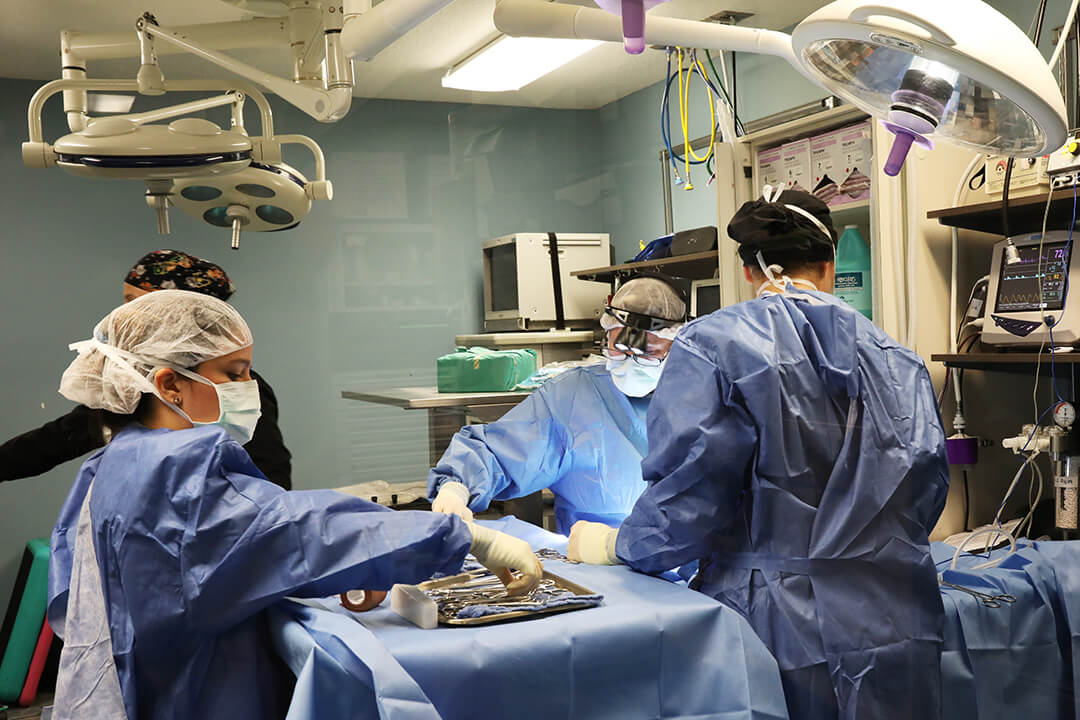 Emergency Medicine
If you believe your pet is sick, hurt or in distress, we're here to provide expert care. Our trained emergency clinicians are prepared to diagnose and treat urgent cases, including severely injured or critically ill pets. Common emergency cases we see include:
Animal attacks
Bleeding
Collapse episodes
Difficulty breathing
Difficulty urinating
Hit-by-car accidents
Ingestion of medications, poisons or objects
Seizure
Severe diarrhea
Unresponsiveness
Vomiting
Through every step of your pet's emergency care experience, we keep you and your pet's primary veterinarian informed and involved.

Dermatology
The dermatology team members at BluePearl Pet Hospital in Fox Valley, Appleton manage chronic skin diseases in pets. Our approach to veterinary dermatology involves forming a long-term relationship with you and your pet, focusing on your pet's ongoing quality of life.
We take the time to fully understand your pet's medical history and specific dermatological conditions. We work closely with you and your primary veterinarian to create a custom treatment plan for your pet with the goal of uplifting your pet's life.
Our team is prepared to manage virtually any skin disease in pets. Some of the common conditions we diagnose and treat include:
Allergic skin diseases and allergic asthma
Autoimmune and immune-mediated skin diseases
Contact, vaccine and drug reactions
Hypersensitivity disorders
Congenital skin disorders
Endocrine or hormonal diseases
Infection skin disease
Skin cancer

Diagnostic Imaging
Our radiology service performs many non-invasive and minimally invasive diagnostic procedures. These services give our clinicians unique, non-invasive opportunities for evaluating various diseases.

Internal Medicine
Our internal medicine team diagnoses and treats complex diseases in pets. We combine knowledge, skill and compassion to ensure our internal medicine patients receive top-notch medical care for their specific medical needs. We offer a variety of diagnostic and treatment services, including:
Ultrasound
Endoscopy/colonoscopy/rhinoscopy/bronchoscopy/cystoscopy
CT (computed tomography) scan
Echocardiography
Chemotherapy
Bone marrow aspirates
Cerebrospinal fluid (CSF) taps
Diabetic regulation
Treatment of endocrine disorders, infectious diseases, immune-mediated diseases, etc.
Radioactive iodine therapy for hyperthyroid felines

Ophthalmology
If your pet has a complex condition of the eye that is causing pain and/or impairment to vision, you may be referred to our veterinary ophthalmology team. Similar to a human eye doctor's office, our facility features specialized tools specifically designed to diagnose and treat conditions that affect your pet's eyes.
Common eye conditions we diagnose and treat include:
Cataracts
Glaucoma
Retinal diseases
Corneal ulcers
Conjunctivitis
Uveitis
Severe eye injuries
Cancer of the eye

Surgery
Our surgical clinicians are available by referral appointment, and they are also on-call nights, weekends and holidays for emergency surgeries. They are highly experienced in all areas of veterinary surgery, including orthopedic, soft tissue, thoracic and trauma. Our surgical team uses advanced diagnostic imaging and surgical treatment technologies to provide exceptional care for their patients.
Common procedures performed include:
Orthopedic: TPO, FHO, open reduction of hip luxations, TPLO, lateral suture, MPL, fracture repair (plate, plate/rod, external skeletal fixator, interlocking nail)
Soft tissue: thoracotomy, abdominal surgery, PSS, head and neck, wound reconstruction, urogenital, gastrointestinal
Neurosurgery: myelography, CSF analysis, ventral slot, dorsal laminectomy, hemilaminectomy, L-S stabilization, fracture repair
Penn Hip and OFA certification
Laparoscopy
Thoracoscopy
Arthroscopy
CT (computed tomography) scan