Specialty vet services in Maitland.
At BluePearl, we take a collaborative approach to veterinary medicine. This means our specialty clinicians work with each other, as well as with your pet's primary veterinarian, to share knowledge and provide comprehensive care. We work together to promote your pet's quality of life and overall well-being. Learn more about our advanced specialty services: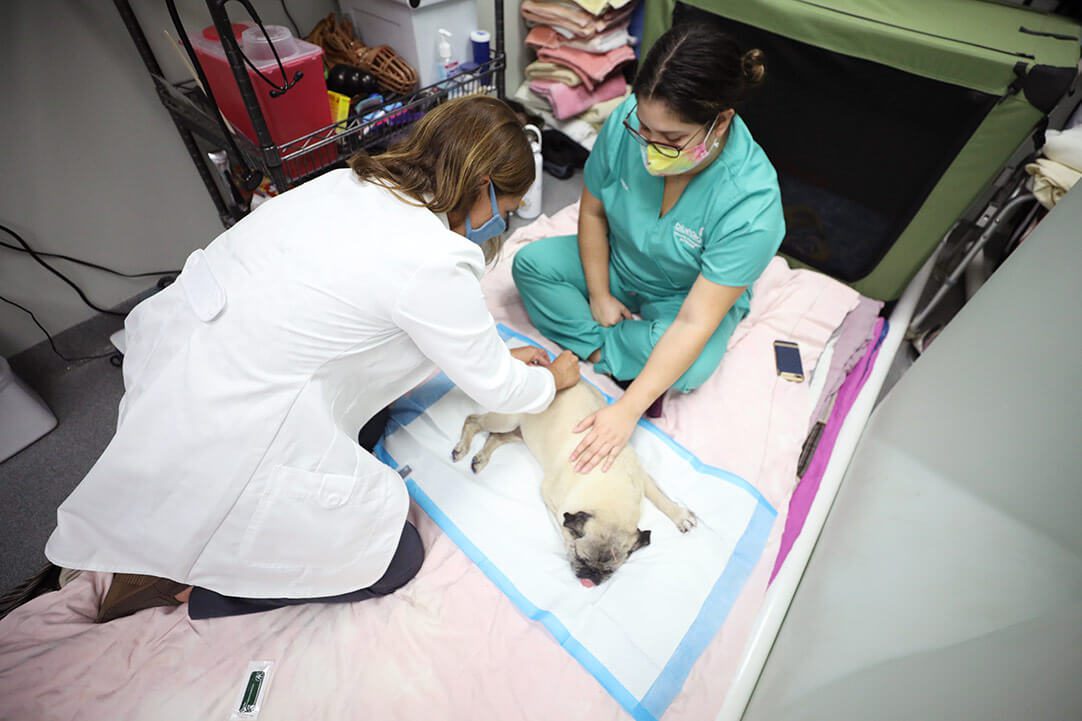 Acupuncture
We provide safe, comforting acupuncture treatments for patients with chronic pain as well as several other chronic conditions. Our acupuncturists will consult with your pet's primary care veterinarian for the best results and the fastest healing.
In general, acupuncture is most beneficial for functional problems such as those that involve paralysis, noninfectious inflammation and pain. Regular acupuncture treatments can restore mobility for older pets, improve minor injuries as they occur and be administered preventatively to keep muscles and tendons resistant to injury. The following are some of the conditions that can be improved through veterinary acupuncture:
The muscular and skeletal systems: back pain, muscle soreness, disc problems, arthritis and degenerative joint disease
Neurological disorders: chronic disc disease, radial nerve or facial paralysis and seizure
Gastrointestinal disorders: diarrhea, constipation, vomiting and poor appetite
Chemotherapy: nausea, vomiting, diarrhea, fatigue and inflammation
Skin conditions: inflammation and skin problems such as allergic dermatitis and lick granulomas
Other chronic conditions: asthma, geriatric weakness, immune system disorders and more

Cardiology
Our cardiology team diagnoses and treats conditions of the heart and circulatory system.  While some cardiac conditions require hospitalization, most conditions can be managed on an outpatient basis by our cardiology team along with your primary care veterinarian.  Common conditions we diagnose and treat include:
Congestive heart failure (CHF)
Heart muscle disease (Dilated cardiomyopathy or hypertrophic cardiomyopathy)
Age-related changes to the valves of the heart (Degenerative mitral valve disease)
Coughing and other breathing problems
Congenital (present at birth) heart defects
Cardiac arrhythmias (problems with the rate and/or rhythm of your animal's heart)
Diseases of the pericardium (sac surrounding the heart)
Cardiac tumors
High blood pressure (hypertension)
Pulmonary hypertension (high blood pressure in the lungs)

Critical Care
Our emergency team diagnoses and treats urgent injuries and illnesses in pets. We work in collaboration with our other specialty teams to provide compassionate care for pets with emergency conditions, such as:
Trauma, including those hit-by-car, bite, or burn injuries
Trouble breathing
Blood transfusion cases
Shock (signs of shock can include weakness, pale mucous membranes in their mouth, cold extremities, and an abnormal heart rate)
Difficulty urinating
Loss of appetite
Complications as a result of abnormal heart rhythm

Dentistry
Our dentistry service diagnoses and treats complications of the teeth and mouth, including broken teeth, stomatitis, oral cancer, TMJ disorder, fractured jaws, complicated extractions, malocclusions, cleft palate, gum disease and crowns.

Diagnostic Imaging
Our radiology service performs many non-invasive and minimally invasive diagnostic procedures such as radiography, ultrasound, MRI, CT scan and nuclear medicine. These services allow the specialty clinicians unique, non-invasive opportunities for evaluating various diseases.
BluePearl Diagnosic Imaging success story
When Zoe's veterinarian owner, Tatiana, noticed her struggling with bouts of excessive licking and swallowing, she knew more testing was needed to get to the root of the problem. The specialty vets at BluePearl in Maitland ordered an endoscopy procedure and soon discovered a small ulcer in her GI tract caused by doggie acid reflux.
With this information a diagnosis and a treatment plan were created by the vets at BluePearl to address Zoe's problem. She was prescribed a course of antibiotics, probiotics, and an antacid which set her quickly on the path to recovery.

Integrative Medicine
Integrative medicine combines traditional Western treatments with ancient Eastern practices like acupuncture to effectively alleviate pets' pain and promote healing.

Internal Medicine
Our internal medicine service includes the diagnosis and treatment of cardiac, respiratory, gastrointestinal, endocrine, urogenital and hematological illnesses. Some of the symptoms that your pet may be demonstrating include:
Fever
Coughing
Sneezing
Vomiting
Diarrhea
Complications of the urinary tract
We also perform a number of endoscopic procedures which include gastroduodenoscopy, colonoscopy, bronchoscopy, rhinoscopy, cystoscopy and foreign body removal.
BluePearl Maitland Internal Medicine Success Story
Meet Amber, a Labrador/terrier mix who was referred to BluePearl Maitland's internists by her primary vet with megaesophagus complicated by aspiration pneumonia.
She was given 24-hour care by our hospitalists and technicians and was able to fight off the infection. Our internists and techs worked with Amber's owner, Jodi, to work on long-term plans to help Amber live with megaesophagus.

Interventional Radiology
Interventional radiology (IR) is a form of advanced imaging that allows our doctors to perform minimally invasive procedures while viewing the moving parts in a pet's body in real-time.

Medical & Radiation Oncology
Our compassionate oncology team offers a variety of treatment options for pets with cancer. Patients benefit from our comprehensive approach to cancer care, which uses advanced combinations of surgical, medical (chemotherapy), immunological and radiation therapy.
From initial diagnosis to ongoing care, we take an integrative approach to treating cancer that includes:
Taking time to listen to and answer all your questions and concerns about your pet's cancer treatment
Creating a treatment plan tailored to your pet's individual needs
Working within your schedule for delivering therapy
Maintaining regular updates with your pet's referring family veterinarian
By helping you understand your pet's disease and by providing appropriate educational tools, we all work together to improve and promote your pet's best quality of life.

Neurology & Neurosurgery
Our neurology service diagnoses and treats medical and surgical conditions related to the brain, spinal cord, nerves and muscles. Common symptoms that present to our neurologists are paralysis, loss of balance, seizures, deafness or exercise intolerance.

Radioiodine I-131
This special service is an innovative treatment used to cure hyperthyroidism in cats.

Rehabilitation
Physical rehabilitation speeds recovery and improves strength following surgery. Our rehabilitation service features an underwater treadmill. Whether walking or swimming, our patients benefit from the added buoyancy and resistance the warm water provides.

Surgery
Our surgical team performs orthopedic and soft tissue surgeries. Some of the orthopedic procedures performed include fracture repairs and surgery for cruciate ligament injury. Soft tissue surgeries include a broad variety of thoracic and abdominal procedures as well as reconstructive surgery often performed in the treatment of cancer. Our specialty vets at BluePearl in Maitland also performs minimally invasive procedures, including laparoscopy and arthroscopy.