Rehabilitation and Therapy for Pets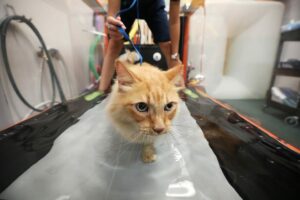 Rehabilitation
Physical rehabilitation speeds recovery and improves strength following surgery. Our rehabilitation service features an underwater treadmill. Whether walking or swimming, our patients benefit from the added buoyancy and resistance the warm water provides.
Conditions we treat:
Arthritis
Hip dysplasia
Muscle injuries
Neck nerve compression or injury
Obesity and weight management
Spinal disc degeneration, paralysis, spinal cord degeneration, weakness
Tendonitis
Acupuncture
We provide safe, comforting acupuncture treatments for patients with chronic pain as well as a number of other chronic conditions. Our acupuncturists will consult with your pet's primary care veterinarian for the best results and the fastest healing.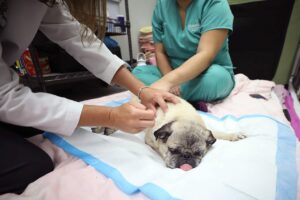 In general, acupuncture is most beneficial for functional problems such as those that involve paralysis, noninfectious inflammation and pain.
Regular acupuncture treatments can restore mobility for older pets, improve minor injuries as they occur and be administered preventatively to keep muscles and tendons resistant to injury.