Coronavirus Update:
Our hospital is open and we are taking extra precautions to continue providing remarkable care for your pets. 
Please download and review this form to learn more about our new patient intake procedure prior to your visit.
---
Georgia Veterinary Rehabilitation
If your pet is recovering from surgery, suffering from pain, or simply not fit enough to enjoy life, GVR can help. We are a state-of-the-art veterinary rehabilitation clinic located at 1230 Johnson Ferry Place in Marietta, just north of Atlanta. Pets benefit greatly from rehabilitation, just like people. 
Practice Philosophy 
GVR utilizes the latest techniques in Western and Eastern medicine to provide optimal, compassionate care in a state-of-the-art facility. We improve physical health, fitness, injury recovery, pain management and overall quality of life for our clients' companion and performance animals.
Our patients are dogs, cats and other small animals who come to us for many reasons. Some come after surgery for relief from pain and to speed recovery. Others come to lose weight, improve conditioning, regain mobility or improve balance.
Our State-of-the-Art Clinic
We were the first veterinary clinic in the Southeast to install an indoor heated SwimEx resistance pool, which allows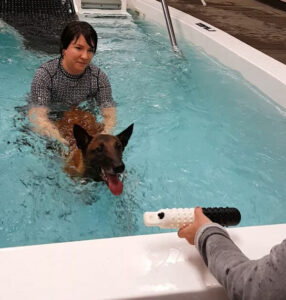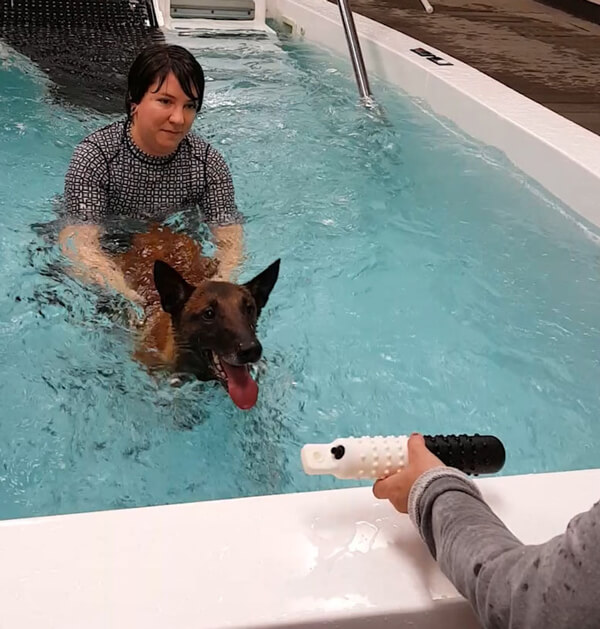 dogs to move their limbs fully without bearing weight on them. We also have underwater treadmills and two gyms that offer plenty of room in which to work with your pet and observe their natural gait. Both gyms are outfitted with everything needed for therapeutic exercise, including steps, ramps wobble boards, exercise balls and more.
---
Client Review
"When Dr. Orenbuch sent me the video of his first steps, I cried tears of absolute joy. Quasi has been trying and working so hard, he deserves the reward of movement. Today, he is functionally independent, exercising and taking 15 minute walks every day- continuously showing improvement. His personality now shines through again, which signals to me he is feeling much better as well."

Read the full story of Quasi's journey to walk again.
Pet Owners
At BluePearl pet hospitals, providing our customers, like you, with remarkable service is a top priority. We're committed to making your veterinary visit as smooth as possible. Here are the resources available to help you prepare for your visit.
Need more answers? We're happy to help. Please contact Georgia Veterinary Rehabilitation, Fitness & Pain Management at 678.803.2626 or info@GaVetRehab.com.
New Patient Information
To expedite the process of scheduling your pet's initial appointment, you can download and complete a short online form and email it to info@gavetrehab.com.
Download Form