Our Services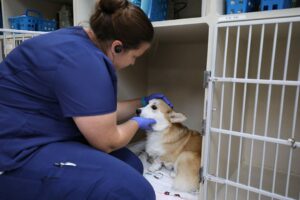 We focus exclusively on emergency treatment and advanced veterinary care. Our hospital uses the most sophisticated and advanced medical and surgical technology. Our staff is trained in specialized veterinary medicine and works together to care for your pet during the most difficult moments.
Each BluePearl pet hospital is unique. Our Mesquite hospital offers these services provided by skilled, compassionate and dedicated professionals.
Emergency Medicine
If you believe your pet is sick, hurt or in distress, we're here to provide expert care. Our trained emergency clinicians are prepared to diagnose and treat urgent cases, including severely injured or critically ill pets. Common emergency cases we see include:
Animal attacks
Bleeding
Collapse episodes
Difficulty breathing
Difficulty urinating
Hit-by-car accidents
Ingestion of medications, poisons or objects
Seizure
Severe diarrhea
Unresponsiveness
Vomiting
Through every step of your pet's emergency care experience, we keep you and your pet's primary veterinarian informed and involved.
Compassionate Treatment
Our team respects the close bond between pet owners and their pets and treats each with dignity, compassion and kindness.